Before anything else, I'd like to greet everyone a Happy Easter! We just got back from Guam last night where I went computer-free for 4 days, haha! All I brought was my cellphone. No laptops or iPads… I guess I needed a break from the online grind. I did miss blogging though and so I'm starting with a brief entry about our short family vacation.
Last March 26, we left for Guam via United Airlines. It's a 3.5-hour flight but we stopped over Palau. There's a time difference of 2 hours (Guam being ahead of Manila by 2 hours). We touched down before 6am — very early morning so as not to waste a moment of our stay. We couldn't check in to Guam Marriott Hotel right away because check-in time was at 3pm so we headed to Denny's for breakfast. We went to Kmart (it's open 24/7 woot woot) afterwards and then Underwater World before we could finally check in. I was dazed by then so I don't remember where we had lunch, lol. Anyhow, for the last few days, we would wake up with that view outside our window at the Guam Marriott Hotel where we stayed. Will post about our hotel and the attractions separately in the coming days.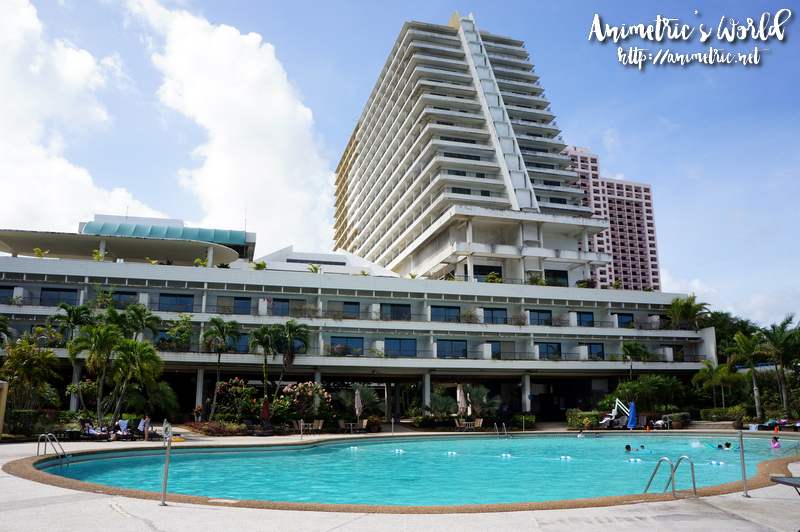 We went swimming in the pool and on the beach every morning. Contrary to popular belief, Guam is nothing like the Philippines when it comes to heat because the weather is cooler, it's not so humid, and there's always a nice refreshing breeze no matter how sunny it gets. The beaches have white sand that's like powder too. The waters are crystal clear and you can see your feet when you swim or wade around. Unlike Boracay, there are no persistent vendors who follow you around peddling DVDs, watches, and services like braids or henna tattoos so it's a lot more relaxing and peaceful. Well in Boracay, if you want total R&R you can always check in the swank hotels like Discovery Shores or Shangrila Boracay since their beach areas are off-limits to non-guests. Those places cost a fortune though so if I were to pay anyway I would pick Guam over Boracay any day since you can stay at much cheaper hotels in Guam compared to those two.
Public transport in Guam sucks (buses take forever and taxis are expensive) so I recommend renting a car. Since there were seven of us, we rented a mini-van. It's easy to drive around since it's a relatively small island and it's pretty easy to navigate via a map. Hubby drove while I navigated. There's no traffic, the roads are well-paved, and parking is free so you can go virtually everywhere by just driving for a few minutes.
Being in Guam is sort of like being in the United States and the Philippines at the same time. There are US establishments like Macy's, Denny's, Kmart, Cost U Less, Home Depot, Chuck E Cheese, Ross Dress For Less, Game Stop, etc. as well as lots of friendly Filipinos everywhere always ready to assist and lend a helping land.
Shopping is a dream because there's a big selection and everything is tax-free. Merchandise like clothes, makeup, shoes, etc cost the same as in mainland US but there's no sales tax! Kmart in Guam is like a Japanese-Filipino-American grocery offering merchandise from all three countries (they have Lucky Me, Datu Puti, C2, etc.)… I was actually able to buy the much-coveted Green Tea Kitkat for US$5.99 for a pack of 12. There's Guam Premier Outlets and DFS Galleria for more shopping options too. I noticed that there's no Toys R' Us though and the only toy store we saw was something called Twinkle Toys and it wasn't so good.
If you're on the big side and it's hard for you to buy clothes in Manila or Asia in general, Guam is a great place to go because they have a huge selection of clothes that go up to size XXXL to size 30 for both males and females (my size ranges from 6-10 depending on the style so you can imagine how big size 30 is).
Prior to our trip, a lot of people who had been to Guam before warned us that staying too long would bore us and that 3 days was enough. We stayed there for 4 days and 3 nights and we thought it was too short. Well, we are shopaholics so if you're like us I recommend staying there for maybe 5 days and 4 nights at least on your first trip. Also, try to book a hotel that has a beach. Hotels without beaches are cheaper but you'll be missing out on a lot if you don't hit the beach in Guam.
We really had a blast in Guam! I hope to be able to go back soon. Will post more details about our trip in the coming days. Enjoy the remainder of the holy week! 😀
Like this post? Subscribe to this blog by clicking HERE.
Let's stay connected: