New Year. It's the perfect time to renew just about everything. There's just something about having a fresh start. What if you could renew a body part… in this case, your feet? Our feet are the among our most overworked body parts after all. We walk with them, drive with them… even stand with them. Oh your feet will definitely be reborn after you use Baby Foot.
Baby Foot is a Japanese fruit acid-based peeling solution especially formulated for the feet. It contains 17 kinds of natural extracts which exfoliate and moisturize. Baby Foot comes in 2 sizes, Medium and Large. Medium can fit up to size 10 while Large can fit up to size 13.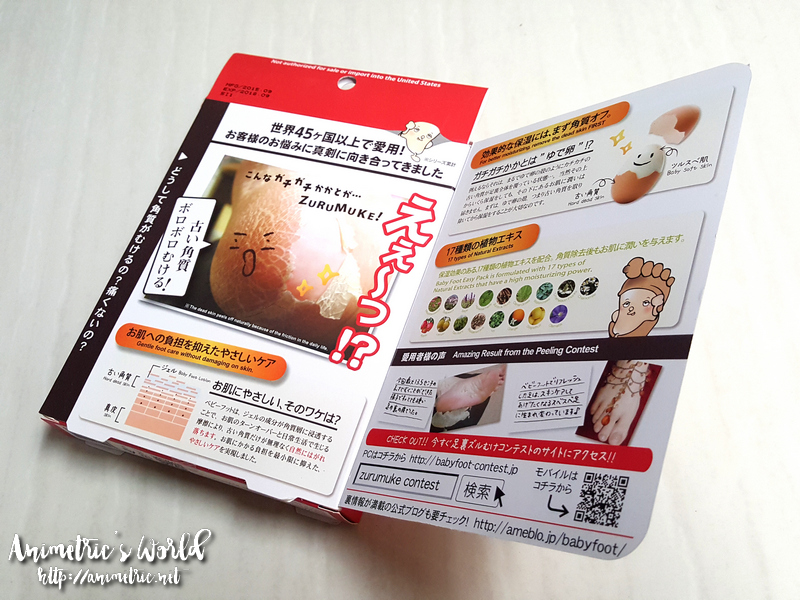 Anyhow the fruit acid penetrates into the layers of the skin and breaks down what holds it them together. As a result surface skin peels away easily and painlessly. Incredibly soft and smooth skin is revealed… kind of like baby's skin! It's so extreme that the Japanese website has galleries devoted to photos of peeling feet.
Apart from the box, Baby Foot comes securely packed in sealed foil. It has a shelf life of 3 years from the production date which is indicated on the foil.
The actual product looks like a pair of printed plastic booties. There's also tape so you can use to fasten them.
You cut the tops off the plastic booties along the dotted lines. Then you wear them for 30 minutes.
They suggest wearing socks over the plastic booties so they wrap your feet more securely. You can get up and walk without slipping this way. After 30 minutes, remove them and rinse the solution off your feet with water.
After 3 days, your feet will start to peel. It gets more extreme as the days pass. I was actually shedding large pieces of skin all over the house. I didn't pull on the skin because I wanted it to come off naturally. The process is completed in about 2 weeks.
What I like about Baby Foot:
It smells so nice, fresh, and fruity!
It's incredibly effective. After all the peeling and shedding, your feet are virtually reborn. They're like a baby's feet.
It's fairly easy to use.
It comes in 2 sizes so everyone can use it.
Downside? It's pretty pricey at ₱830. But wow, for what it can do? Definitely worth it! Feet as good as new and there's nothing invasive involved!
Baby Foot is available for ₱830 per pair at the Beauty Box Flagship Store on Lazada.
Like this post? Subscribe to this blog by clicking HERE.
Let's stay connected: