Avida Asilo Tagaytay. They say that home is where the heart is. If that were true, home would be in cool and mountainous Tagaytay. I've always loved how it gets chilly at night there even without air-conditioning. Nothing beats walking around the verdant landscape of Tagaytay with the sun shining down on you while a refreshing breeze blows.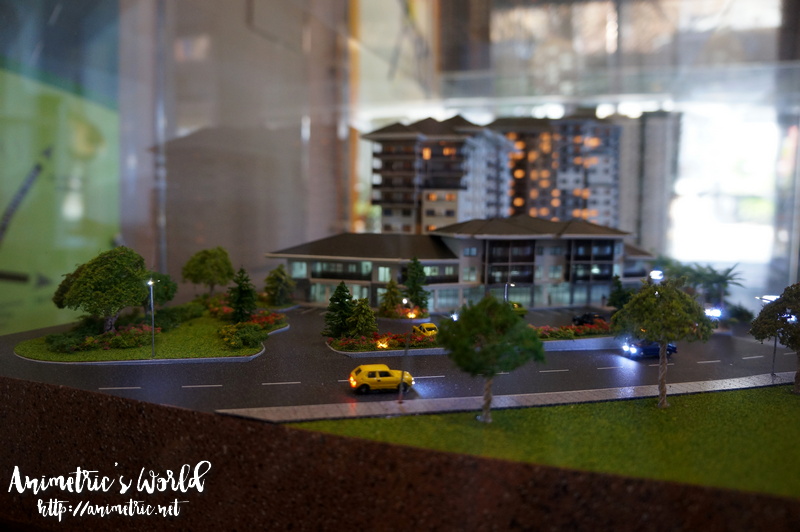 One of the reasons why we don't go to Tagaytay as often as we'd like to is the drive. It takes at least a couple of hours to get there from Manila then we stay for a while only to go back before it gets too late. During those times, you'd get to thinking that wouldn't it be great to have somewhere to stay so you don't have to rush off all the time? That is where Avida Asilo Tagaytay comes in.
Located 5 minutes away from the Tagaytay Rotonda, it's close to numerous restaurants, places of worship, and various leisure spots. The name Asilo actually stems from the Tagalog word "silong" which means to take shelter. I had a chance to visit the actual site where Avida Asilo Tagaytay will soon stand.
I also checked out the model units at the Avida Land showroom. Unfurnished, a studio unit (22-30 sqm) would look something like this.
Each unit comes with a built-in kitchen cupboard and sink.
There's also a toilet and bath with a shower area.
Check out what a bit of interior designing can do to that very same 22 sqm unit I posted above. I was like… wow. It's actually a complete home! I couldn't believe my eyes.
The space was totally transformed.
I can totally imagine going home to something like this in Tagaytay.
Even the bathroom got a facelift. I was so impressed by what could be done with such a compact studio unit.
Add a bit more space and you'd have a one bedroom unit of about 40sqm such as this one.
There is now a separate living room.
There's also an enclosed bedroom which can accommodate a pretty big bed.
Sample Two Bedroom Unit – approximate size of a 2-bedroom unit in Tower 1 is 60 sqm, while Garden/Ridge view 2-bedroom units will be at 80sqm.
It definitely gives you a lot more space to play around with in terms of interiors.
I was impressed with the size of the kitchen too!
A dining area for four can be easily accommodated.
There's a master bedroom with its own toilet and bath.
The master bathroom is more spacious than the previous ones I've seen.
The second bedroom is slightly smaller than the master bedroom but can fit all the essentials.
Avida Asilo Tagaytay is a good option if you're looking to acquire a vacation home that's within driving distance and conveniently located near major landmarks and thoroughfares. You can also consider it if you're looking to invest your money. It's perfect timing because my hubby and I are currently trying to secure sources for passive income. We can do it with Asilo Tagaytay since we can rent out the place to vacationers and tourists with the help of Leasing Services by Avida should we decide to make a purchase.
Avida Asilo Tagaytay units are markedly more spacious compared to those located in Metro Manila. Amenities and facilities will include:
Adult and kids' swimming pools
Children's play area
Garden and open spaces
Multi-purpose hall / Clubhouse
Lakeview deck
Walkway with trellises
Hammocks
Lounge and sitting area
Once complete, Avida Asilo Tagaytay will be a destination in itself. It will be the newest hub for weekend lunches, shopping, and a center for products and goods that are unique to Tagaytay.
Prices for the units are as follows:
Studio (22 – 30 sqm) – P2 million to P2.5 million
1 Bedroom (40 sqm) – P4.2 to P4.6 million
2 Bedroom (60 sqm) – P6.4 to P7.5 million
For more information, log on to http://bit.ly/AsiloTagaytay. You may also contact Avida thru (+632)848-5200. Since Avida Land belongs to the Ayala Group of Companies, I have utmost confidence that this community will promote sustainable living that is in harmony with the environment. I'm sure it will be maintained perfectly too so I know that my investment will hold its value in the years to come.
*This post is brought to you in part by Avida Land. All experiences and opinions stated herein are wholly mine.
Like this post? Subscribe to this blog by clicking HERE.
Let's stay connected: