Cheers to the long weekend! This year, it just so happened that my son's 17th birthday fell on Chinese New Year. We thought we'd celebrate by going on a weekend roadtrip to Aureo La Union. Everyone who knows me knows that I don't like the sun or the beach lol. But given that I have two teenagers with a seemingly endless supply of energy, I knew we'd have to go sometime or the other. What better time than now, when the summer heat isn't that intense yet?
We left Quezon City a little before 8am last Friday. Since it was a long weekend, there were a lot of motorists on the NLEX. It was moving but for some reason there was one car collision after another that would cause traffic. I think I counted 6-7 minor crashes on the NLEX all the way up to Pulilan Bridge. Anyway, we arrived at Aureo La Union at around 2:30pm. Check-in time is 2pm so it was just right.
We were ushered to our room after check-in. The room is a standalone one-bedroom unit with glass doors overlooking the pool.
We got a Superior Room furnished with 2 queen-sized beds. The beds may look a bit small in the photo but hubby and I fit comfortably in 1 bed while the kids occupied the other bed. This is listed as a Double Occupancy room (for 2 people) and the rate is around P8k per night. Kids below 10 may stay in the room for free, but additional people (adults) will be asked to pay additional P1.8k per head. Rooms come with free breakfast buffet for 2, so we had to pay for the kids (only P300+ per head so it's affordable).
All the rooms have ample lighting and a service phone. There's no directory but I figured dialing zero "0" would get me the reception. I was right.
When I draw the curtains and peer through the glass doors, this is what I see. Each room is furnished with a coffee table and 2 chairs right outside. You can order room service and have them bring the food here if you prefer to eat outdoors.
The room is also equipped with a study and an LCD TV with Cignal TV. We actually found a lot of entertaining channels to watch.
They provide beach towels in the room — cool! You also get 2 complimentary bottles of water, instant coffee, and tea. An electric kettle is provided so you can boil water. There's a refrigerator with mini bar too.
This is the room's main door. There's a full-length mirror for your OOTDs.
A room safe, bedroom slippers, and hangers are also provided.
The bathroom has a shower enclosure and a spacious sink area. Soap, lotion, toothbrushes, and cotton buds are provided. They have a big, strong hair dryer too which I really appreciated. The usual hotels provide weak ones which take forever to dry my hair. This one was very efficient.
There are bath towels provided aside from beach towels. Since there are 4 of us I just asked for extra towels.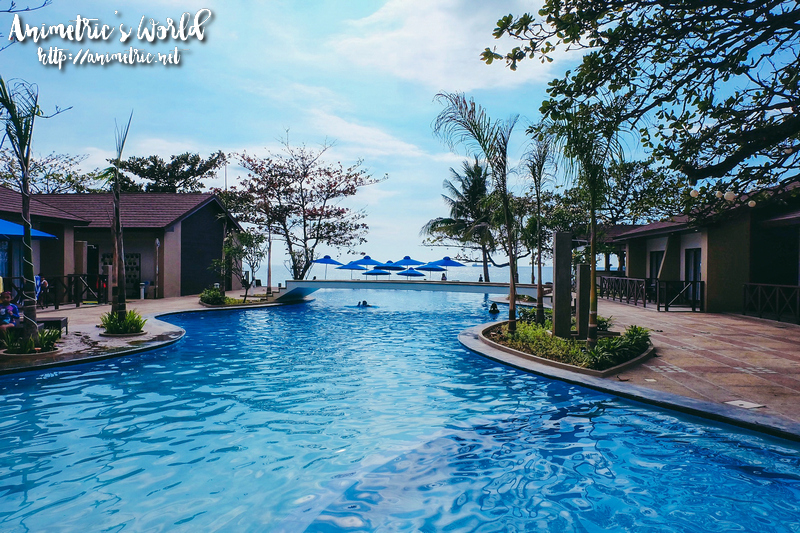 They have 2 swimming pools at Aureo La Union. We were situated near the bigger infinity pool. The other slightly smaller pool is located in the middle of a different cluster of rooms. They also have gardens with swings but I wasn't able to get good photos (probably because I was swinging while snapping lol).
I took a dip after covering myself in sunscreen lol. The water isn't deep, it rises just a bit above my waist. There's a more shallow kiddie pool connected to this one. You can rent inflatables which you can ride for P100 each.
Walking beyond the infinity pool will already take you to the beachfront. I love how everything — pool, restaurant, beach — is just a few steps away from the room.
They have kayaks and a paddle board for rent too.
We decided to go for the kayaks. Everyone chickened out of the paddle board.
We let the kids go on the 2-seater kayak (P600 per hour if I remember correctly). It was their first time but they got the hang of it pretty quickly!
Since the beach was so close by we'd take walks during the twilight hours too. The sand isn't white but it's good for walking — not rocky and jagged. I remember going to a beach in Laiya before and it was near impossible to go barefoot because of all the sharp stones.
What I like about Aureo La Union:
The staff are all very friendly and super accommodating. They pretty much embody service with a smile. Sure we had a few hiccups, like we were initially given the wrong room but they were able to correct the situation.
Our room is but a few steps away from everything — the pool, the restaurant, and the beach.
Food is quite good in general except for the tapa and sausages they serve for breakfast. Main dishes are at P300+ per serving and they are pretty big. Bar chow is around P100+ per order. I have a separate post about the food since we ate a lot during our stay.
The rooms are spacious and comfortable. The aircon is cold, which is how we like it. There's ample lighting too.
The pools and facilities are all nice and clean.
There are commercial establishments 1km from the resort, like Max's and Yellow Cab Pizza, in case you feel like eating somewhere else.
It's easy to find because it's on Waze!
Downside? The drive can take several hours if you get stuck in traffic (or if you make the mistake of passing by Manaoag like we did). We checked out early last Sunday, around 8am, in order to avoid the weekend crowd. Typically the check out time for all hotels and resorts is 12nn so we figured we'd beat the rush. We were in Quezon City by 1pm — we stopped by 2 outlet stores and a fast food joint at that. If we didn't stop we would've made it home in just 4 hours.
All in all we had a relaxing weekend getaway at Aureo La Union. I think though that more stuff to do (especially if you have easily bored teenagers like ours) would make it an even better place. I love the rooms — I don't really fancy staying in cheap huts or cottages when traveling out of town so this is perfect. Room rates start at P5k+ per night. You can book via their website or booking sites like Agoda and Booking.com.
Check out the food at Aureo La Union HERE. 🙂
Aureo La Union
Luzon 2500, San Fernando, La Union, Philippines
+63 2 893-1111
+63 917-8225799
http://www.aureohotels.com
Like this post? Subscribe to this blog by clicking HERE.
Let's stay connected: