Cooking is good. It's something I do everyday. Preparing food for the family is very fulfilling. There are times though when there's too much going on. I find myself wishing I can have dinner ready with a snap of my fingers… like magic.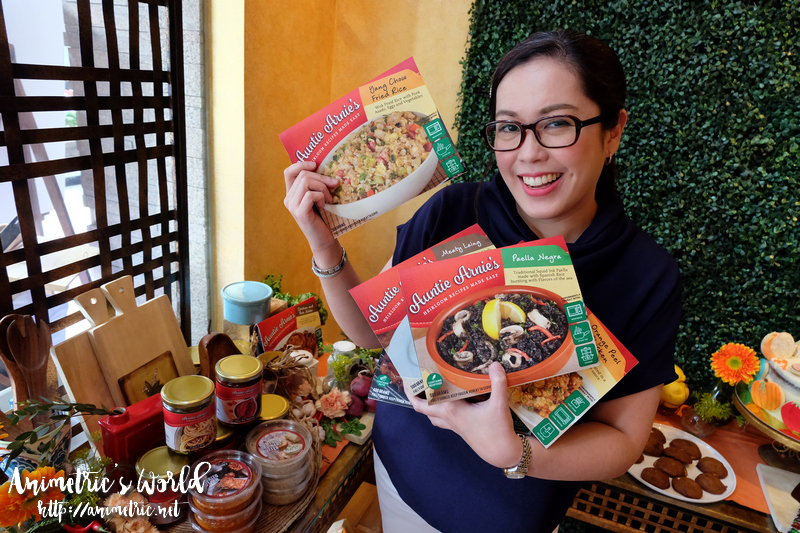 I don't think I'll develop magical powers anytime soon so I turn to the next best thing to help me when it comes to meal preparation. What's that? Auntie Arnies Heirloom Recipes Made Easy.
Auntie Arnies currently has nine (9) ready-to-eat dishes available:
Orange Peel Chicken (P195 for 300g)
Chicken and Pork Adobo (P375 for 500g)
Chicken Barbecue (P350 for 400g)
Callos (P420 for 400g)
Chicken Curry (P395 for 400g)
Meaty Laing (P195 for 500g)
Yang Chow Fried Rice (P195 for 500g)
Paella Negra (P395 for 500g)
50 Cloves Roasted Chicken (P395 for 500g)
As you can see, prices range from P195 to P395. One serving of ulam is good for 3 people. The rice dishes are good for 2 people. The dishes are flash frozen after cooking so all the goodness is retained. Shelf life in the freezer is 6 months.
Each pack of Auntie Arnies come with complete instructions. It's really simple, preparing the dishes involve some form of heating — microwaving, heating in a pan, or frying.
There was a demo of how you can prepare Auntie Arnies ready-to-cook food. They just popped this Paella Negra into the microwave oven and it was ready in minutes! Auntie Arnies doesn't use preservatives. Good quality ingredients go into every dish so you can be sure you're feeding your family well.
You can order Auntie Arnies frozen dishes at https://www.auntiearnies.com/. They're also available on Honestbee. All the products are available at:
La Contessa Deli
G/F 81 Xavier Residences
Xavier St., Greenhills, San Juan City
638-3988
Like this post? Subscribe to this blog by clicking HERE.
Let's stay connected: