Last May 5, one of our high school friends celebrated his birthday at Aubergine Restaurant Patisserie at Fort Bonifacio Global City. When hubby and I got there, we were ushered into a function room that could accommodate about a dozen people.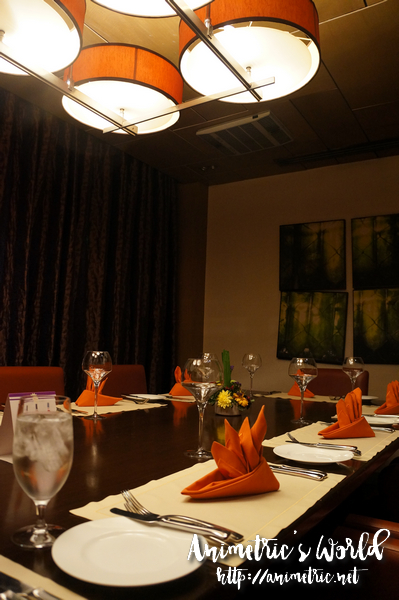 I liked how elegant the place was.
After most of us had settled in, a couple of servers brought in a small chalkboard with the day's specials written on it.
While waiting for our orders, we were served some butter and hummus.
Then a server holding a basket of warm freshly baked bread made rounds. There was about three kinds of bread to choose from. I chose the potato bread since it piqued my interest. It was very good — crusty outside while soft and chewy inside.
My hubby and I ordered regular main courses while some of our companions opted for degustation menus. We were surprised when we got these small tasty appetizers which tasted like pate.
It was even followed by a palate-cleansing citrus sorbet.
Then it was on to the main course. Hubby got Aubergine Surf and Turf (P1,650). Two pieces of succulent grilled Tiger Prawns and tender roasted Australian Mulwarra beef tenderloin topped with buttery pan-seared foie gras. It's soooo good. I know because I had a few spoonfuls off my hubby's plate and he gave me the entire foie gras, lol.
I had the Beef and Sea Bass Composed (P1,650). Roast Angus beef is coupled with grilled Chilean Sea Bass on a bed of mashed potatoes and pasta. The beef's doneness was perfectly medium — pink and not a drop of blood. Good, but I liked hubby's order a lot better.
Although we just ordered one main dish each, my hubby and I were super full afterwards. We were offered dessert but we could only manage one French macaron each which I failed to take photos of. They were divine though — crisp outside and creamy-chewy inside.
We both really enjoyed dinner at Aubergine Restaurant Patisserie. The place is quiet and classy, the food is really good, and the service is impeccable. It certainly makes for an impressive date place. Albeit expensive, it's worth visiting especially if you're out to celebrate something. Hey, splurging once in a while is good for you.
Aubergine Restaurant Patisserie
2/F 32nd & 5th Bldg., 5th Ave. cor. 32nd Sts.,
Fort Bonifacio Global City, Taguig City
856-9888
http://www.aubergine.ph
Like this post? Subscribe to this blog by clicking HERE.
Let's stay connected: