*This establishment is already closed.
When you hear Atelier Vivanda, you probably immediately think expensive. While it's true that their famous steaks can set you back as far as P8k for an order, there is actually a way to sample a number of their offerings for under P1k.
We visited Atelier Vivanda one weekday holiday to check out their P950 special full course lunch menu. When it comes to food, hubby and I have always been on the practical side after all.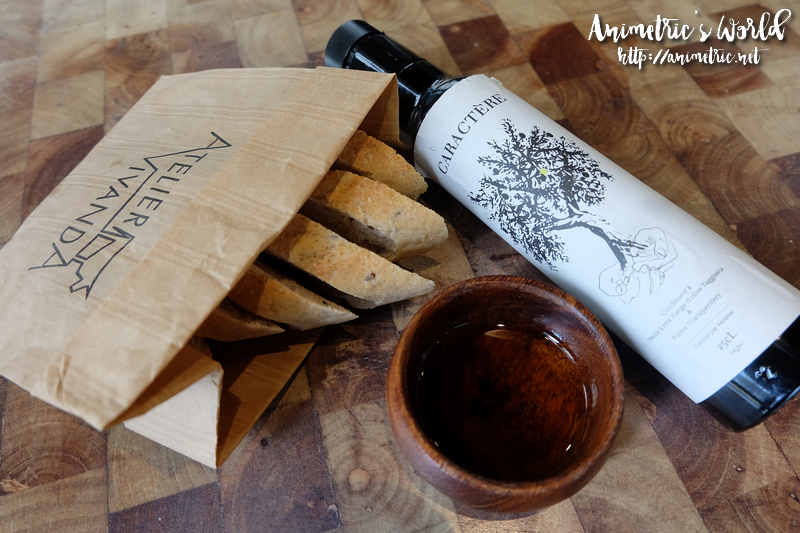 We were served some warm bread in a brown paper bag. It was accompanied by some really good olive oil to get whet our appetites.
Anyway, you really can get a full course meal at Atelier Vivanda for P950. For the first course, you choose your appetizer: Pumpkin Soup or Cauliflower Soup. Hubby and I both opted for the Pumpkin Soup. It was garnished with fried shallots, candied walnuts, and pumpkin chips. Really nice and hearty, they even serve it in a quaint wooden bowl.
For the main course, there are 3 options: Grilled Rack of Lamb (I didn't bother with it because I don't eat lamb), Le Croquavor (a super sinful beef sandwich I didn't get to see), this divine Duck Confit, and finally…
…Yellow Fin Tuna. The tuna is sliced into cubes and seared. It's served with side salad like the Duck Confit. I will probably have another go at this and try Le Croquavor.
What, no rice? Well you can actually choose a side dish to go with your main dish. You can have Mixed Green Salad. It's a lot like the side salad the duck and the tuna dishes come with.
Or you can choose between Mashed Potato and Sauteed Potatoes. I'm partial to the creamy Mashed Potato. The Sauteed Potatoes were tasty though.
If you want dessert, add P350 and choose between Cold Pineapple Soup or Vanilla Creme Brulee. I recommend going for the Vanilla Creme Brulee as it's life-changingly luxurious without being overly sweet.
Atelier Vivanda is a quaint and classy date place best known for their steaks — I'll get to those in another post. But if you want to sample their offerings without breaking the bank, their P950 special lunch sets are the way to go. These are available daily and lunch seating starts at 11:30pm.
Atelier Vivanda
Bonifacio Global City
246-9069 ext. 573
Like this post? Subscribe to this blog by clicking HERE.
Let's stay connected: