Asus never fails to amaze me with their cellphones. They've really struck the perfect balance between high specs, excellent performance, and wallet-friendly pricing. I got my very first Asus phone last May, an Asus Zenfone 2, which prompted me to replace my Samsung Galaxy S5. Hubby followed suit by purchasing the 64GB version of my phone. Today I have the Asus Zenfone 2 Laser.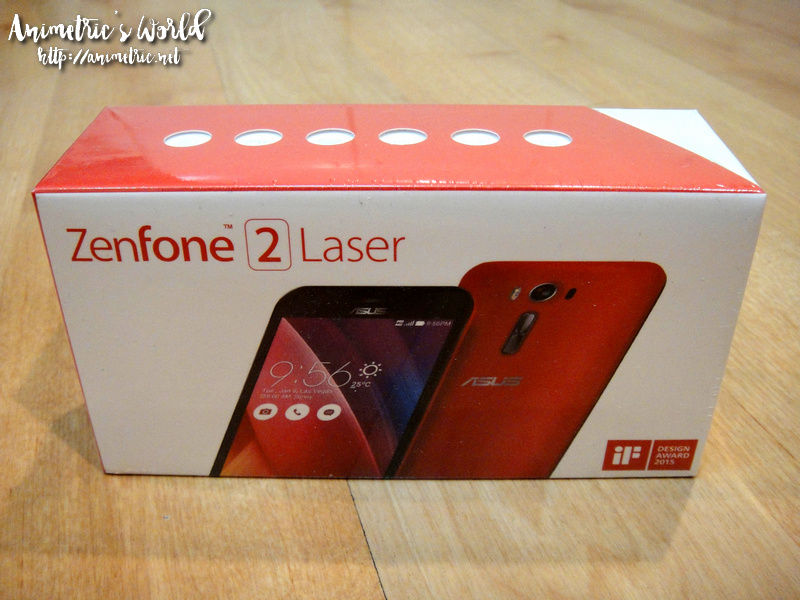 Just when I thought I had seen it all (well the Asus Zenfone 2 was the flagship model at the time), out comes the Asus Zenfone 2 Laser 5.0… another mind-blowing phone which is amazingly a little over half the price of the Asus Zenfone 2 at P7,295.
The Asus Zenfone 2 Laser 5.0 is a super handy and lightweight quad core dual sim smartphone with 2GB RAM and 16GBs of storage. It also has a superb 8MP rear camera which will have you taking photos like a pro. Selfies? This has an equally capable 5MP front cam for that. The screen is encased in Corning Gorilla Glass 4 too which is sooooo cool because it's highly scratch-resistant even without a screen protector.
It comes in several fun colors. I got it in Glamour Red. Along with the phone comes a USB cable, a charger, a pair of earphones, and earbuds. The Asus Zenfone 2 Laser 5.0 is so incredibly light it feels kind of like holding a toy phone. Don't get me wrong — lightweight is good because it doesn't add more weight to my heavy handbag.
Anyhow, last Saturday, we were invited to One Day of Zen with our Asus Zenfone 2 Laser units in hand. Our day started at New World Hotel where premiere photographers Jay Tablante and Roy Macam giving us pointers on how to capture the best photos with our phones. After lunch, we proceeded to board The Luxe Bus which we rode all the way to Intramuros. All photos from hereon out were taken using the Asus Zenfone 2 Laser 5.0.
I loved the bus ride! It was like being in an airplane. Everyone got a comfy captain chair. There was even an attendant who did a safety demo. She also distributed headphones and snacks.
Finally we got to Fort Santiago, where we would be taking photos with our Asus Zenfone 2 Laser units. It was actually one big contest with 4 categories: the Asus people would be judging the best groupfie, selfie, indoor, and outdoor photos.
It had just rained so the skies weren't blue when we got there.
The surroundings were still nice and picturesque though.
I followed Jose Rizal's footprints… one golden step at a time.
I think the last time I was in Fort Santiago was back when I was in either grade school or high school.
We were given an hour to go around on our own.
I wonder if anyone took a dungeon selfie lol.
Found a nice spot for a selfie!
I found it surreal to be right smack in the middle of old Manila while looking out to the present day cityscape.
The sky cleared up and turned blue later on. 😀
For P10, you can go inside this exhibit hall and check out our national hero Jose Rizal's personal effects — clothes, photos, furniture, etc.
It was really dark inside the exhibit hall, so I was surprised at the way this photo came out. I couldn't even see Rizal's features clearly when I took it. Talk about impressive camera performance in a low light setting!
This is another dark room which looked a lot brighter after I had snapped a photo.
You know it's kind of fun to explore the Fort Santiago by yourself.
I think I found the road less travelled inside Fort Santiago!
For everything it can do, the Asus Zenfone 2 Laser 5.0 retails for a very reasonable P7,295. I daresay its the best smartphone in its price range. For the full specifications, log on to https://www.asus.com/ph/Phone/ZenFone-2-Laser-ZE500KL/specifications/. I like this phone so much I'm taking it with me when I go abroad this December. 😀
Thank you Asus Philippines for letting us experience One Day of Zen with the Asus Zenfone 2 Laser 5.0!
Like this post? Subscribe to this blog by clicking HERE.
Let's stay connected: