Sometime last November I was invited to Wingstop Glorietta so I could try their Asian Wings. We usually frequent the Wingstop branches closer to us (Eastwood and Promenade) so it was my first time at Wingstop Glorietta. Did you know that Wingstop is a US franchise? I saw a few branches when we were driving around Los Angeles last month.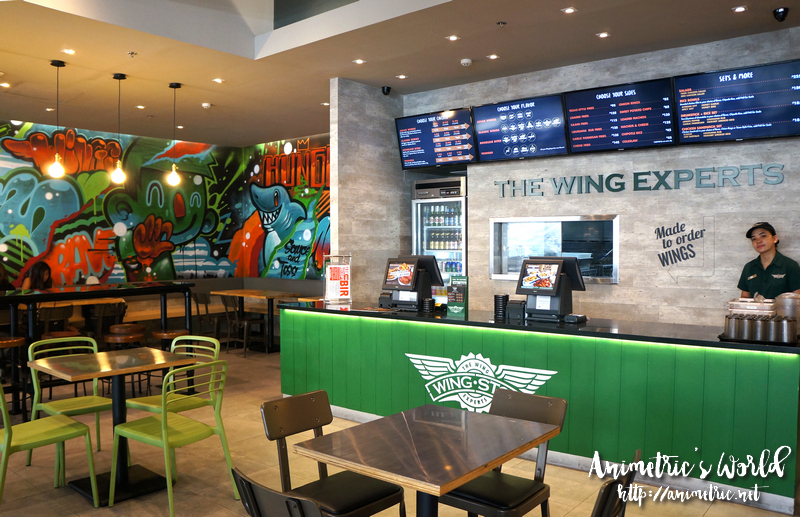 I love the bright and colorful interiors of Wingstop Glorietta!
Our menu for the day consisted of Asian Wings and a variety of side dishes.
We started with Loaded Nachos (P135). Crunchy nacho chips are topped with gooey melty cheese, salsa, and cilantro. Yummy!
We also had Onion Rings (P85). Love how crunchy and tasty these are. Believe it or not good Onion Rings aren't that easy to find and these are good!
Oh but these Sweet Potato Chips (P65) were what really blew me away. Light and incredibly crispy, they're really just good old-fashioned sweet potatoes sliced super thin and then sprinkled with salt but wow… they're sooooo good!
If you want your fries and eat them too, you can level them up by opting for Loaded Fries (P155). They're the same as the nachos, topped with cheese and salsa.
After the appetizers we got our Asian Wings fix starting with the Honey BBQ variant. If you like your chicken crunchy, saucy, savory, and sweet all at the same time, this is for you!
If you love garlic like I do, you might want to go for Honey Garlic. I thought it tasted a tad similar to Honey BBQ. 
I didn't try Spicy Soy because I heard it's really hot and spicy. Next time I should — if I ever muster up the courage lol.
My favorite among the 4 Asian Wings variants is Korean Soy. It's not dripping with glaze like the others and the flavor is just right — not too strong and not too mild. Sakto lang would be the best description for it. I highly recommend giving this one a try if you happen to drop by Wingstop.
Wingstop Asian Wings are priced as follows:
5 pcs 1 Flavor – P175
10 pcs 2 Flavors – P345
15 pcs 3 Flavors – P510
Oh we ate A LOT that day lol! Friends + food is always a fun combination. Thank you Wingstop Glorietta for having me!
For a complete list of Wingstop stores, check out Wingstop Philippines on Facebook.
Like this post? Subscribe to this blog by clicking HERE.
Let's stay connected: