I first heard of Ascof Lagundi from my mom who's based in the States. Some years ago, she asked me to get her some Lagundi. I asked her what it was. She said it was a natural cough medicine her fellow Pinoys in the US were raving about. I dutifully went to the drugstore to get her some. It was then that I discovered Ascof Lagundi by Pascual Laboratories. I got myself a bottle too since we always have cough and cold medication at home on standby just in case.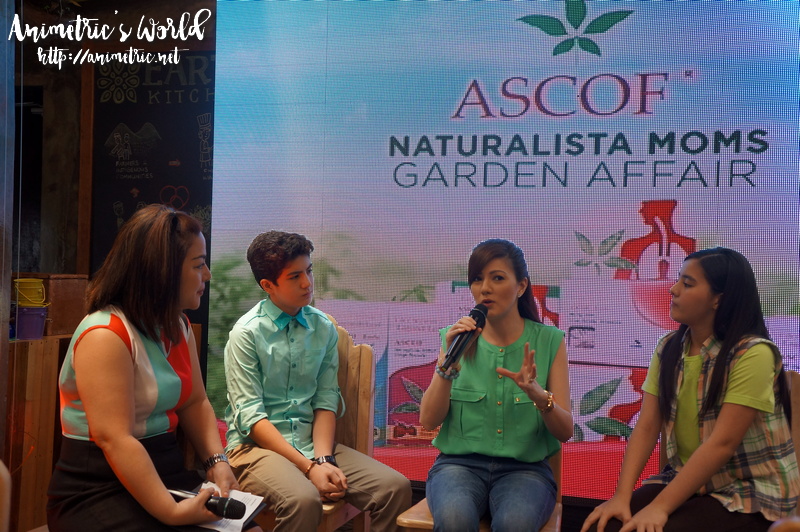 When I was invited to the Ascof Naturalista Moms Garden Affair, I immediately agreed. It was an intimate lunch event at The Earth Kitchen with Ascof Lagundi brand ambassadors Carmina Villaroel and her children Cassy and Mavy. The term Naturalista was coined by putting the words "natural" and "lista" (which means "alert" in Tagalog) together to describe moms who are quick and proactive when it comes to taking care of their kids… and that includes giving the safest and most effective remedy as soon as possible.
We had a buffet-style healthy lunch consisting of dishes made from organic vegetables and other wholesome ingredients.
I got mostly veggies and a bit of meat plus pasta for carbs. I really liked the food at The Earth Kitchen! I think I want to go back again some time for a healthy eating adventure.
There were booths we could check out around the dining area. We went to Upcycle, which encourages reusing everyday things and turning them into something else.
We were given a kit which contained some string, beads, and pieces of scrap cloth. They were wrapped in envelopes made from magazine pages.
Like turning these scraps of cloth into a bracelet for instance.
Then I checked put the Create Your Own Salad booth. An array of fresh organic vegetables, fruits, and dressings were available.
I got lettuce, cucumbers, French beans, watermelon cubes, onions, and tomatoes then drizzled Muscovado dressing all over it. Yum! I loved the sweet, crisp veggies enhanced by the delicious dressing!
While having lunch, we were briefed about Ascof Lagundi as a cough remedy. Here are some facts about Ascof Lagundi:
It's derived from organic Lagundi leaves so it's a natural and safe cough remedy that dissolves phlegm.
It's clinically proven to prevent cough without side effects.
It does not contain harmful chemicals that are usually found in cough medicine.
Although there is a recommended dosage, you can take it as needed as there is no risk of overdose.
Carmina shared her personal experience with Ascof Lagundi as well as some parenting tips. There was also a Q & A and we were allowed to ask questions about virtually anything under the sun. Being a Naturalista Mom, Carmina gives her children Ascof Lagundi at the first sign of cough.
Here are the Cough Buster Tips shared during the event:
Wash hands properly with soap and water. While soaping, count up to 20 before rinsing.
If you are coughing or sneezing, cover your mouth with a napkin or handkerchief to avoid infecting other people.
Drink lots of fluids like water or juice. Eat nutritious and vitamin-rich fruits.
Carmina and Zoren have obviously raised their children well as both are gracious, accommodating, and well-behaved. They said getting mobbed by fans is something they had to get used to but they look like they're coping very well.
We had a photo opp with Carmina too.
What do you know, Ascof Lagundi is now available in single-use sachets! Each comes in pre-measured doses of 5ml Ponkan and Strawberry flavored syrup for kids and 10ml Menthol and Sugar-free Menthol for adults. Ascof Lagundi treats cough in three ways:
Mucolytic – Helps dissolve and liquifysticky phlegm
Bronchodilating – Relaxes bronchial tubes to widen air passage
Anti-asthma / Cough Relief – Helps you breathe better and can be used against asthma
Ascof Lagundi comes in both syrup and tablet form. Personally, I prefer the syrup because when I take it, it provides instant relief to my itchy and scratchy throat. My urge to cough is diminished instantly. It's affordable too, just to give you an idea a 60ml bottle of Strawberry flavored Ascof Lagundi Syrup costs about P97.
Are you a Naturalista Mom like Carmina? At the first sign of cough in your household, why not give Ascof Lagundi a try? 🙂
Ascof Lagundi is available at all leading drugstores nationwide.
Like this post? Subscribe to this blog by clicking HERE.
Let's stay connected: