We tried Army Navy Burger + Burrito for the first time back in 2011. I believe that was their very first branch in Ortigas. Army Navy's menu is comprised of American and Mexican dishes with its lineup of burgers, sandwiches, tacos, burritos, etc.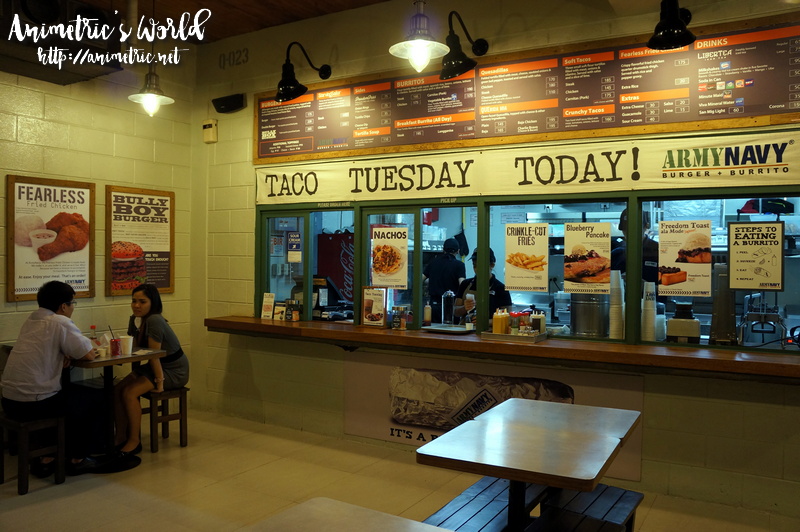 We were invited to sample Army Navy's new dishes at their branch along Jupiter St. in Makati. This particular store is open 24/7.
We were served Nachos (P95), which is one of Army Navy's new offerings. Crunchy nacho chips are topped with ground beef, salsa, and cheese sauce. It's the perfect appetizer for sharing.
There's pizza at Army Navy??? Well, not exactly. This is actually an open-faced quesadilla called Querida Mia Baja Chicken (P195). The super thin crust is similar to a soft taco but more crisp and it's topped with cheese, tomato sauce, chicken, and chopped green bell peppers. It's sooo good!
Querida Mia Charlie Bravo (P195) is topped with lots of cheese and bacon. Simple as that sounds, it's actually really delicious.
Starving Sailor Steak Sandwich (P240) is reminiscent of a Philly Cheesesteak sandwich. An 8-inch sourdough bun is filled with thinly sliced beef steak, jalapeno cheese spread, green bell peppers, and caramelized onions. Amazing! I loved the soft yet crusty sourdough bun.
I love Army Navy's Freedom Fries (P75). They're thinly sliced, perfectly crispy, and seasoned just right. I can munch on them even without any sauce or condiments because they're so tasty!
I super loooove LiberTea (P75, Large), Army Navy's signature brewed iced tea. I swear I can't eat at Army Navy without ordering this. It's citrusy, refreshing, and not overly sweet. I can finish a large serving easily.
What do you know, Army Navy now has dessert in its menu! Blueberry Freedom Toast (P99) is a soft and thick slice of brioche bread is cooked French Toast style and then topped with blueberry compote along with a big scoop of vanilla ice cream.
I prefer the Classic Maple Freedom Toast (P99). Instead of blueberry compote, it's drizzled with maple syrup and cinnamon. Yummy!
Log on to http://armynavyburgerburrito.com/ to find an Army Navy branch near you so you can sample these new dishes!
Army Navy Burger + Burrito
74 Jupiter St., Bel-Air Village, Makati City
856-0715
Like this post? Subscribe to this blog by clicking HERE.
Let's stay connected: