After a vigorous workout at 360° Fitness Club, we were all ravenous… so we decided to cross the street to the nearest burger place which turned out to be Army Navy Burger + Burrito along F. Ortigas Jr. Rd. (formerly known as Emerald Ave.).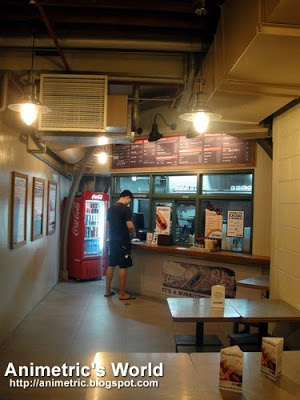 I heard that Army Navy Burger + Burrito is owned by the same group behind Yellow Cab Pizza. The set-up is rather similar — you go over to the counter, place your order, pay up, get a number, then wait for them to serve food on the table.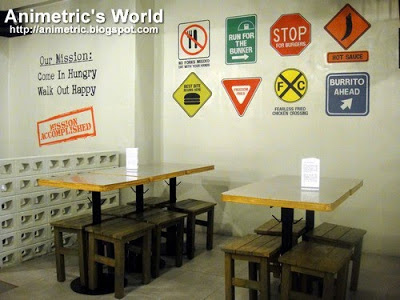 The interiors are very simple. I think they are aiming for a spartan look befitting of their store's name. All that's missing are bunker beds. 😛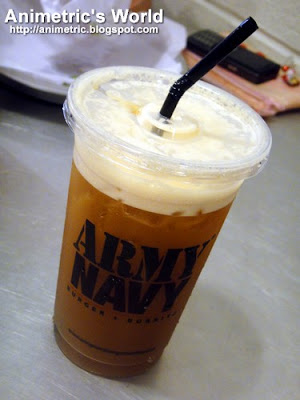 I ordered a large size LiberTea Iced Tea (P55, pictured above). It's really refreshing! I love the light citrus-infused taste with just the right sweetness. 🙂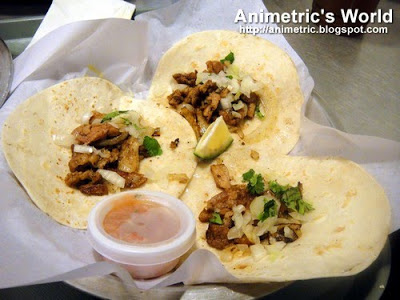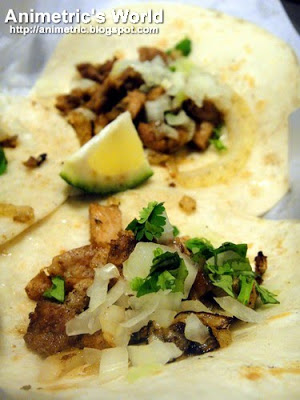 Hubby decided to go for an order of Soft Taco with Chicken (P125, pictured above). Chopped chicken tidbits, minced onions, and cilantro are tossed together then served atop soft tortillas. They come with some salsa and a wedge of lime too. Nice, but not special. You get three pieces per order and they're also available with Steak or Carnitas (Pork).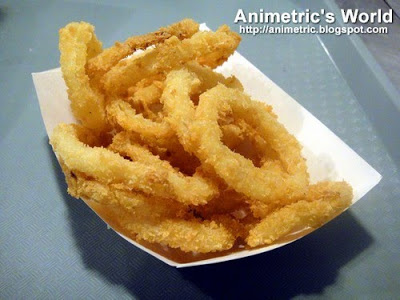 We also had Onion Rings (P60, pictured above). Now these are onion rings done right — crispy and sliced with just the right thickness. Yummy! 😀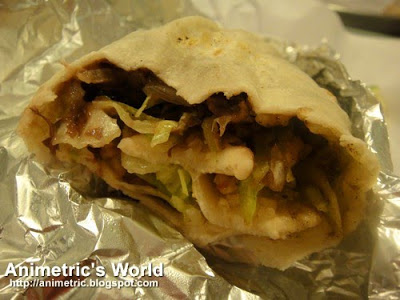 For the main event, I decided to go for a Steak Burrito (P155, pictured above). Soft and warm flour tortilla is filled with cubes of steak, spanish rice, beans, onions, lettuce, and cilantro. Like the soft tacos, it comes with salsa and lime. I didn't like the fact that some of the steak pieces were tough and had tendon (litid) which I hate. It was kind of bland too… oh well.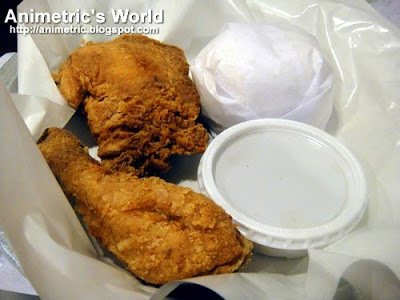 Hubby had Fearless Fried Chicken (P135, pictured above). Two pieces of crispy fried chicken are served with steamed white rice and pepper gravy. Since I don't really like chicken, I did not bother to have a taste. Hubby commented that it's nothing you can't cook at home.
Army Navy Burger + Burrito is a place that can't seem to make up its mind if its American or Mexican. Maybe I should try their burgers next time? The food is not flavorful enough to compete with Mexican places like Ristras or B&T Mexican Kitchen (coming up next)… and burgers, fries, plus onion rings are all they have to be considered American. At least the iced tea and onion rings are perfect… :p

Army Navy Burger + Burrito
F. Ortigas Jr. Rd. (formerly Emerald Ave.),
Ortigas Center, Pasig City
570-8181

Like this post? Subscribe to this blog by clicking HERE.
Let's stay connected: