I've been to the upscale Filipino restaurant Aracama Filipino Cuisine in BGC a grand total of three times. That said I guess by now I can already gauge how much I like the food there.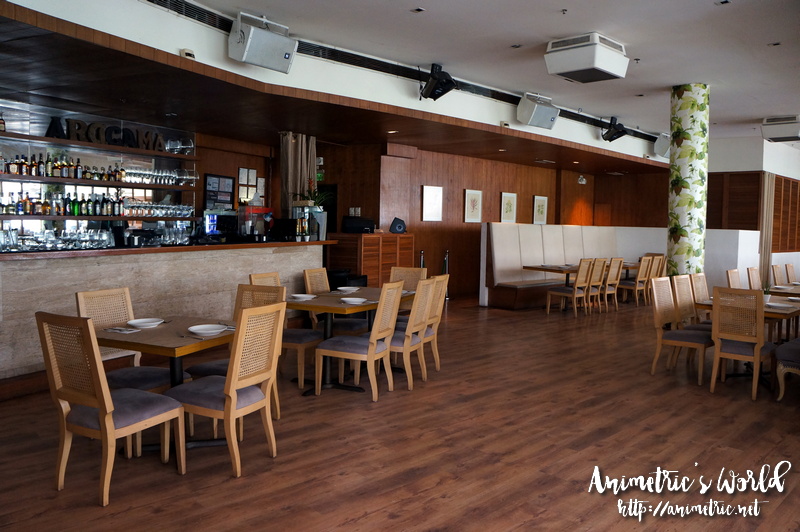 Aracama Filipino Cuisine is very spacious. It's one of the reasons why it's a viable events venue. There are function rooms which can be closed off for private use too.
The wooden floors and the way the chairs and tables are designed exude a very Filipino feel.
For appetizers, we had Chorizo Frito (P330). Sliced Spanish sausages are glazed with chili honey and served with melba toast on the side. It's a sweet-spicy-savory dish that I couldn't stop munching on. The sausage slices are practically bursting with flavor.
Then we had Malunggay Mozarella Dip (P190). I don't know where the Malunggay is, lol, because the dip itself is mainly made of spinach and gooey cheese. Pretty good though and like Chorizo Frito, served with melba toast on the side for dipping.
We each had a personal serving of Insalata Uva (P220 for an order, I'm assuming the normal serving would be bigger than what we had), Aracama's signature salad of mixed greens, kesong puti, toasted walnuts, and grapes. It's tossed in honey balsamic dressing. I liked how it was light and refreshing as it balanced the more flavorful chorizo and cheese appetizers we had.
There was also Pancit Molo (P290 for a full order, what you see here is my own small bowl filled halfway with it), a classic Filipino chicken and shrimp soup with wontons and lots of garlic for flavor. It was bit on the oily side but okay.
Next up was Chicken Honey Barbecue (P350). It's filleted barbecued boneless chicken which is kind of like a cross between inasal and teriyaki. I'm not fond of chicken so I had just one little slice. So-so. I wouldn't order it if I go back.
Bangus Belly ala Pobre (P350) is basically the middle portion of a big milkfish cooked with lots of garlic. It's served with Pomelo Mint Salad on the side as well as a lemon wedge you can squeeze all over it. Okay I guess.
My favorite dish that day was definitely Kare Kareng Baka (P480). Yes it has beef, ox tail, ox tripe, peanuts + peanut butter, and veggies. I liked it because my favorite part of Kare Kare has always been the veggies and the veggies in this one are all rolled up on top so you can just get a roll and then proceed to smother it with the rich and creamy peanut sauce. I love how I don't have to fish around for veggies, lol. Kare Kare goes so well with plain steamed rice and this one is no exception.
For dessert, we had Dulce Gatas and Bunuelos (P230). Warm puff pastries (kinda like cream puffs without the cream) are served together with a can of gooey dulce de leche (caramelized condensed milk) for dipping. Everyone agreed it's very good.
I had a pleasant dining experience at Aracama Filipino Cuisine. While I wasn't really blown away by the food, I like how the place is relaxing and uncluttered. It's also impressive if you're taking someone out because of its classy ambiance. The food prices are above average considering the fact that the serving portions aren't too big.
Aracama Filipino Cuisine
Unit C The Fort Entertainment Center,
Fort Bonifacio Global City, Taguig City
519-6815
Like this post? Subscribe to this blog by clicking HERE.
Let's stay connected: