One restaurant hubby and I have always wanted to try is Applebee's Grill and Bar. During our last trip to the US back in 2013, we tried to find a branch near my mom's house in California but failed… lol! I honestly didn't think we'd have our first taste of Applebee's here in the Philippines!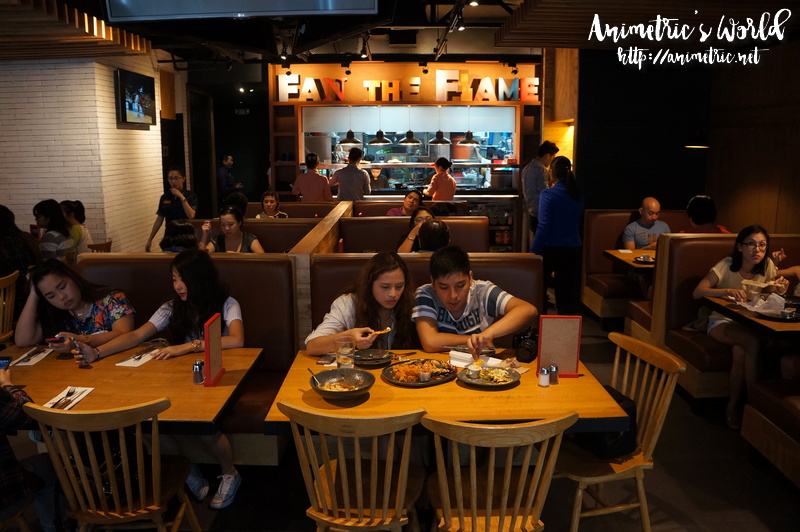 Applebee's Grill and Bar opened its first Philippine branch in BGC very recently. In fact, I think it hasn't been a month. Since it's a holiday today, we decided to go try it out along with my mother-in-law, sister-in-law, and nephews. There were a lot of people waiting at the ground floor when we arrived but we were able to get a table fairly quickly (about 10 minutes). True to the Applebee's Grill and Bar motto of #CelebrateEverything, the first thing they ask you when you take your seat is are you celebrating anything? If you are, they'll break out in song before your meal is over and bring you a free dessert (I didn't see what they brought the birthday celebrator at the next table so I can't tell you what it is, lol! I suspect it's ice cream…).
My sister-in-law ordered Sriracha Shrimp (P445) to start us off. Rappler hailed this as a must-try but I beg to differ. This dish consists of several pieces (7 to be exact, hubby counted) of battered shrimp covered in what tasted like mayo and Sriracha sauce mixed together. Not bad but you could probably make this at home if you know how to cook. I also found the serving size extremely small.
My hubby doesn't eat nuts so our order of Oriental Chicken Salad (P295 Half / P450 Full) had almonds on the side. The rest of the ingredients are greens, crunchy rice noodles, and grilled chicken strips. Like the Sriracha Shrimp, I found the serving size quite lacking. I couldn't believe this was the Full serving (the plate is just a little bigger than your dinner plate at home). It looked like Half. For a good-sized Full portion, please refer to the salads at Chili's or TGIFriday's — 3-4 people can share those easily while this one can be best shared by 2. It's kind of bland too, perhaps a bit more dressing (in this case oriental vinaigrette) would help?
I ordered French Onion Soup (P195) for myself. Like the first two dishes it was very small.
The bowl is V-shaped so it's gets narrower towards the bottom so you can imagine how little soup there was. I think I finished it after 5 spoonfuls. Don't get me wrong — I loved it, it's really cheesy and the broth is flavorful. In fact, I consider it the yummiest savory dish I ate at Applebee's today. But it's really tiny.
For my main dish, I had Cedar Grilled Lemon Chicken (P295). I tried ordering Applebee's Riblets but I was told it's not available anymore because it did not live up to US standards. Darn! If I can't have what I want, I decided I would go for what's healthy and that's how I ended up with the Cedar Grilled Lemon Chicken. Okay, the size in this case is acceptable considering the price. My problem is it's tasteless, I felt like I was eating strips of cardboard. But that's my fault because I ordered this from the Under 600 Calories section of the menu so naturally I can't expect it to be as tasty as the normal fare.
My hubby, son, and his 2 nephews all ordered the Fiesta Lime Chicken (P395). Grilled chicken with fiesta lime sauce is topped with a blend of melted Monterey Jack and Cheddar cheeses with Mexican Ranch dressing. There's also rice and pico de gallo on the side. To be fair, everyone who ordered this dish loved it. All the kids had clean plates afterwards. I had a taste of my hubby's chicken and I have to admit the melted cheese and the Mexican Ranch dressing made his chicken better than mine.
I don't remember exactly how much the Sizzling Skillet Fajitas with Rice Chicken & Steak (P500+) costs since it was my sister-in-law who ordered it but it was good. The steak was nice and tender (I skipped the chicken) — I wrapped up a few pieces in a soft flour tortilla and added some shredded lettuce, cheese, pico de gallo, sour cream, onions, and bell peppers.
For dessert, we had a Blondie (P325). This actually caught my eye when I was perusing the menu. It's kinda like a chewy butterscotch bar with pecans topped with a scoop of ice cream and served with a really delicious salted butter sauce on the side. OMG. Pour the sauce all over the ice cream and the chewy bar for the full effect. This is definitely the best thing we had during our Applebee's lunch! It's so so soooo good and unique, really a must-try!
Applebee's Grill and Bar has Lunch Combos wherein you can order lunch-sized portions of any 2 items in their Lunch Combos menu for P325, P425, or P525. You can actually order 2 entrees at those prices. This is a good way of sampling many different entrees at lower prices (but smaller than regular portions). You can avail of the Lunch Combos from Monday to Friday (even if it's a holiday) until 4pm.
Service is excellent. Everyone was attentive, efficient, and prompt despite the fact that it was a full house. The air-conditioning was able to cope with the sheer number of people eating and waiting so that's another positive point. Overall, our experience was actually okay.
Applebee's Grill and Bar
W Global Center
9th Ave. cor 30th St.,
Bonifacio Global City, Taguig City
Like this post? Subscribe to this blog by clicking HERE.
Let's stay connected: