While most people in their 40's don't like to talk about their age, I wear mine like a badge. I don't hesitate to say I'm already 43, even if it means I'm usually the oldest blogger in events. Even if it means I'm potentially limiting opportunities for myself since marketing, PR, and brand people seem to favor younger bloggers. I would usually get exclamations of surprise and amused looks. Somehow when somebody is 43, people expect them to look well… old. Newsflash, it's people in my demographic who have more spending power lol. But that's a topic for another blog post.
When I was a little girl, I thought people in their 30s looked old. These days, 30-somethings look like 20-somethings. It must be the times. People these days know how to take care of themselves better.
Every time the -ber months hit, my skin becomes drier and I have to overhaul my entire skincare routine. I call it my anti-aging -ber months skincare regimen since we don't really have cold snowy winters here in the Philippines. This year, my my anti-aging -ber months skincare regimen is from the Korean brand Banila Co.
I went to the Banila Co flagship store in SM North EDSA since it's their biggest and most well-stocked branch.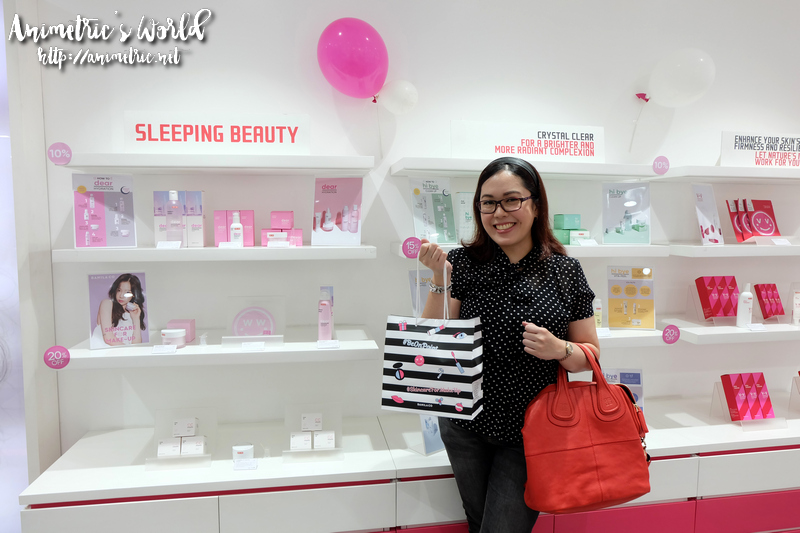 I immediately made my way to the skincare section. The challenge was, could I come up with an anti-aging -ber months skincare regimen that costs P3,000 total? Lol! I'm like whuttt… serum alone is already over P1k lol. But okay, game on!
The secret to coming up with an effective yet economical skincare regimen is to know which products you can skimp on. The first would be cleanser. You can use any drugstore cleanser to wash your face. As long as it really cleans and doesn't overdry or make your face feel right, you're fine. The 3 skincare products that are NOT negotiable if you're trying to maintain your youthful looks are toner, moisturizer, and serum. So those 3 products were what I got. These 3 work best if they are all the same brand. There's a kind of synergy that you won't get if your toner, moisturizer, and serum are from different brands.
Anyway the 3 products I got from Banila Co are:
Dear Hydration Toner (P845)
Dear Hydration Balancing Moisturizer (P950)
VV Vitalizing Essence (P1,395)
This skincare regimen is a hack in the sense that it's affordable yet effective. VV is the anti-aging line of Banila Co but if you're on a budget, getting all VV products will definitely run up a bill of more than P3k. This is true for all brands. The anti-aging line is always the most expensive. What I've done here is address aging-related skincare concerns by spending wisely lol. Total damage? P3,190. Okay so I went a little over P3k, but I assure you, the additional P190 is worth it!
Okay now that we've established that you can use any non-drying cleanser to wash your face, toner is the next step. Instead of getting the VV Vitalizing Toner for P1,150, I opted for the Dear Hydration Toner that's cheaper by P300. Why?
Dryness is one of the foremost age-related skin concerns. Dear Hydration is Banila Co's moisturizing line that promises to continuously deliver lasting hydration to the skin. That said, even if it's cheaper, it can sufficiently address age-related skin concerns. Toner's role is to further cleanse the skin and prep it for the skincare steps that follow. It gets rid of any leftover dirt, grime, or makeup.
I love the Dear Hydration Toner. It doesn't sting. It leaves my skin soft, supple, and smooth. There's no strong fragrance too which is a definite plus. My face feels so fresh and nice after use.
After toner comes moisturizer. For this step, I got the Dear Hydration Balancing Moisturizer (P950). It's from the same line as the toner I got.
Since we live in a humid country, we can totally get away with a moisturizer like this during the -ber months. I've tried spending Christmas in the US and you totally have to use a thicker face cream to moisturize.
The Dear Hydration Balancing Moisturizer has a water-like consistency that's non-sticky and non-greasy when applied. It is sufficiently moisturizing though. But then again I had really oily skin when I was younger so the dryness I experience during the -ber months might not be as severe compared to others my age.
The finishing touch is the VV Vitalizing Essence (P1,395). This is the big gun where anti-aging skincare is concerned. If there's one thing you can't save on it's serum. It's the step that delivers that super concentrated shot of the stuff your skin needs.
This particular serum is infused with collagen which enhances skin elasticity. As we grow older, our skin becomes less elastic. So aside from dryness, we have loss of elasticity to contend with. VV Vitalizing Essence addresses all these age-related concerns.
I found it to be sticky at first but when I woke up in the morning, wow. My face was so perfect! I took this photo after I had cleansed with a face wash, toned with Dear Hydration Toner, moisturized with Dear Hydration Balancing Moisturizer, and applied VV Vitalizing Essence this morning. The only thing that's missing in this regimen is eye cream. I apply eye cream religiously day and night. The good news is, you can use any existing eye cream you have because you don't really layer toner, moisturizer, and serum around your eye area.
I can actually run around makeup-free lol!
I've been using this Banila Co skincare regimen for almost a month now. I started last Nov. 25, the day I stepped into their flagship store. I put away all the other products on my dresser and really focused on these. Hey, I have to know these work before I go around recommending them, right? I'm super in tune with what my skin needs so even if I'm budget-constrained and presented with a different brand, I know how to achieve my ideal skin condition.
For a complete list of Banila Co stores and more product information, log on to https://www.banilaco.ph. Don't want to go out? Banila Co has an official store on Shopee at https://shopee.ph/banilacoph. Get 10% off from Banila Co's Shopee store by using my discount code BANILA10A. Then this regimen won't even reach P3k!
Like this post? Subscribe to this blog by clicking HERE.
Let's stay connected: