Last Wednesday (it was the Eidl Fitr holiday), I had dinner at Annam Noodle Bar in Eastwood City. Annam Noodle Bar is actually the popular Vietnamese restaurant chain from Singapore — NamNam Noodle Bar. I suspect that due to licensing or trade name issues, they had to change their name to Annam Noodle Bar here in the Philippines.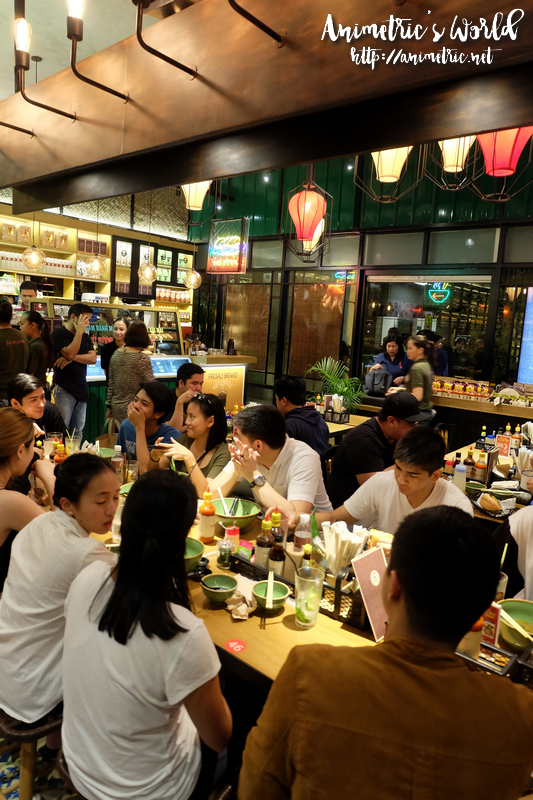 Wow, it was just the opening day and yet full house already!
We started off with some Crispy Imperial Rolls (P200). These ground meat-filled rolls are similar to the Filipino favorite Lumpiang Shanghai except that the wrapper is thinner and more crisp. Yummy, especially when dipped in the sweet-spicy-sour sauce.
Then we had the Fresh Southern Rolls with Prawn, Pork, Fresh Herbs, and Peanut Sauce (P170). I liked the clean and fresh taste/feel. It goes well with the pho, which I will get to in a bit.
Then we had Green Papaya Salad, Beef Jerky, Fresh Herb, and Peanuts (P250). I was expecting something tart and sweet (sort of like green mango salad) but was surprised when the dominant taste was spicy hot. I have high tolerance for spicy foods but this salad left my tastebuds with a burning sensation which kind of drowned out everything else. The Vietnamese chef did admit that they were taken aback by the spicy-ness of our chili peppers here in the Philippines, so there will probably be adjustments in the coming days.
I finished off my refreshing Lemongrass Ginger Iced Tea (P150) fairly quickly because of the salad.
Their Crispy Squid, Sriracha Mayonnaise (P200) is a tastier version of the usual calamari served in most restaurants. I didn't feel the Sriracha in the mayo though, but then every table has a bottle of Sriracha anyway so amping up the dip is easy to do.
My most favorite dish that night was hands down the Pho Australian Wagyu Beef Slices (P550). The beef is actually served medium rare but we took so long with the photos it cooked in the hot soup lol. Gosh, can I just say this is the best bowl of pho I've had? And I've had a lot in my lifetime. The beef is super tender and tasty… I couldn't get enough of it! The soup had a superbly clean and natural taste because this restaurant doesn't use MSG. I'll be back for this!
When in a Vietnamese restaurant, another dish to try is Banh Mi. Banh Mi is a Vietnamese sandwich consisting of toasted baguettes stuffed with savory meats, herbs, and veggies. We got a Sauteed Lemongrass Pork Cream Cheese Banh Mi (P250) to share. Delicious and filling, but best eaten when hot as the bread has a tendency to toughen up when it gets too cold.
For dessert I tried the Vanilla Pudding, Palm Sugar Caramel (P150). The Palm Sugar Caramel is way too sweet. What I did was drain my dessert of it, then it became perfect. The pudding itself tastes like milk-rich and creamy panna cotta which I really like.
Since I was already there I decided to try Viet Coffee with Condensed Milk (P120). You can have it either hot (top, smaller mug) or cold (bottom, bigger mug with ice). The coffee was indeed rich and robust but I regretted having it at night because it was so strong I didn't get any sleep.
My hubby tried the Chilled 3 Colour Dessert (P180). It's a lighter, more refreshing, and less sweet version of our halo-halo. It consists of creamed corn, grass jelly, kaong, gulaman, red beans, crushed ice and palm sugar syrup. I liked it!
Dinner at Annam Noodle Bar was enjoyable. I liked the food's light, clean, and natural taste so even if I tried a lot of dishes, I didn't feel like I was stuffed silly. The air-conditioning needs to level up though, because it started to get stuffy when the place filled up with people (and it was night time at that!). Prices are quite reasonable for the quality of the food. Definitely worth checking out.
Annam Noodle Bar
G/F 1880 Building
Eastwood Avenue, Eastwood City
Libis, Quezon City
0918-3441234
Like this post? Subscribe to this blog by clicking HERE.
Let's stay connected: