Hello and welcome to the second installment of my skincare regimen series! Sorry it takes me a while to come up with the posts… I want to be thorough and I do use a lot of products lol! Anyway after cleansing your skin, toning is what you need to do next. Before I discovered the Korean brand LANEIGE, I didn't really bother with toning. I would just wash and apply serum. Two steps. I'll tell you straight out based on my personal experience: Two steps are NOT ENOUGH.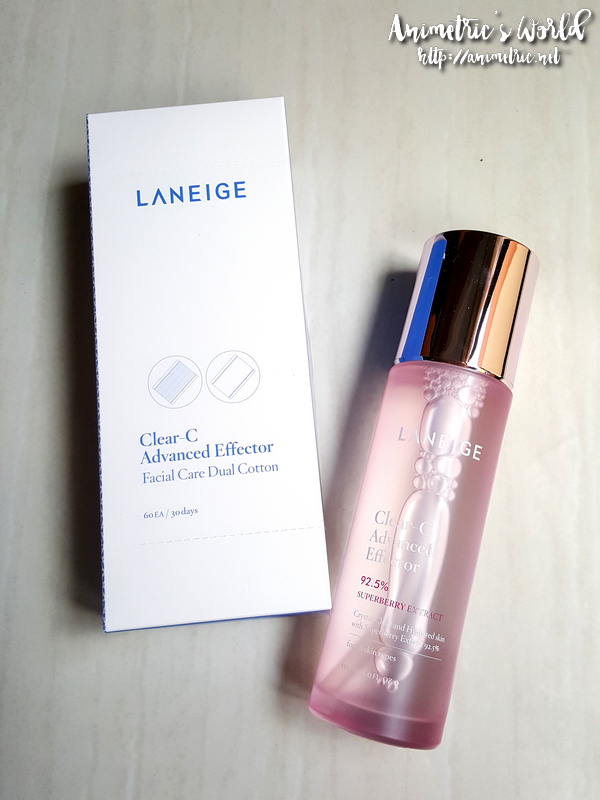 Laneige Clear C Advanced Effector (P1,750)
Okay so I do a little something else right after I cleanse. I apply a booster (some brands refer to it as a pre-serum or pre-essence). What it does is amplify the effect of everything you apply afterwards. So far I've tried 3 boosters — Olay Regenerist Miracle Boost (P1,399), Shiseido Ultimune (P3,500), and Laneige Clear C Advanced Effector (P1,750). They're all good but I stuck with Laneige Clear C Advanced Effector (P1,750). I've been using Laneige Clear C Advanced Effector for a couple of years now so I've actually seen it change formulations from gel-like to water-like.
My latest purchase of Laneige Clear C Advanced Effector came with a box of really nice cotton pads.
These aren't ordinary cotton pads. One side is lined and one side is plain. You're supposed to use the lined side during the daytime because it helps skin absorb the product more. The plain side is used at night when all you need to do is pat the product in.
So the thing about this new formulation is its really water-like. According to the instructions I'm to use 3 pumps 2x a day (morning and night) and this bottle is supposed to last for 30 days. That's almost P59 a day lol.
Anyway I like using Laneige Clear C Advanced Effector because it's supercharged with Vitamin C that helps prevent the skin from oxidizing. The best way to explain what oxidizing is in terms of fruits. You know how an apple turns brown some time after you slice it? That's because it oxidized. This product prevents your skin from turning into that apple after it's cut. Laneige Clear C Advanced Effector has a brightening effect plus it feels so cool and refreshing when I apply it on my face. I see and feel the benefits of using a booster and so I've made it a permanent part of my skincare regimen.
Laneige Perfect Renew Skin Refiner (P1,750)
Laneige Power Essential Skin Refiner Moisture (P1,300)
After the booster is completely absorbed by my skin, I move on to actual toning. I alternate between the Laneige Perfect Renew Skin Refiner and the Laneige Power Essential Skin Refiner Moisture. That bottle I'm holding in the photo was bought from Target in the US for US$20+ (so the word Toner is used instead of Refiner). I ran out while I was on vacation there last December. Laneige Power Essential Skin Refiner Moisture is cheaper than Laneige Perfect Renew Skin Refiner. Refiner is Laneige's term for Toner. I can't use two bottles of the same product for 2 consecutive cycles because I feel it loses its efficacy. What I do is alternate. I've actually tried a lot of toners ranging from drugstore brands (Eskinol, Pond's, Neutrogena, Burt's Bees, etc.) to luxury brands (Lancome, Estee Lauder, Shu Uemura, Shiseido, etc.)  and of all that I've tried, it's these Laneige toners that work best on my skin. Because I'm 40+ I always opt for moisturizing variants when it comes toners. Dryness is your skin's no. 1 enemy and dry skin will age very very quickly.
I can't get over how nice my face feels after I've used the booster and the refiner. Sometimes I'm tempted to not apply anything else but I know it's not enough to just cleanse and tone so I soldier on.
I use soft cotton squares like this one to apply refiner too, just like how I apply the booster.
Why do I tone?
Toning removes excess dirt and makeup that your makeup remover and cleanser may have missed.
Toning makes the skin a lot more receptive to the next steps — moisturizing and applying serum.
Depending on the toner you use, your skin gets more benefits. As for me, additional moisture and thorough cleansing is what my toners give my skin.
And this is why I can never leave a LANEIGE boutique empty-handed. Lol. For more information about LANEIGE and a complete list of stores, log on to the LANEIGE Philippines Facebook Page.
What comes after toning? I'll tell you in the next installment of Animetric's Skin Care Regimen. 😀
Like this post? Subscribe to this blog by clicking HERE.
Let's stay connected: