Before anything else, I would like to wish all you mommies out there a belated Happy Mothers Day! It's not easy being a mom. We're probably the most overworked multi-taskers there are. We're on call 24/7 as far as our family, especially our kids, are concerned.
Anyway, as promised, I will be sharing my skincare routine, one step at a time. It's not really complicated but it does entail some degree of explaining. That is probably the most asked question when it comes to my beauty blogging: What do I do? I interpret that as what do I do to stay young-looking because I know I don't look 42.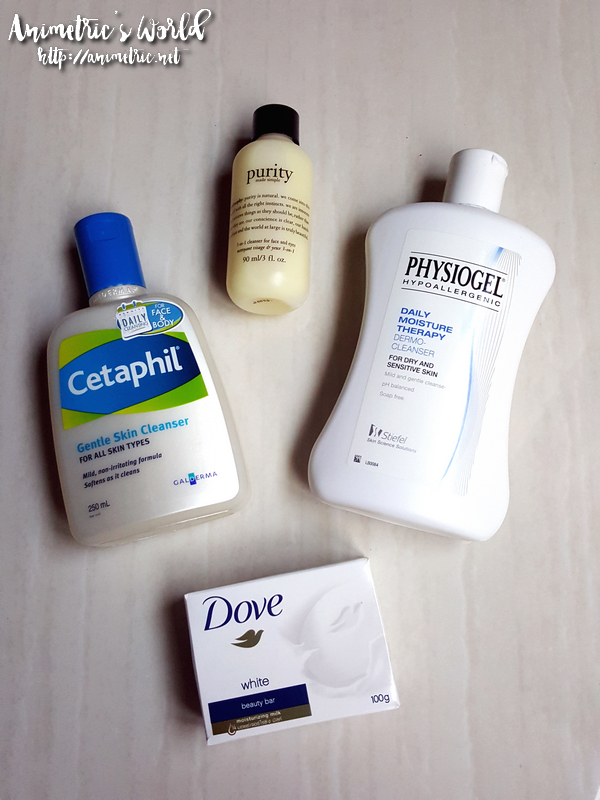 So let's start at the beginning, shall we? The first step in any skincare regimen is Cleansing. The products above are what I use on a regular basis: Physiogel Daily Moisture Therapy Cleanser, Cetaphil Gentle Skin Cleanser, Philosophy Purity, and Dove White Beauty Bar.
Now what do these products have in common? They are ALL moisturizing.
I can never stress enough how much our skin NEEDS moisture. NEEDS. It's not a luxury, it's a necessity if you want to keep your skin looking young. I used to have very oily skin when I was younger (now that I'm older I have combination skin). Back then, I LOVED using facial washes that would leave my skin feeling taut, dry, and squeaky clean. I was so happy to be rid of the oil! I'm glad I didn't keep it up through my later years because I realized stripping my skin of oil and moisture isn't going to help my cause. Yes, even if your skin is oily, it still NEEDS moisture. If you dry it up, it's just going to produce more oil to compensate.
That said, I've learned to forego all the bubbly foamy cleansers that almost always leave my skin feeling squeaky clean. I literally feel wrinkles forming when I try to talk or smile after using such products. If ever I do get a foaming cleanser (I'm too into beauty products not to try some out), I make sure it's a moisturizing variant.
Of all the products above, I use Physiogel the most. Next would be Cetaphil. They are nearly identical, but Physiogel is usually more cost-effective for me plus it doesn't contain SLS — so it's my #1 choice. If Physiogel isn't available (for example when I went to the US last December), I get Cetaphil. Philosophy Purity made it to this list because of its makeup removing capabilities. Like Physiogel and Cetaphil, it's a creamy liquid moisturizing cleanser but it's a more powerful makeup remover compared to the other two. It's a lot more expensive though but great to bring when you're travelling and don't have your full arsenal of makeup removers. Meanwhile, the Dove White Beauty Bar is also good if you're travelling and don't want to bring a lot of heavy bottles. It's the least expensive option in my short list. You can use it for both the face and the body. It also keeps your skin soft, smooth, and moisturized. Actually, these four products all do.
Makeup Removal is very much part of cleansing because in order to have clean skin you have to thoroughly remove all traces of makeup. I always go for oil-based makeup removers because they can better remove waterproof makeup. I prefer the type that can dissolve makeup with minimal effort. My favorites are Tonymoly Blast Perfect Lip & Eye Remover, Laneige Lip & Eye Remover Waterproof EX, Shu Uemura Anti/Oxi Skin Refining Cleansing Oil, and Etude House Real Art Moisture Cleansing Oil.
Oh and I don't use cotton pads to remove makeup. I find that method abrasive. The best tools for the job are my fingers. I place a generous amount of makeup remover on my palm and use my fingers to gently rub off stuff like waterproof eyeliner. This is also why I will never use makeup removing wipes on my face (except maybe on my lips). They are too abrasive. They entail a lot of rubbing against your face to thoroughly remove makeup so no thank you. I admit a few brands have sent me makeup removing wipes and I did try them. That is my conclusion. I do however use them to wipe off makeup swatches on my hands or arms.
After using a makeup remover to clean off my makeup, I follow up with facial cleanser. It's never okay to leave makeup (as well as non-makeup stuff like sunscreen) on your face.
How do I cleanse? I spread generous amount of facial cleanser all over my face and then gently massage the surface and then rinse. I  dry my face with soft facial tissue (as in I virtually put the tissue on top of my face and pat it). I'm too scared to use potentially abrasive paraphernalia like facial brushes. I only use jelly sponges (usually Korean) once in a while for exfoliation purposes. My personal rule of thumb is anything abrasive (that includes cleansing pads and towelettes) do not touch my face.
What comes next after cleansing? I'll tell you in the next installment of Animetric's Skincare Regimen. 😀
Disclaimer: This is just what I do and I'm just sharing what works for me. I'm no dermatologist or skin expert.
Like this post? Subscribe to this blog by clicking HERE.
Let's stay connected: