This is it — my long awaited first anniversary promo! As the song goes, these are a few of my favorite things… and I'll be giving them away to my dear readers! But before I share the contest mechanics, let me tell you a bit more about my favorite things… in no particular order since I love them all equally. 😀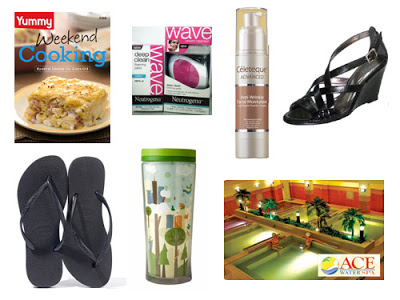 One set of Yummy books – By one set, I mean one lucky winner will get all three cookbooks from Yummy Magazine! Yummy Meals in Minutes, Yummy So-easy Sweets, and Yummy Weekend Cooking. Yummy Magazine is my favorite food magazine with its quick and easy recipes. The ingredients used are all very easy to get a hold of to boot. Did I mention the layout is very colorful and nice too?
Neutrogena Wave Starter Kit – This revolutionary gadget is truly the best facial cleanser I have ever used. On days my face feels icky and greasy, I give this a go and wow, it's really like having an instant facial. Those little bumps on the side of your nose? Gone. Oil? Gone. All that's left is clean, smooth, and beautiful skin. I love it! One lucky winner will get a Neutrogena Wave Starter Kit comprised of the power cleanser, a Duracell battery, and a 2-week supply of cleansing pads!
Celeteque Advanced – This anti-aging treatment is lightweight, non-greasy, and contains no harmful ingredients. I love how it's so quickly absorbed by the skin. It's an all-in-one product too so you don't need a separate eye cream — perfect when you don't want too many products cluttering your bedside or dresser. Ten lucky winners will get a bottle of Celeteque Advanced.
VNC Shoes – I just love how VNC has so many shoe styles to fit every personality. VNC shoes are fashionable, comfy, and priced just right. They're not cheap, but they're not overly expensive either. Well worth every single cent that you pay for… and one lucky winner will get to take home a gift certificate for a FREE pair of VNC shoes! That's right, ANY shoe of your choice from any VNC store no questions asked.
Havaianas Slims – I have a pair of yellow Havaianas Slims which I consider to be the most comfortable pair of flipflops I have ever owned. They're so soft and pliable it's like walking on jelly. They flex with your feet with every step. I love them, my feet feel so good whenever I wear them… and guess what? One lucky winner gets a pair of silver grey Havaianas Slims in my size 37/38 (size 7-8, my feet are 7.5)!
Starbucks Clean and Green Tumblers – Ever since I got my Starbucks Clean and Green Tumbler last year, we've been inseparable. I bring it to the office and use it to drink water in place of plastic cups. I love its slim easy-to-hold shape and cute green design. They're made of recycled plastic too, so it's kinder to the environment. Two lucky winners will get the Starbucks Clean and Green Tumbler in the 2010 design. Wow, I myself only have the 2009 edition…
Ace Water Spa GCs – Ace Water Spa is an indoor water wonderland and hydrotherapy massage center right in the heart of the city! Our whole family loves it there. Spending time at the various massage stations and pools guarantees sound sleep afterwards too. One lucky winner will get a pair of gift certificates for FREE 4-hour sessions at Ace Water Spa!
Now that we've got the prizes down pat, here are the mechanics:
Tell me which prize you want to win and why. Convince me. You can do so in the form of a reply to this post or you can get your creative juices flowing and blog about it… blog about why you should win the prize you want. If you choose to make a blog entry, post the url in the reply section of this post. Please indicate your name and email address so I can contact you if you win. 😀
Each person can have one entry per prize. Since we have seven prizes at stake, you can have a total of seven entries.
This contest is open only to residents of the Philippines.
The first person to submit a valid entry automatically wins a bottle of Celeteque Advanced and will still be eligible for other prizes.
Deadline for submission of entries will be on March 15, 2010. Winners will be announced on March 18, 2010, exactly one month after this blog's anniversary.
In order to get plus points during judging time, you can do three things:
Getting plus points means that if more than one entry is deemed as the best for a particular prize, whoever did the steps above will be declared the winner. :p
Good luck everyone! Looking forward to your entries. 😀
Congrats to Suzy and mrsmartinez for being the early birds, both of you win a bottle of Celeteque Advanced. According to the time stamp you posted at the exact same time! 😀
Like this post? Subscribe to this blog by clicking
HERE
.