Turning 40 was kind of a big deal for me a couple of years ago. I could no longer say I was thirty-something, which sounds kinda young somehow. There's just no getting around the big 40. Saying I'm forty-something doesn't make it better wahahaha. When I was younger, I remember thinking that people in their 40s are old.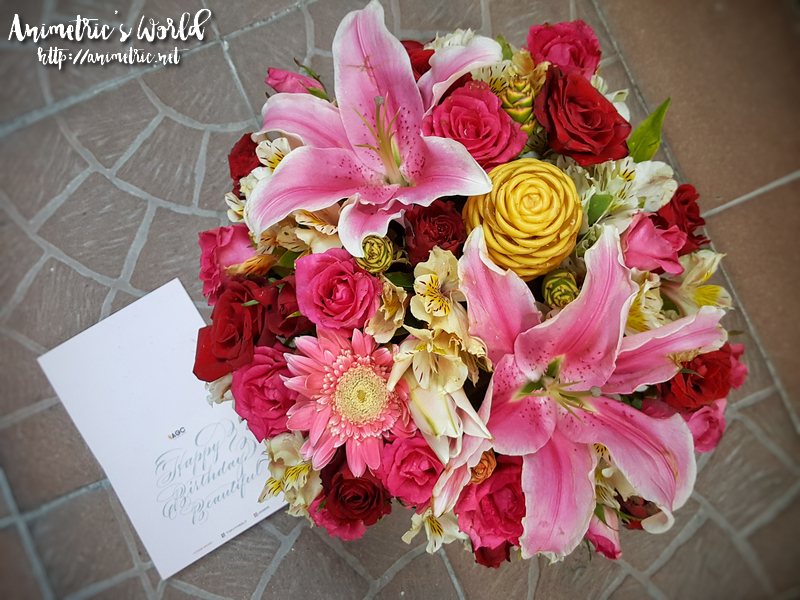 Thank you AGC for the early morning surprise today!
It may sound so cliched but time really flies. In what seemed like a short pause for breath, my son is suddenly 15 and attending soirees. My daughter is now a tween. Suddenly, she's interested in going with me to shop for Korean beauty products. I miss my babies who I used to carry around and cuddle like stuffed toys.
Every birthday I take a selfie, just so I can compare how I looked the previous year. I dunno. It may be vanity… or for the sake of documentation. It may be to see if I'm achieving my goal of not looking my age. This year's selfie was taken a day in advance because we had a party to attend and I looked presentable. I don't normally wear makeup when I go to the office or go about my daily routine.
At this point in my life, I have a lot less tolerance for conversations and things which I feel are time-wasting, irrelevant, or utter nonsense. I've always been on the outspoken side but this time, I actually care a lot less about what people think. I'm not young anymore. The clock won't stop ticking. If I'm not going to put my foot down now, when will I?
On a lighter note, at 40-something, I taught myself to cook. Rather, Google taught me how to cook. I googled everything from how to chop onions to how to make buttermilk. Nothing like necessity to force one to action. After many years of being useless in the kitchen, our helper of over a decade leaves. After 2-3 weeks of living on food delivery and eating out, we started feeling sick. That was the turning point. I had to do something so I decided to start cooking. To keep tabs on my daily cooking journey, type #AnimetriCooks on Instagram or follow my Facebook Page.
Anyway, I'd like to thank everyone who greeted me! I promise to finish uploading my anti-aging skincare routine. There are maybe 6 or 7 parts and I've only posted the first 2 so far.
Here's hoping for a good year ahead.
Like this post? Subscribe to this blog by clicking HERE.
Let's stay connected: