Earlier this afternoon, we came across this huge Angry Birds the Experience set-up at Bonifacio High Street Central. We went to the registration booth and we were told that we could get a ticket for free.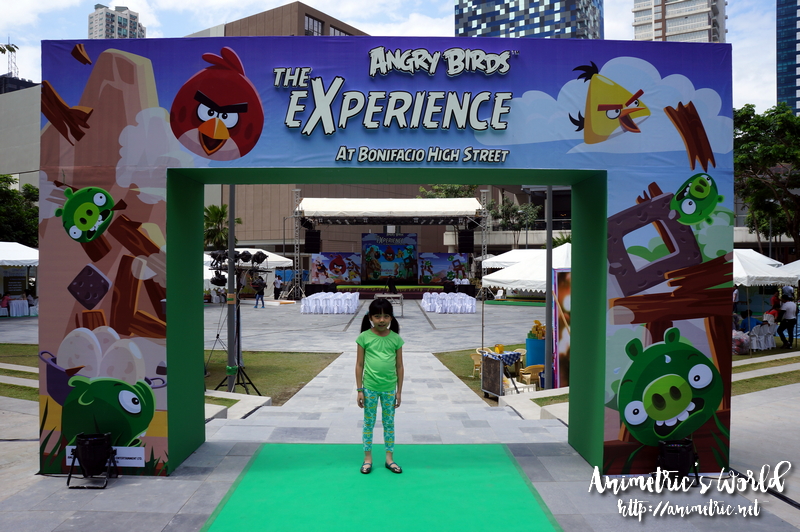 It's hard to miss since it takes up just about the entire space in between the two sides of Bonifacio High Street Central. It's located in the area in front of Cotton On.
We registered and they gave my daughter a ticket so she could play in the game booths.
We went to the Memory Booster booth where we were asked to form a puzzle within a time limit. If you complete a task successfully, you're given a pick-a-prize stub which you can use after you finish all the booth activities. This one was a success.
The next booth was Slingshot Surprise. You play Angry Birds for real, using a slingshot to catapult an Angry Bird.
Hopefully you hit one of the structures with the pigs. We failed this challenge, lol. Daughter's shot wasn't strong enough to reach the targets.
For Squawking Walk, she had to balance on a thin beam and pick up a golden egg from the floor without falling. She had help, lol, so we were able to get a pick-a-prize stub for this one.
Daughter got another stub for Bowlin' Mayhem.
She wanted these cute pig stuffed toys, haha.
Ham 'Em High was difficult. You had to throw the stuffed toys and shoot them inside the holes in the wall. It was a fail. I don't think I could've done it either.
You can get free face painting at the Color Mayhem booth.
Flight Wall, the last booth, will have you color some Angry Birds.
We were told there was going to be a show plus a meet and greet with the Angry Birds at 3pm. We couldn't wait though as we had an appointment at 2pm.
We got three pick-a-prize stubs in all.
She got an Angry Birds lanyard and baller band.
Angry Birds the Experience is worth checking out if you're already in Bonifacio High Street and just want some amusement. However, if you're coming from somewhere far away just to check it out, you may be disappointed. We were happy because we were just walking around passing the time till our 2pm appointment and this was a nice (and free!) way to do it.
Angry Birds the Experience opens 10am tomorrow (Sunday) and will go on until the evening. There will be a special challenge tomorrow where you can win an all-expense paid trip for 4 to Malaysia so it could be worth your while.
Like this post? Subscribe to this blog by clicking HERE.
Let's stay connected: