*Tien Mas Taiwanese Cuisine now stands in place of Angel's Pizza along Makati Ave.
We eat out as a family most weekends, especially as our helper likes taking every other weekend off. Hubby and I both can't cook so it's either order in or eat out. One such Sunday, we decided to have lunch at Angel's Pizza Makati Avenue. Prior to this we had never really tried dining in Angel's Pizza. We would usually order for delivery.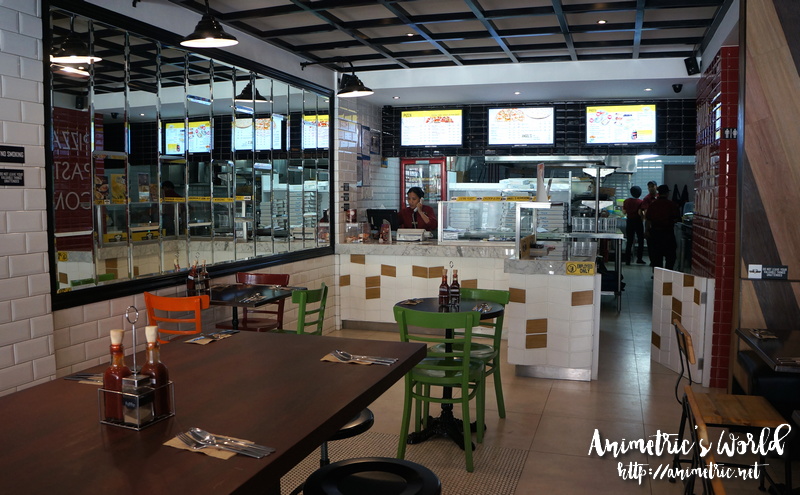 We were pleasantly surprised by the super nice interiors of Angel's Pizza's Makati Avenue store.
Since it was Sunday, it was nice, cool, and quiet… we had the place all to ourselves. They have more people eating here on weekdays when the Makati office crowd has work.
Each table had its own set of condiments.
We had Cheesy Lasagna (P139). Our daughter loves lasagna so this was a must-order for us. It's very very good! One serving is enough to satisfy a hungry tummy. But since we were having other things, we shared one order.
We each had one slice of pizza. Yes, you can order pizza by the slice at Angel's Pizza Makati Avenue. Our choices that day were: Chicken Aloha, Extra Feast, Angel's Pepperoni, and Cheesy Burger. A slice of pizza and a glass of iced tea is sold for a set price of P80. Our son and I both had a slice of Chicken Aloha. It's topped with BBQ chicken chunks, ham, bacon, pineapples, mozzarella cheese, bell peppers, and BBQ sauce.  It was sooooo good. OMG. Their piping hot original hand tossed pizza is really best eaten inside the store after it comes out of the oven. We've had this for delivery in the past and it's so much better like this!
Hubby opted for Extra Feast which is the same hand-tossed pizza topped with pepperoni, ham, beef, chorizo, onion, mushroom, green pepper, and mozzarella cheese.
Our daughter chose to have the Cheesy Burger. She doesn't like veggies on her pizza most of the time so this one is topped with simply just beef, bacon, and mozzarella cheese.
We had another kiddie favorite in the form of Carbonara (P85). Both our kids love Carbonara and it's one of the things they always order when we go out. This one is served with Angel's Pizza's signature triangular garlic bread sticks. Cheesy and creamy, they loved it! Personally I'm not very fond of white sauce but I'm happy the kids liked it.

And yet another kiddie favorite… Mac & Cheese (P109)! That's just how it is (well most of the time) when eating out with kids lol. Cheesy, but a bit on the dry side. Of the 3 pasta dishes we had, my favorite is definitely the Lasagna.

What do you know, Angel's Pizza serves tacos now — Angel's Taco (P65)! Crispy taco shells are filled with veggies, meat, tomato salsa, and cheese.
We were all super full after our Angel's Pizza Makati lunch. My favorites were the Chicken Aloha and Lasagna! The Taco was pretty nice too because it made the meal more balanced as it was primarily comprised of fresh veggies. We had a lovely Sunday lunch here. Prices are very reasonable plus the food and the place are great. Recommended if you just want a quiet weekend meal away from the mall crowd. If you don't feel like going out, you can order online at http://www.angelspizza.com.ph/ and get 25% off plus FREE delivery! 😀
Angel's Pizza
Makati Ave. cor. Constellation St.,
Bel-Air, Makati City
895-8888 / 899-3642 (Call 922-2222 for delivery)
Like this post? Subscribe to this blog by clicking HERE.
Let's stay connected: