Last May 31, I attended the culminating event of the Anchor Home Chef Recipes Re-imagined Challenge at Cafe Ysabel in San Juan City.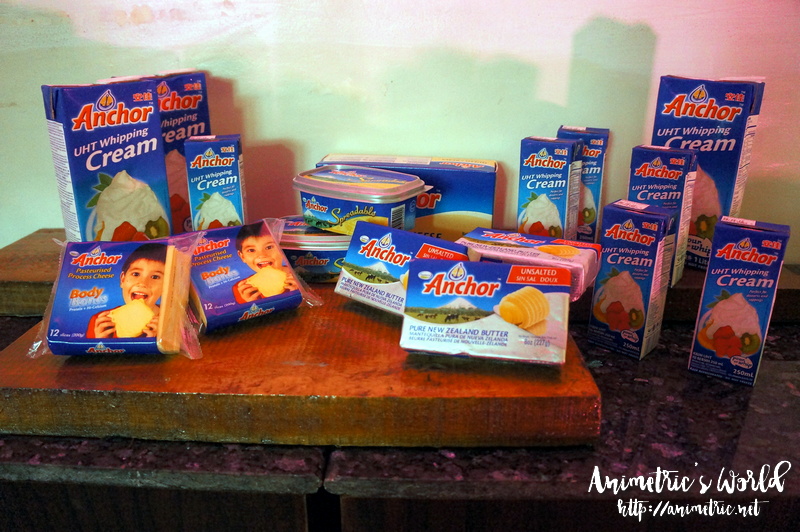 Basically, people submitted re-imagined recipes via a Facebook application… their own unique takes on familiar dishes which they make more special with the addition of Anchor products like cheese, butter, and cream.
The most creative re-imagined dishes were subjected to a kitchen test so the finalists could be determined. The search was narrowed down to six contenders who would conduct live cooking demos during the event.
The dishes would be subjected to the scrutiny and judgement of a distinguished panel of chefs (from left to right: Chef Ryan Abejuela, Chef Pauline Lagdameo, Chef Christa Mendiola, and Chef Jonas Ng). The most recognizable to me was Chef Pauline Lagdameo since I watched her demonstrate how to make The French Baker's Hokkaido Cake some months ago. I was excited because as part of the audience, we would all get to taste the Anchor Home Chefs' creations too!
At around 6pm, the event kicked off with the first contestant, Montecielo Guevarra. She had re-imagined the regular ham and cheese sandwich into her very own Ham & Cheese Roll.
Montecielo flattened ordinary white bread slices with a rolling pin and then spread mayonnaise on each slice. She then added sweet ham and Anchor cheese slices before rolling them into logs which she coated with bread crumbs. The logs are deep fried, sliced, and then topped with an Anchor cream cheese-based sauce. Good! My kids would probably enjoy this dish.
The second finalist was Neneth Tiongkiao and she whipped up a batch of her Breakfast Spring Rolls.
Bacon slices, longganisa, ham, carrots, garlic, and mushroom are all wrapped in buttered lumpia wrappers and then baked until it's a nice golden brown. Voila! It's Neneth's Breakfast Spring Roll… it's then topped with cream cheese-based sauce. Such a rich and protein-packed breakfast fare!
After the two appetizers, the third finalist Maridel Pacleb was called on to show us how to make her Creamy Binagoongan na Eggplant.
Maridel recounted that her creation stemmed from throwing in various leftovers from the fridge when she was in the mood for Binagoongan. In this case, she combined longganisa and eggplant slices. The clincher? She stirs in Anchor whipping cream to the dish while it simmers! OMG. Best Binagoongan I've ever tasted in my life. Puts the Binagoongan served in restaurants to shame really. It was sooooo good! At that point it was my bet for the winning recipe. It's so perfect with steamed rice.
All the recipes featured in the event use Anchor cream, butter, and/or cheese.
For the second main dish, the fourth contender Gene Cruz was called to the cooking stage.
Gene came up with Chicken Crab Combo in Coco Milk, which was by far the most sophisticated recipe yet at that point. It's kind of like Chicken Cordon Bleu except that it's filled with flaked crab meat. I'm not a fan of chicken but this dish was amazing! I actually finished it all, lol. She combined coconut cream and Anchor whipping cream for a richer taste.
Then it was time for desserts. Dang Yee dazzled us with her demonstration of Pinoy Panna Cotta.
Dang used Anchor Full Cream Milk, Anchor Culinary Cream, and Anchor Whipping Cream to form this dessert's milky base. She then topped it with fruit cocktail. Very creamy and milky. If it were me I'd skip the fruit cocktail altogether and be perfectly happy devouring the milk flan lol.
For the last dessert and final dish of the night, Michiko Halili amazed us by making Caramel Macchiato Ice Cream with her bare hands. No machines. My jaw dropped. I didn't think it was possible.
I'm not fond of ice cream but Michiko's Caramel Macchiato Ice Cream was nothing short of superb! So rich, creamy, and yet not overly sweet. OMG. She made it without eggs. She made it without a machine. She made it just by whipping Anchor Whipping Cream, instant coffee powder, and condensed milk all together. It doesn't melt easily too. I was in heaven spoonful after spoonful. I couldn't believe what I was eating. At that moment I knew she would be declared the winner.
After the last dish, all the Anchor Home Chefs were called to the stage.
As I had predicted, Michiko Halili's Caramel Macchiato Ice Cream won the competition.
Even the judges were blown away by her creation.
Here's a better shot of Michiko's Caramel Macchiato Ice Cream. That's how it looks like a full 30 minutes after being placed on that stand. Amazing isn't it?
Michiko Halili's Caramel Macchiato Ice Cream is sooo good I must share the recipe with you. Even a kitchen klutz like myself might be able to make it since it requires no fancy contraptions or exotic hard-to-find ingredients. 😀
Congratulations to all the Anchor Home Chef finalists! Every single dish I had tasted that night was delicious and I'm actually quite excited to try some of them at home. I love how this challenge encouraged people to take their dishes to another level. 🙂
For more re-imagined recipes, visit Anchor Home Chef on Facebook.
Like this post? Subscribe to this blog by clicking HERE.
Let's stay connected: