And today's discovery is Amores Gluten-Free Cupcakes!
First of all, what is gluten? According to the Mayo Clinic, gluten is found in grains such as wheat, barley, rye, and triticale (a cross between wheat and rye). So why go gluten-free? Aside from the fact that wheat is one of the top allergens around, a gluten-free diet is used to treat people with celiac disease. Celiac disease is a condition wherein eating gluten causes inflammation and damage to the small intestines' lining. The intestinal irritation can cause stomach pains after eating. There is no treatment for celiac disease but following a strict gluten-free diet can help manage symptoms and promote intestinal healing.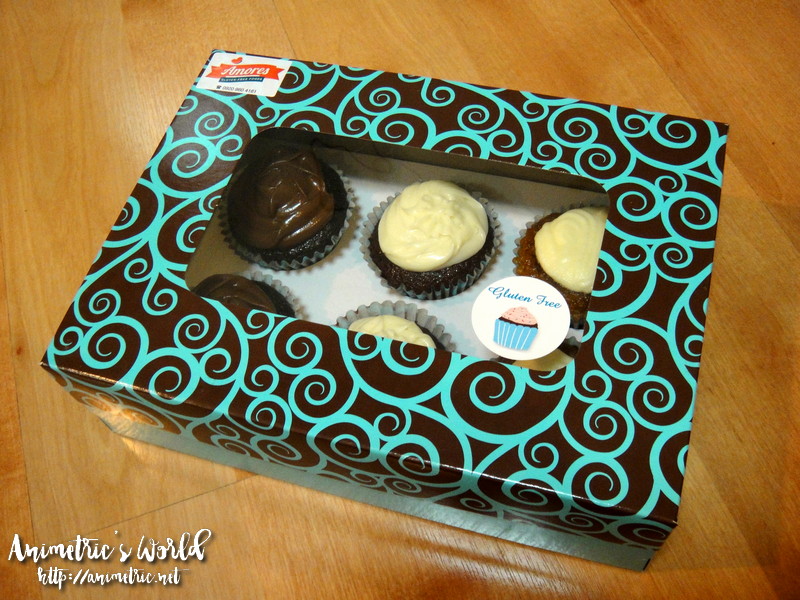 I don't have celiac disease nor am I allergic to wheat but I was more than willing to try the Amores Gluten-Free Cupcakes that were given to me. Somehow gluten-free struck me as something along the lines of fat-free (probably not lol), cholesterol-free (maybe?), sugar-free (I don't think so) and whatever-free. Basta may -free parang mas healthy, di ba? Hahahaha! I'm probably wrong but hell, I have a weakness for super moist cakes and these cupcakes looked every bit moist.
They smelled SO good. I wanted to eat everything on the spot. I got them in three flavors: Chocolate, Red Velvet, and Carrot. I was told they are the bestsellers.
Waaah check out how nice, shiny, and moist-looking these cupcakes are!
This is the Carrot Cupcake.
Here's Chocolate and Red Velvet.
I decided to try Red Velvet first. It's a dark dark red that is almost brown like chocolate. OMG. It was so incredibly rich and moist plus it wasn't overly sweet. The cream cheese frosting on top complements it perfectly. My hubby who normally avoids cakes like the plague couldn't resist eating the other Red Velvet cupcake.
Carrot is really good too. It had shredded carrots, nuts, and pineapple (I think). It's also super moist. Wow. They made all of this without gluten too, it must have been such a challenge. My daughter loved Chocolate. In fact she ate it all, lol.
I don't exaggerate when I say that these cupcakes are among the most rich, moist, and flavorful ones I've ever eaten. Prices per piece go something like this: Chocolate (P55), Red Velvet (P60), and Carrot (P65). Call or text 0920-9604161 to order. You can check out the Amores Gluten-Free Foods Facebook Page too.
This would probably make a great gift for health buffs this Christmas who'd like to have their cake and eat it too!
Like this post? Subscribe to this blog by clicking HERE.
Let's stay connected: