Hi everyone! Sorry if I've been remiss in posting the past few days. My hubby and I flew to the US last May 14 via Philippine Airlines and well, we left at night and then arrived at night so my body clock was totally thrown off course. Episode 1 of the American Idol finale was happening the very next day so I had no choice but to force myself to sleep.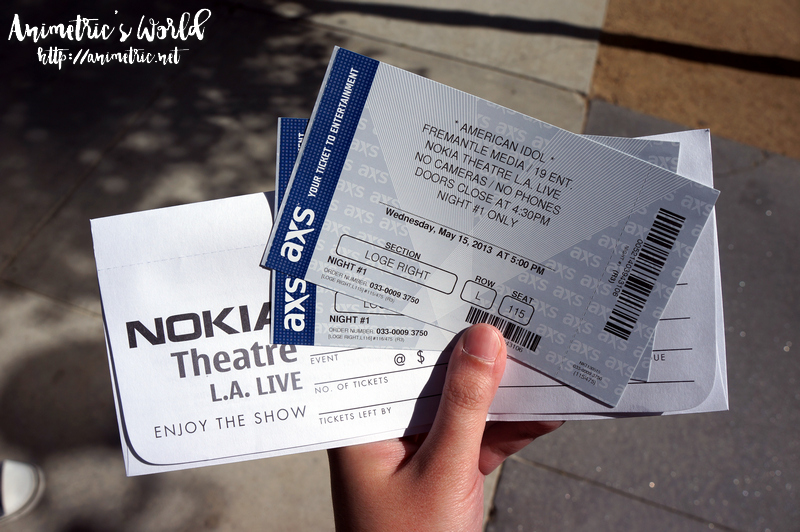 Still jetlagged, we rented a car and drove down to the Nokia Theatre Box Office to claim our tickets the next day. It's funny because I actually got an extra pair of tickets to the first episode because some AI staff were on the street and I was asking where I could claim my tickets. Apparently, they thought we were asking for tickets so they gave us a couple. Crazy! So what we did was compare which seats were better for the first night and sat there. The first night was basically a showdown between the two AI finalists Kree and Candice. Then the judges gave their feedback. We somehow got the message that Candice was their choice.
Carly Rae Jepsen performed her latest song "I Take a Picture" live too. I think it's some sort of theme for Coca Cola. It's catchy though and very Call Me Maybe-esque. Cameras, cellphones, and all recording devices are prohibited at the venue so I was forced to leave everything in the car. I'm embedding this video of the performance I found on YouTube.
The next night was finals night. It was twice as long as the previous show. We got to watch a multitude of performances including a couple from music legends Frankie Valli and Aretha Franklin. Angie Miller, American Idol's third placer, performed "Titanium" with Adam Lambert. I think Angie is better than Kree and is definitely box office material. It was one of my favorite performances of the night.
(Ryan Winter / Getty Images)
Angie also sang a duet with Jessie J (whom I did not recognize at all because she totally changed her look). Candice Glover had a duet with Jennifer Hudson and I thought she totally trumped Jennifer Hudson. Kree Harrison performed with AI judges Keith Urban and Randy Jackson.
Surprise of the night: Psy! He performed his new song "Gentleman". I honestly never thought I'd see Psy live. I kinda wish he had performed "Gangnam Style" instead though, hehe although "Gentleman" is a lot like "Gangnam Style".
What totally changed my life was Jennifer Lopez. I was never a fan but wow, after watching her perform "Live It Up" with Pitbull live, I am officially converted. CDs, TV, mp3s, and all other media DO NOT even begin to do her justice. J. Lo's voice is just so much better in person and her stage presence is soooo overwhelmingly powerful it will blow you away. That performance alone made my day, night, and perhaps even my year. Mariah's medley performance was pre-recorded so it didn't really do anything for me.
We watched American Idol history because after 12 years of being a judge on the show, Randy Jackson bade AI goodbye. There was a very touching video tribute too.
(Ryan Winter / Getty Images)
After all the powerhouse performances, Ryan Seacrest announced the winner… Candice! We weren't surprised, really. We actually got to see Candice and Kree up close (as in really really close like next to me close) on the red carpet on the way to the theater. But having left all my stuff in the car, I couldn't take any photos.
That about concludes my American Idol 2013 experience. It was worth every second! I'm so fortunate to have been given this chance. I'd like to thank Greenwich Pizza, Star World, and Fox Philippines for the opportunity. You can catch the replays on Star World on May 18 from 4-7pm. I'm sure there will be more replays so check out the complete schedule at http://www.starworldasia.tv.
Like this post? Subscribe to this blog by clicking HERE.
Let's stay connected:
// ]]>