During the EDSA Revolution school holiday last Feb. 26, we had initially planned to take my mom to Nuvali. She was here on vacation from the US the last couple of weeks. But the EDSA blockages made it impossible for us to travel south so we headed north instead to Alviera Sandbox in Porac, Pampanga.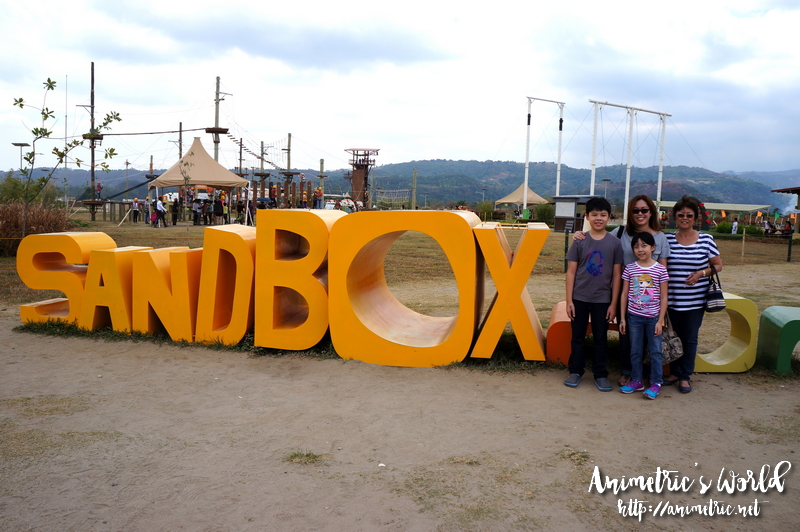 We arrived at Alviera Sandbox around 10am.
We paid P75 entrance fee per head.
We hadn't had breakfast yet so we decided to get a table and grab a bite at the snack bar.
This small snack bar is the only food purveyor in Alviera Sandbox for now. The good news is, everything is pretty cheap.
We ordered hot dog sandwiches and flavored fries. The sandwiches and fries all cost P35 each.
Alviera Sandbox is open Tuesdays to Sundays 9am to 5pm. These are all the available attractions and their corresponding prices. There are package rates but we decided not to avail of them because most of the activities are too extreme for us. Only kids 7 years old and up are allowed to go on most of the attractions. We went around to take a look at everything there. All prices indicated are per head.
This is the Giant Swing (P100). At first we thought it wasn't so scary. But when we saw how high they raise you up at the start, we chickened out lol.
It's kinda like riding a flying trapeze.
For something less daring there's the Aerial Walk (P150). It's kind of like tightrope walking on a hanging bridge while going through obstacles.
It's not really scary as it isn't so high up and you are fully supported by nets and a safety harness. There's even a part where you zipline a bit to the next area. Most people finish the Aerial Walk in 30-60 minutes.
We were lucky it wasn't so hot that day and it was pretty breezy.
Alviera Sandbox doesn't occupy that big a space, there's definitely a lot of room for more attractions and innovations.
This is the Adventure Tower, a tall structure that houses 4 different attractions: Wall Climbing (P50), Free Fall (P100), Rappel Wall (P70), and Roller Coaster Zipline (P150).
The Roller Coaster Zipline is the most unique and thrilling attraction.
Upon launching you zipline all around the area.
Hubby and the kids decided to try Outdoor Archery (P250 for 30 minutes / P400 for 1 hour). I volunteered to be the photographer since I already tried archery at Gandiva Archery in Metro Manila. What's nice about this is the archers get to stay in a shaded area.
Our son particularly found it to be very enjoyable.
Not bad for his first time!
There's also 9 holes of Mini Golf (P100 per person). Nothing fancy, just putting greens with no decors whatsoever. We tried Mini Golf in Circus Circus at Las Vegas before and there were all sorts of obstacles like mini windmills, figurines, etc.
We didn't get to try the ATV (P2,500 per hour) and UTV (P3,000 per hour) because one vehicle could only fit 2 people and there were 5 of us that day.
If you're up for all the activities, it's cheaper to get a package which starts at P400 per person inclusive of entrance and  4 activities (see chart I posted above). Alviera Sandbox is not recommended for kids younger than 7 years of age because except for Mini Golf, everything is for people aged 7 and up. It's advisable that you eat first before going because there's no restaurant nearby. The sole purveyor of food and drinks is the small snack bar out front which serves only hot dogs, burgers, and fries. It's best to go on a weekday as I heard it's quite full on weekends. But if weekends are your only option, I suggest being there by 10am (opening time) so you can make the most of the facilities.
Alviera Sandbox
Alviera, Porac, Pampanga
0917-8033099
Like this post? Subscribe to this blog by clicking HERE.
Let's stay connected: