My first real brush with dengue happened a little over 20 years ago. My high school batchmate who was my exact age passed away because of dengue. That was when I realized that dengue is a serious disease. I used to think that it was just like the flu. Through the years, there have been a number of people I know who have succumbed to the disease. That said, I was only too happy to participate in GlaxoSmithkline's Allied Against Dengue Movement. So far, I have been successful in keeping dengue away from my family.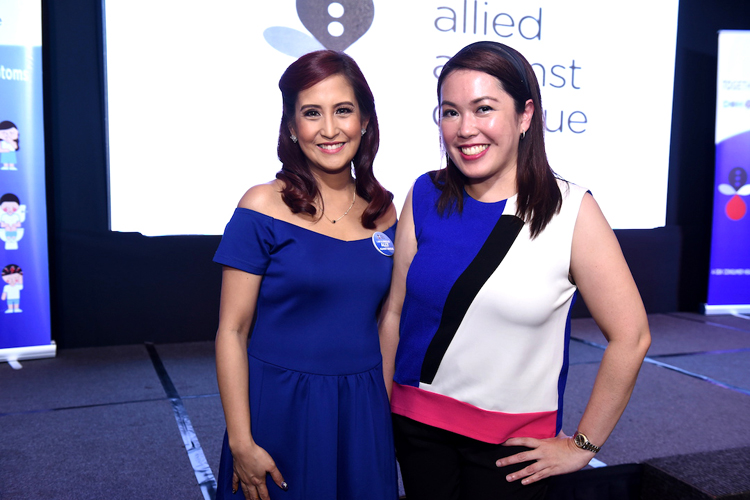 For this, I got to work with celebrity mom Jolina Magdangal. We had a chance to get acquainted before the launch event and I found Jolina to be really likeable, down-to-earth, and easy to talk to. I'm fortunate to have been able to work with her.
Prior to the launch event, I was able to share some of my anti-dengue tips with the lovely folks at GlaxoSmithkline. I think it was my first ever speaking engagement and I'd like to think it went well haha! So what are the things we do to prevent dengue?
We had the entire perimeter of our home tiled over so there won't be areas with soil or mud. This prevents puddles come rainy season. We know that mosquitoes are dengue disease carriers and so to minimize risk, we need to eliminate potential breeding grounds.
I never let my kids go out without anti-mosquito protection. It can be in the form of insect repellent lotions, patches, bracelets… I've tried and used them all!
My kids' schools have prescribed "dengue uniforms" during the rainy season. Instead of the usual blouse and skirt, my daughter has the option to wear a shirt and pants that are also issued by the school. The more covered up the kids are, the chances of getting bitten by mosquitoes.
Hygiene is just as important — we try our best to keep our surroundings and ourselves clean all the time. I always remind the kids they should take a bath everyday, brush their teeth, etc. In the same way I tell them to pick up after themselves when they eat, play, or whatever.
Jolina and I had an anti-dengue dialogue during the event day and we shared pretty much the same anti-dengue tips. Glaxo Smithkline also called upon medical professionals to talk about the disease itself.
After the program, we marked the Allied Against Dengue board with our handprints and signatures.
The Allied Against Dengue Movement aims to reduce the impact of dengue burden on society by partnering with public and private organizations such as the Department of Health (DOH), Philippine Pharmacists Association (PPHA), Mercury Drug Corporation, SmartParenting.com.ph, and CNN Philippines. Close to 1,200 doctors and pharmacists have been engaged to educate patients and the public on prevention and appropriate management of dengue fever.
While there is no outright medication or cure for dengue, paracetamol helps in managing symptoms like headache and fever. If you have kids like I do, you want them to take something safe. That is where paracetamol Calpol comes in. There are variants for kids from age 0-12.
I'm Rowena Wendy Lei and I'm a proud ally against dengue! Thank you GlaxoSmithKline for the trust.
Like this post? Subscribe to this blog by clicking HERE.
Let's stay connected: