Marj and I decided to have a pigout session at the Alba Spanish Buffet last week. Alba Restaurante Espanol offers Spanish Lunch Buffet and Spanish Dinner Buffet everyday. We availed of the lunch buffet which is P695+ per person, so it's around P750+ net.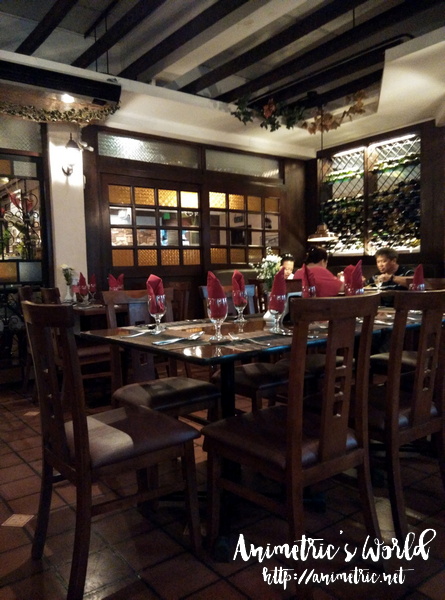 I forgot my camera so I took all the Alba Spanish Buffet photos using my Xiaomi Mi3 cellphone.
Upon being seated, we were served a bowl of piping hot soup.
There was a wide selection of sumptuous appetizers, main courses, and desserts. I really loved these homemade spreads on melba toast — Quezorizo Pate (cheese and sobrasada), Espinacas (spinach and feta cheese), and Garlic Mushroom Pate.
There was a variety of Spanish cold cuts with what I assume was either some sort of salsa or chili sauce. I ate it, all I can say is it's tomato-based.
I enjoyed this Ensalada Asturiana, it was simply garden vegetables with apples but the apple vinaigrette made it kind of special.
The Deviled Eggs were delish! I wanted to have a lot but I just had 2 pieces, lol. There were a few other appetizers I didn't try.
One of the buffet spread's main attractions was of course the freshly cooked Paella Valenciana which they kept on replacing with a new one whenever it ran out. It was super yummy, I liked the toasty crunchy grains of rice underneath which kind of stick to the skillet. It had the right mix of veggies, sausage, and seafood.
Crispy Pork Belly! It was like eating chicharon with meat!
This is the other main attraction, the Cochinillo Asado, or roasted piglet. The meat is super soft and tender, topped with really crunchy skin.
There were several other main dishes in steel warmers, but I'm posting only those I've tried like this Pasta dela Casa, a tomato sauce-based spaghetti with chorizo. It was surprisingly kind of bland.
Ugh I forgot the name of this one but Marj told me it was good, I think it's Beef or Cow Kneecaps or whatever. I just recall being turned off by the name but Marj was super persuasive in convincing me to try at least a morsel because it was according to her, so good… so a morsel I tasted. It reminded me of lamb. There's just one tiny problem. I HATE LAMB. 'Nuff said.
Aside from the pasta and the beef knees or whatever it is, there was Callos (ew, it's made of icky entrails right?), a chicken dish (pass), some sort of fish, etc. There was a definitely lot of food.
For dessert we had Canonigo (a super soft meringue cake drizzled with caramelized sugar), well Marj had like 3 plates of Canonigo while having paella… I had a small slice. It was okay… kind of too sweet for me.
I did like this nutty bar thing on the left. I couldn't really tell if it was Butterscotch Bar or Food for the Gods because the sign just said "Assorted Pastries"). Whatever it was, I liked it! It would've been better with coffee but the waiter told us we'd have to buy coffee so pass, hahaha! I think they should have included coffee since we were paying P750+ per head.
This one was called Tocino del Cielo or Caramel Custard Flan. Two words: Leche Flan. Okay lang.

There was fruit salad too but I decided to skip it since it seemed just like the run-of-the-mill fruit salad made of fruit cocktail, cream, and condensed milk.
Verdict? Alba Spanish Buffet serves really good food. Although the selection may not compare to those of hardcore buffet places like Dads World Buffet or Vikings, what they have is undeniably excellent Spanish food. Spanish restaurants are usually pricey so this is a good way to sample a whole slew of Spanish dishes without overspending (P750+ for an eat-all-you-can multi-course meal with freshly cooked paella and cochinillo IS a good deal). Ordering Cochinillo at a place like Casa Armas will already set you back almost P4k so just think — unlimited cochinillo for less than P1k, right? Service is pretty good, they're quick to replace depleted platters in the buffet area. I do wish they'd include at least one cup of coffee in the buffet price though!
Alba Spanish Buffet Rates (Lunch):
P695+ per head (Adult)
P350+ per head (Kids below 4 ft)
FREE (3 yrs old and below)
Alba Spanish Dinner Rates (Dinner):
P750+ per head (Adult)
P395+ per head (Kids below 4 ft)
FREE (3 yrs old and below)
Alba Restaurante Espanol
Tomas Morato cor. Sct. Lozano, Quezon City
925-1912 / 928-7129 / 411-7052
http://alba.com.ph
Like this post? Subscribe to this blog by clicking HERE.
Let's stay connected: