We had a hankering for Japanese food one weekend evening so we headed for one of the closest Japanese restaurants in the vicinity… Akira in Robinsons Magnolia. It was pretty relaxed for a Saturday night. It was our first time to try Akira.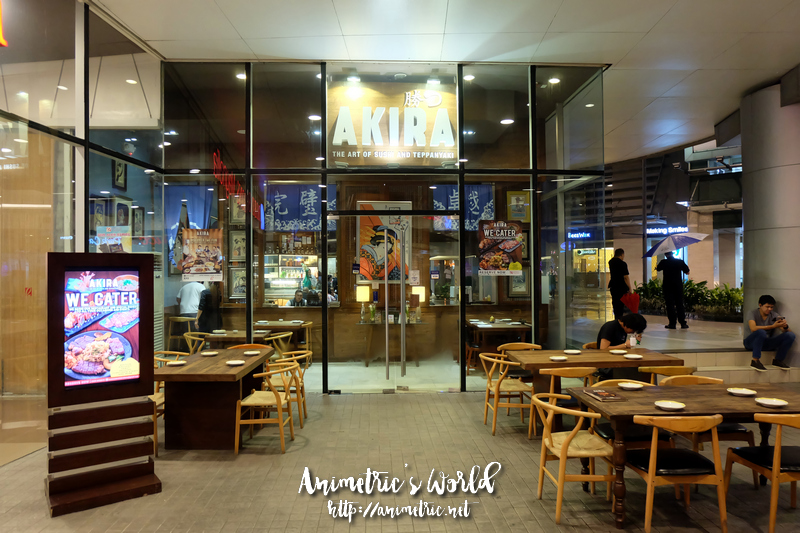 Akira is located on the ground floor outside the mall's rear entrance. It's right across Robinsons Magnolia Residences.
We ordered Blow Torched Maki (P348) to start us off. It salmon, tuna, and some crunchy stuff are drizzled with creamy mayo-based sauce and teriyaki glaze. Pretty good, although quite pricey. This price can already get you big pieces of toro sushi in Tsukiji that's pretty much the same volume as this order with bigger fish portions.
We also had Ebi Tempura (P398). Nothing special but also pricey at almost P80 per piece lol. I think I'll try to cook tempura or ebi fry at home one of these days.
Since Akira is primarily a teppanyaki restaurant, we decided to order Teppanyaki Sets. We ordered two sets of US Rib Eye Prime (P1,268 per set) because each set only comes with 100g of meat. What we ordered is actually their second cheapest set. We decided to share 2 sets amongst myself, hubby, and 2 kids. The Teppanyaki Sets were cooked in front of us since we decided to occupy the teppanyaki table.
So here's what we got for 2 sets. Each person had a bowl of fried rice like this. Tasted good but too small a serving.
We each got sauteed mixed veggies like this. Typical.
Each person got one shrimp, because there are 2 shrimps per set. Looked kinda pathetic if you ask me, but yeah the shrimp tasted good.
Finally, the US Rib Eye Prime. Ordering one set shared by 2 people will give each person this much meat. They serve it with crunchy fried garlic slivers on the side. It was also good but not worth the price. One set per person would've been more appropriate but that would've cost over P5k already just for the teppanyaki sets. For that amount of money, we could already eat at an upscale hotel lol.
Our bill came out to around P3.5k which is kind of a joke considering the servings. Yes the food was good but it still somehow felt like highway robbery. Suffice to say, we will not be going back to this restaurant anytime soon.
Akira The Art of Sushi and Teppanyaki
G/F Robinsons Magnolia
Aurora Blvd., Quezon City
477-4765
Like this post? Subscribe to this blog by clicking HERE.
Let's stay connected: