Last November 20, I attended the launch of Air Asia Inflight Meals. I was especially interested because whenever we travel, our son absolutely refuses to eat airline food. He would usually wait for a stopover and then eat there, opting to go on without any food for the entire duration of the flight. He has always had this impression that airplane food isn't good.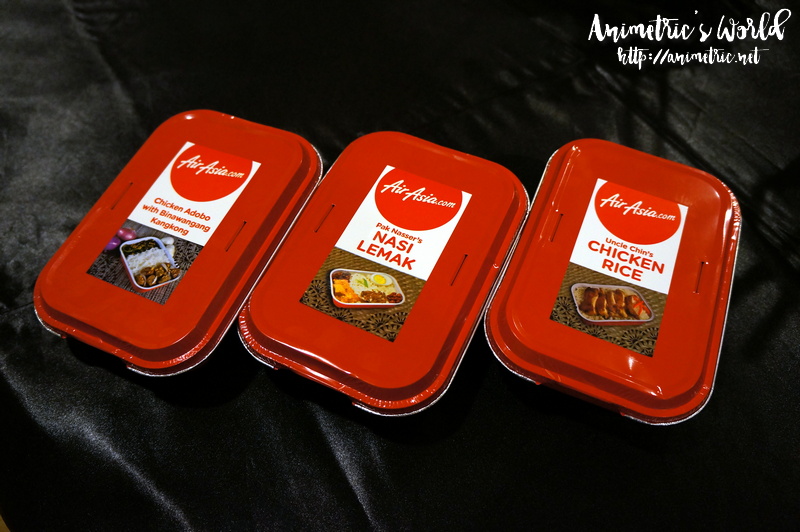 So anyhow, the event started right on time and without delay we were immediately served Air Asia Inflight Meals for dinner! They even came in red foil cases that are actually used in Air Asia flights.
The first meal we tried was the Honey Glaze Chicken. It's served with Zesto Dalandan Fruit Soda. This is actually Air Asia's special Christmas meal. I love the combination of the piping hot steamed rice with the tender chicken chunks. I could actually taste the honey.
You even get this festive Peppermint Brownie for dessert in celebration of the holiday season.
Next up was Junior's Korean Beef Stew. Cubes of beef cooked in sweet soy sauce are sprinkled with sesame seeds and served with sliced carrots. I think this is the unanimous favorite of everyone in the event. Guess what? This meal is gluten-free and does not contain eggs, seafood, and dairy — a great option for those with lots of allergies. 😀
I absolutely loved Pak Nasser's Nasi Lemak. Rice cooked in coconut milk is served with Chicken Rendang (kinda like chicken curry), Sambal, anchovies, roasted peanuts, and hard-boiled egg. What I did was mix everything together so that I could taste everything with every spoonful. It's on the spicy side but wow, I actually finished the entire meal! It's delicious!
Another yummy dish is Maan's Pasta Arrabiata — penne pasta cooked perfectly al dente (firm and chewy) in spicy sauce with lots of tomatoes, olives, herbs, and spices. I think my son would like this!
I was also impressed by Chicken Adobo Ala Mariles, touted as the bestseller in Philippine flights. It's no secret that I'm not fond of chicken and Filipino food but wow, this version of adobo comprised of chicken breast (the part I like best) cooked in vinegar, soy sauce, peppercorns, and bay leaves is indescribably good. It's even served with garlic kangkong, which I really love. It's perfect! This is also another gluten-free meal, also devoid of eggs, dairy, and seafood.
We got to try Uncle Chin's Chicken Rice too, considered Singapore's signature dish. Rice cooked in chicken stock is topped with sliced Hainanese roasted chicken. I thought it was just okay. I prefer the Chicken Adobo Ala Mariles, lol. This is another gluten-free, dairy-free, egg-free, and seafood-free meal option.
Oh but Air Asia doesn't just offer hot meals, they have a lovely selection of dessert items too! My favorites were the Cinnamon Breadsticks and the Chocolate Chip Cookies! These sell for P80 per pack on board Air Asia Zest flights.

OMG. Best chocolate chip cookies I've ever tasted. I got to take home two small boxes like the one in the previous photo and each of our kids actually finished all five cookies in one sitting with a glass of cold milk. Chewy, chocolatey, and oh so dreamy… I was really surprised that an airline dessert could be soooo divine. How I wish I could buy this on land, hahaha!
I love the Air Asia Inflight Meals. Other budget airlines just have instant noodles and sweets which always end up making me feel yucky afterwards. They're expensive too. I remember buying instant noodles for something like P100 because I was really hungry… and then paying another P50 for a small bottle of water to drink. Air Asia Zest's hot meals normally cost P200 each but if you pre-book online, you get 15% discount (reducing the price to P168) and then you get a free 100ml bottle of water too. I think it's a good deal especially since you'll be having a piping hot honest-to-goodness meal. 🙂
Pre-book Air Asia Inflight Meals at http://www.airasia.com via the Manage My Booking tab. There's currently a Welcome 2014 Sale ongoing from now until Jan. 5, 2014 so book now! You can book international return flights + hotel + tax to destinations like Singapore, Bali, Siem Reap, and more starting at P2,700 per person. Air Asia Zest, the right way to fly — here's hoping they add more international destinations like Tokyo and Seoul! 😀
For more information, like Air Asia Philippines on Facebook and follow @AirAsiaPH on Twitter.
Like this post? Subscribe to this blog by clicking HERE.
Let's stay connected: