It's common knowledge that I'm not really a fan of facial treatments. But if there is one treatment I don't mind getting maybe once a month, it's the Diamond Peel. I like it because it's non-invasive and it's the most efficient form of exfoliation. Why do I exfoliate? Well, getting rid of dead surface cells makes your skin more receptive to skincare products… making them more effective. Given that I spend a lot on my skincare regimen, of course I want to maximize the effects! I exfoliate at home once a week using at-home peeling products but of course, going to a dermatologist for a diamond peel is still the most leveled up version of exfoliation. This is where the Aesthetique Microdermabrasion Device comes in.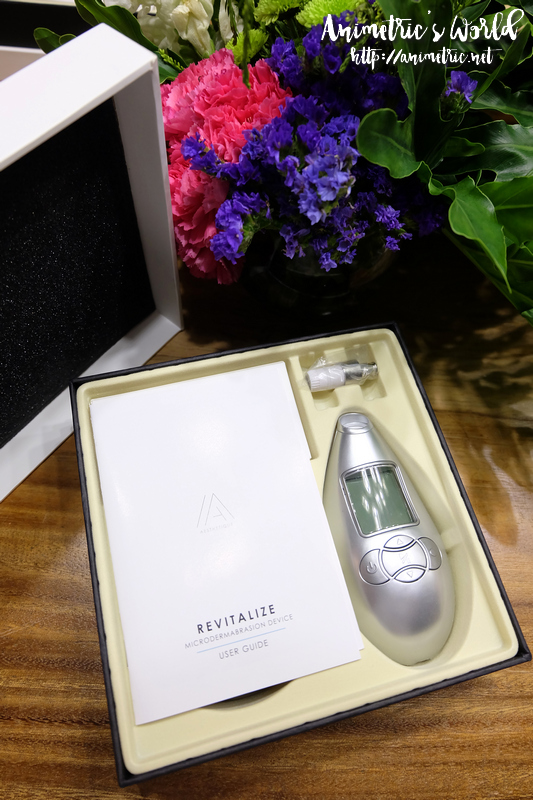 Think of it as a handheld Diamond Peel machine. This gadget lets you give yourself a Diamond Peel at home!
It's a lightweight and rechargeable device that's really simple to operate. The price? P10,000. You might think that's expensive but if say one Diamond Peel session costs P2,000 to P2,500 you will have already recouped the cost of the Aesthetique Microdermabrasion Device after 4-5 uses.
So anyway, the Aesthetique Microdermabrasion Device comes with 2 detachable tips — the fine tip which I'm holding in this photo is for facial curves and crevices like the sides of your nose.
The standard tip which has a wider opening is used for the entire face. You run this over flat skin surfaces. I even tried it on my elbows lol. There is a bigger tip that can be used for the body (arms, underarms, legs, etc) which is sold separately for P1,500.
Upon purchasing the kit, you get a set of skincare products by Aesthetique — Cleanser, Cooling Gel, and Sunblock. These are meant to complement the Aesthetique Microdermabrasion Device. What you do is use the cleanser before using the device and then the cooling gel after. It's recommended (not required) that you refrigerate the cooling gel to maximize the effect.
To use the Aesthetique Microdermabrasion Device, just press the power button on the left. When the screen lights up, you can select a microdermabrasion level from 1 to 3. There's a timer as well so you know how long you've been doing it. You can also set the duration. For the face, I go with Level 1. I'm not comfortable over-scrubbing or over-exfoliating my face. As you can see the tip is sparkly as it's coated with diamond powder just like the machine in the dermatologist's clinic.
The Aesthetique Microdermabrasion Device feels a lot like the Diamond Peel treatments I used to avail of in skin clinics. There's a vacuuming sensation when you run it over your face. Ideally you should use this on a clean face with no makeup on but we were asked to try it out during the launch event.
There's a circular disposable filter attached to the back of the device's tip which you replace after every use. You can see a white layer of discarded dead skin when you remove it. This isn't much probably because I exfoliate weekly but I have seen the others' during the launch and wow, some even form balls of dead skin lol. Filters are available at P150 per pack, there are maybe 20 pieces or so. Basically if you purchase an Aesthetique Microdermabrasion Device after 4-5 uses each session will only cost you maybe P10 or less? They said you can use this 2x a week tops. If you ask me, a 5-minute session 1-2x a month is fine.
Here are some of the benefits of using the Aesthetique Microdermabrasion Device:
Smoother and brighter skin
Helps eliminate flakiness
Makes skincare products work better as they penetrate deeper into exfoliated skin
Helps prevent ingrown hair
Helps improve skin circulation
The Aesthetique Microdermabrasion Device can be purchased online at Zalora, Beauty Mnl, and Calyxta. I've actually tried using this at home and I can attest to smoother and brighter skin after use. I kind of want to buy the bigger tip for body use.
Like this post? Subscribe to this blog by clicking HERE.
Let's stay connected: