The rainy season is upon us again. My kids are back in school and it's back to applying anti-mosquito lotion every morning for them. I'm really really scared of dengue. Too many people I know have perished from this disease. Once you contract dengue, there's no real cure so all you can do is hope for the best. That said, it's important to make sure none of you get it.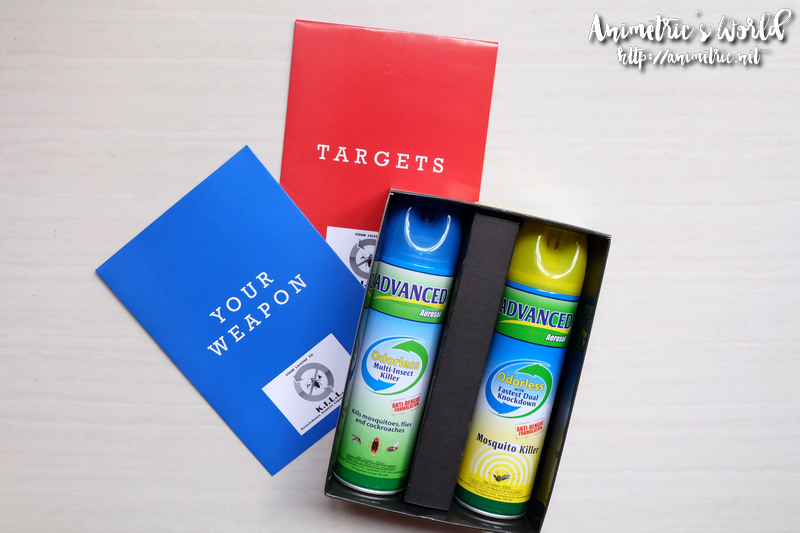 That's the reason why insecticide is always part of my supermarket list. I usually get the water-based type with minimal odor. Recently though I was introduced to a truly scentless bug spray — Advanced Insect Killer.
There are 2 variants of Advanced Insect Killer Aerosol Spray:
Multi-Insect Killer – P166.25 (300ml) / P255 (500ml) / P299 (600ml)
Mosquito Killer – P185.75 (300ml) / P260 (500ml) / P315 (600ml)
The kit I got presented the usual suspects: cockroaches, flies, and mosquitoes. I especially hate roaches eeewww. I don't think I can step on one so bug spray is really my weapon of choice where roaches are concerned. I'm like spraying full blast the moment the roach starts walking towards me. Advanced Insect Killer promises 100% knockdown so yeah! That's what I need.
So these are the weapons you need to take care of all your bug problems at home. 🙂
I should tell you that when spraying any room with insecticide, it's best to vacate the premises and wait for an hour (30 mins is the prescribed waiting time but I want to be sure) before re-entering.
Advanced Insect Killer is available at leading supermarkets nationwide.
Like this post? Subscribe to this blog by clicking HERE.
Let's stay connected: