Where are you off to this Holy Week? In case you're not really going anywhere, you might want to take a drive up north and visit Abe's Farm in Magalang, Pampanga. It's also a resort and spa that offers country cuisine so you can actually spend the night there if you want some R&R far from the hustle and bustle of the city.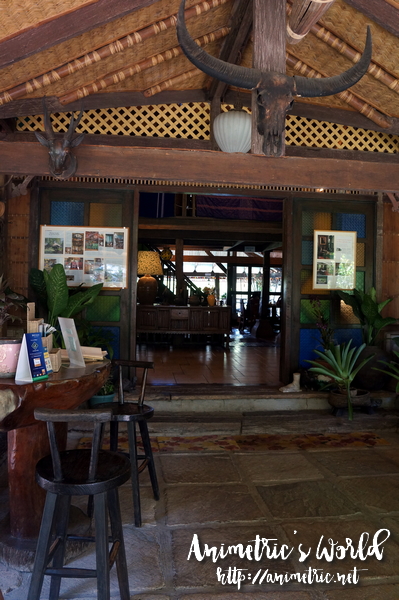 We went there on a weekday for lunch.
It's an open air restaurant with ceiling fans.
It can actually accommodate a lot of people.
Everything is pretty much made of wood for that rustic ambiance.
We were hungry from the long drive and so we wasted no time ordering lunch. We started with Spicy Sizzling Sisig Pampanga (P195). Sisig is a dish that's usually made from chopped pig's ears and cheeks but according to the menu this is minced pork jowl with liver sauteed in garlic, spices, and chilies. I didn't try it but my companions said it was good.
Then we had Bulalo (P330). Ooops, I forgot to scoop out the bulalo (bone marrow) to show to you. We pretty much just drank the soup and ate the veggies, no one dared eat the bulalo… I suspect everyone was watching their cholesterol. I liked the soup for it was tasty, even slightly sweet because of the delicious vegetables.
My stepdad ordered Dinuguan at Puto (P195). Dinuguan is a Filipino dish that can be called blood stew in English for it is made with pig's blood. My mom said that this particular Dinuguan used intestines as the main fare. I'm not a fan of eating animal innards so I gave it a miss. The last time I tasted Dinuguan was when my lola (who is Kapampangan) would cook it for us when I was a little girl. I've never had any that wasn't prepared by her and I don't think I ever will.
Then we had Binukadkad na Pla-Pla (P395). I've tried this dish at Lorenzo's Way and I'm not really a fan. I was content eating the buro (fermented rice) that was served on the side. The way this fish looks continues to scare me to this day.
Since my kids are really picky eaters I ordered Fried Chicken (P295 for half) for them. It's actually pretty good — the skin is crisp and the meat is juicy. It tastes exactly like the chicken served in Max's Restaurant. This one is served with atchara (pickled vegetables) and liver-based lechon sauce on the side.
We also had Lola Ising's Adobo (P395) which for me was the best dish of the day. Pork belly is stewed in soy sauce and vinegar (adobo style) and then fried to a crisp. It's topped with lots of crunchy popped garlic too. Yummy! Tasty, surprisingly tender, and wow… it just went so well with the garlic rice we ordered.
For dessert we had Sikreto ni Maria (P165). When we asked the waiters what it was, no one would say. They just said it's a secret and you have to order it to find out. It's actually suman (sticky rice cake) and sliced sweet ripe mangoes topped with macapuno ice cream and bits of muscovado. We all agreed it was delicious.
Anyhow, after lunch we walked around the property. There are spa huts like the one above where you can get massages and treatments.
There are rooms situated in huts like the one above where you can stay overnight. There's no TV or wifi though, just a bed, an air-conditioner, and a bathroom. I think I would get antsy in a place this disconnected haha.
There's a garden with interesting stuff to see.
There's a swimming pool right at the back of the restaurant. If diners look out the window they can actually see the swimmers (if any).
There are also swings like this one.
You'd think that Abe's Farm would be deserted on a weekday but I was surprised that there was actually a healthy lunch crowd when we were there. At least half the restaurant was occupied. That said, it's best to make reservations. The food is actually not expensive and there's a wide variety of items on the menu. It's very hot though now that it's summer. If you're planning to stay here for some R&R you'd better bring books and other stuff (board games, video game consoles, etc.) that will keep you entertained because it's really quiet and the only TV set is in the restaurant. Globe's mobile internet is limited to EDGE in this area so don't count on it. Dunno about Smart. Oh yeah, there are no animals at Abe's Farm with the exception of some stray cats.
Abe's Farm
98 Livestock Village, Barangay Ayala,
Magalang, Pampanga
(045)856-1930
(0917)8085187
http://abesfarm.com.ph/
Like this post? Subscribe to this blog by clicking HERE.
Let's stay connected: