This is the year where practically everyone in my high school barkada turns 40. Last May, one of our friends had a surprise party at Ninyo Fusion Cuisine to celebrate the big 4-0 but alas I could NOT eat anything because I had spent P7,500 on The Sexy Chef's Eat Clean Detox Plan and I did not want to waste my hard-earned money.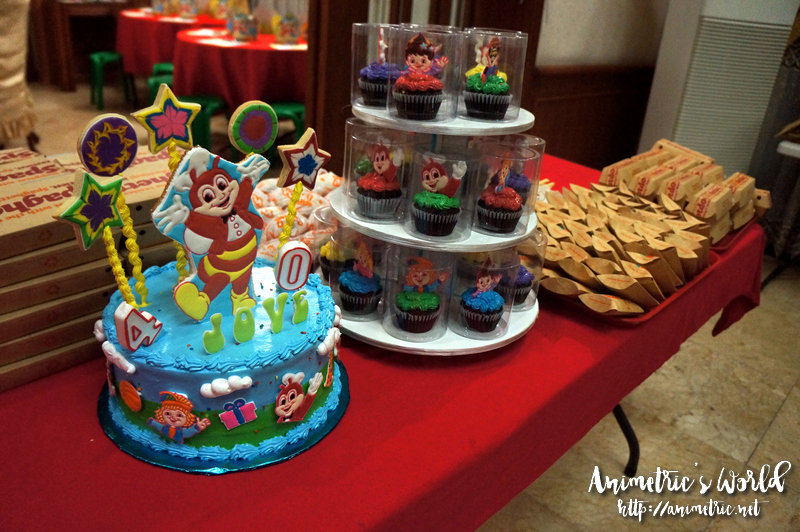 This June, we have three friends who are turning 40 and one of them celebrated it with a surprise Jollibee Kiddie Party at home organized by his wife. We were told to be at their house at 7:30pm because he would be coming home at around 8pm that night. When we got there, everything was already set up — the cake, cupcakes, and the food. It was a virtual Jollibee banquet.
There was Jolly Spaghetti, Palabok, Regular Yum, Fries, Chicken Joy with Rice, Jolly Hotdog, and Peach Mango Pie. Why Jollibee? His wife told us that when they were still dating, they had a lot of dates at Jollibee. His mom told us that up until now, not a week passes that he doesn't eat anything from Jollibee — so this 40th birthday celebration really couldn't be more apt.
There was Iced Tea and Pineapple Juice from Jollibee too.
Ohhh they even set up Jollibee paper placemats and party hats!
Personally I've always loved the Jolly Spaghetti.
Meanwhile, hubby has always preferred Jollibee's Palabok.
I had Spaghetti, one piece of Chicken Joy, Jolly Hotdog, and Peach Mango Pie that night. Crazy!!!

Aren't we just reliving our childhood days… lol. We've all been friends for well over two decades. Yes, we actually wore the party hats! His family actually wanted to hire the Jollibee mascot but they were told that he can't be taken out of the store. There was so much food everybody ended up taking home some, so we had loot bags pa hahaha!
So kids (and kids at heart), you can actually have a fun DIY Jollibee Kiddie Party at home. 🙂
Disclaimer: This party is NOT sponsored by Jollibee in any way.
Like this post? Subscribe to this blog by clicking HERE.
Let's stay connected: