Kids and cheese go together like cookies and milk… or burgers and fries… or ham and eggs… I could go on and on, lol! Fact is, most kids love cheese.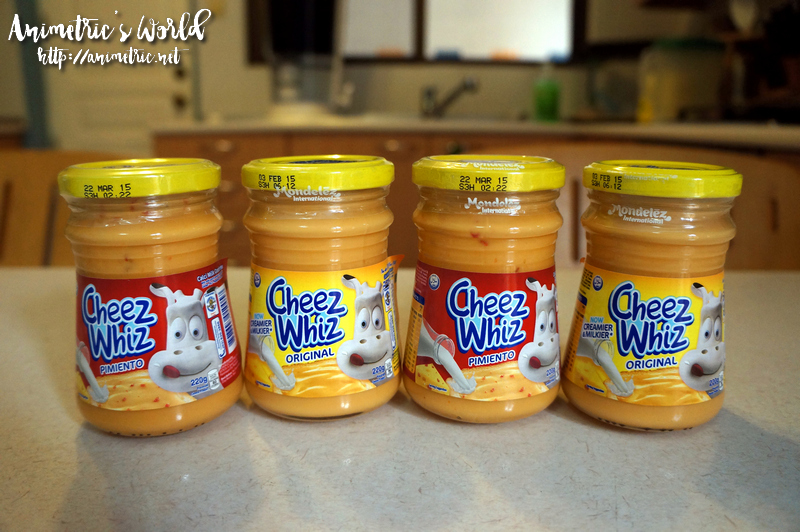 We always have a lot of cheese at home. They come in different forms. Cheez Whiz cheese spread is one of them. I keep these handy because they're convenient. When the kids are hungry all they have to do is get some bread and spread on some Cheez Whiz and they're good to go.
Anyhow, I'm no cook so for today I just want to share a simple cheese spread recipe called Spicy Tuna Mushroom Cheese Spread. All you need are:
One jar of Cheez Whiz (either Original or Pimiento, your choice)
One can of spicy tuna flakes (drained)
One can of button mushrooms (drained and sliced)
Mix all the ingredients together in a bowl.
I find that putting it in the refrigerator to chill makes it thicker and less messy to spread.
So I made a sandwich with the Spicy Tuna Mushroom Cheese Spread. How do you make something like this Christmas-y? You take out your bento-making tools and use your imagination! My bento-making tools consist of a cutting mat, a knife, and a pair of scissors. I cut a sheet of nori (seaweed) into the shape of a Christmas tree. I used Cheez Whiz as glue to make the tree stick to the bread.
My daughter then proceeded to decorate the Christmas tree and cut the sandwich into shape.
We were going to use luncheon meat cut into small circles to use as Christmas balls but I figured the sandwich would've been too salty. So we used light-colored raisins instead and then lined it with Cheez Whiz Milky Delight. It's now ready to eat! It's easy to make a lot of these for a simple Christmas-themed snack.
That's it! No fancy tools, no exotic ingredients… just stuff you can find in your own kitchen! When she tells me she's bored this Christmas vacation I'll tell her to make a batch of these Cheez Whiz Christmas tree sandwiches so she can keep herself busy and then eat when she gets hungry, lol!
Cheez Whiz is available in 3 variants, Original, Pimiento, and the new Milky Delight at all leading supermarkets nationwide for around P70+ per 220g jar.
For more cheesy ideas, log on to http://cheeseanything.com.
Happy Holidays everyone! 😀
Like this post? Subscribe to this blog by clicking HERE.
Let's stay connected: