The last place we traveled to before the pandemic locked us all down was the USA. My mom is based there and so we make it a point to visit during holidays, usually Christmas. We were there December 2019 – January 2020. Had I known it was going to be the last time we'd go out of the country in a long time, I would've extended. Anyhow, when in the USA, I make it a point to eat and enjoy fruits that are not readily available here in the Philippines… and that includes USA Blueberries.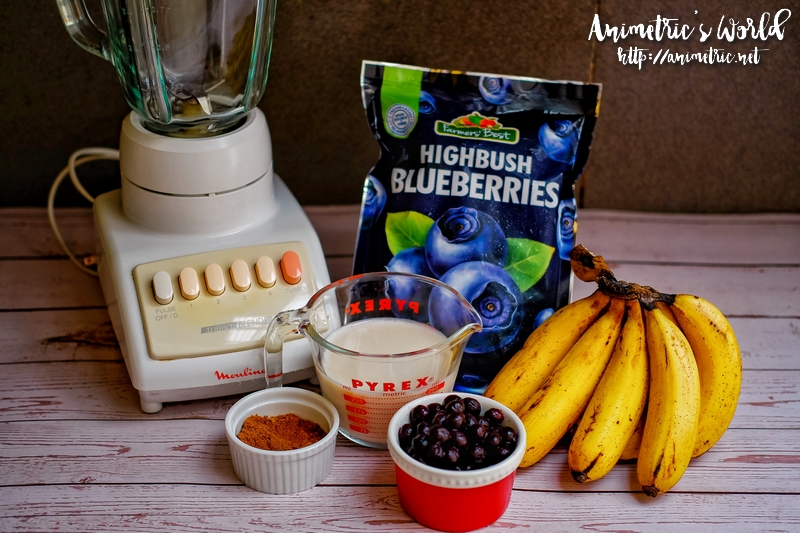 To my surprise however, USA Blueberries are actually not that hard to come by here. If you can't find them fresh, they're readily available frozen and canned. Blueberries are delicious and perfect for snacking on their own or as an ingredient to healthier fare. Frozen USA blueberries are frozen straight from the farm, with all the good stuff locked in — nutrients, freshness, and flavor. Fresh or frozen blueberriesare canned with light or heavy syrup, then sealed and heated. They are shelf-stable if stored in a cool, dry place. Frozen or canned USA Blueberries make great kitchen staples. They're a healthy shortcut for snacking, packing lunches, or cooking up a storm.
Honestly speaking this is my first time to do anything with blueberries in the kitchen. But they're so versatile you just can't go wrong with them. Anyhow, sharing my take on USA Blueberries via this simple recipe:
Healthy USA Blueberries and Banana Smoothie
1 cup unsweetend soy milk
Handful of frozen USA Blueberries
2 bananas
1 tbsp coco sugar (optional)
a dollop of natural unflavored yogurt (optional)
Combine soy milk, blueberries, and bananas in a blender.
Add ice and blend some more.
Add coco sugar and/or yogurt to taste.
Serve cold.
In my experience, the bananas and blueberries were already naturally sweet so I decided to skip the sugar. I did a version without yogurt and a version with yogurt. If you're adding yogurt, putting coco sugar in the mix is recommended. I prefer using soy milk because it makes for a lighter drink.
Voila, here's our blue Christmas drink!
My other recipe entails adding blueberries to oatmeal pancakes. I'll update this post to share the details once I've perfected it, lol.
Anyhow, would you like to win P5,000 GCs?
Post a photo of your USA Blueberries (frozen or canned) dish on Facebook and Instagram along with the full recipe including the brand of USA Blueberries used.
Use the hashtags #ABlueChristmas, #USABlueberries, #USABlueberriesPHL, and #MommyBloggersPH.
Tag @usblueberriesphl, @mommybloggersphilippines, and @animetric.
You can send as many entries as you want.
Criteria for judging: USA Blueberries as main ingredient (50 points), Originality (25 points), Visual Impact (25 points)
Deadline for submission is Dec. 15, 2021.
Good luck! I'm looking forward to seeing your entries. 😀
Like this post? Subscribe to this blog by clicking HERE.
Let's stay connected: