During one weekend when our cook took time off, we all went to check out the newly opened 8 Cuts Burger UP Town Center.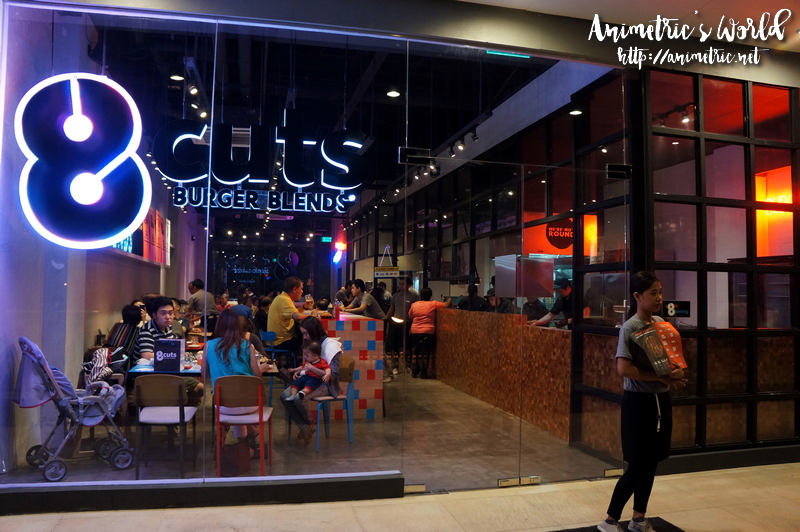 8 Cuts Burger UP Town Center is actually Burger Bar — yes, the one in Makati. Of course, they spiced up the concept a bit for this new branch. By that, I mean they have unique menu items that can only be ordered here. I love Burger Bar and so I was really excited to try 8 Cuts.
8 Cuts Burger UP Town Center was packed when we got there. Luckily, there was one vacant table which was perfect for us.
Each table has utensils, napkins, and condiments on standby.
Let's start with the simplest order, lol. That would be our daughter's. She's isn't a fan of complicated food, she always always orders good old-fashioned cheeseburger no matter what burger place we visit. It was no different at 8 Cuts Burger Blends. She opted for The Cheeseburger (P195). You can actually choose between sauces no. 3 or no. 4 but daughter doesn't like sauces so she had it plain. At 8 Cuts Burger Blends, there are five (5) types of patties to choose from but given my daughter's conservative tastes I had her go with the House Blend which is Short Rib + Rib Eye. Its flavor profile is described in the menu as meaty, juicy, and classic. I was impressed when the order came out. It was huge and it looked really mouthwatering with that thick juicy-looking patty and big slice of American cheese. Our daughter loved it and finished the entire thing, lol!
You can actually avail of 8 Cuts' Go Lunch Box deal. You can upgrade your burger order to a complete meal by adding a specific amount. We upgraded daughter's Cheeseburger to a Rated GP Lunch Box by adding P90. She got an order of Skinny Fries and a bottomless drink!
She chose to have Lemonade. We all did. 😀
Our son, being the more adventurous of the two when it comes to food, ordered The Coney (P255). It's a burger that's decked out like a chili dog, I imagine it's Coney Island-inspired. 8 Cuts' trademark thick and juicy burger patty on a bed of lettuce is topped with nacho chips, american cheddar, tomatoes, yellow mustard, onions, minced jalapeno, coney chili and cheese sauce. He wolfed it all down and kept saying it was so good.
We all upgraded to a Rated GP Lunch Box, but our son chose to "Pimp" his fries with BBQ, Jalapeno, and Mozzarella for an additional P90. You can "Pimp Your Fries" several ways at 8 Cuts Burger UP Town Center.
I had The Franch. It's supposed to have 8 Cuts' newly introduced Ox Blend patty (made of Oxtail, Flank, and Rib Eye) but it kinda scared me so I requested for a House Blend patty instead. The Franch has gruyere cheese, caramelized onions, ranch dressing, sweet pickles, tomatoes, and potato chips along with that delicious burger patty in between a brioche bun. It's oh so good. So so so good. I'm torturing myself now by working on this post at night, lol.
I pimped my Fries with Chili and Cheese (add P125). Their chili is made of the same ground beef the patties are made of so it's totally yummy.
Hubby had The Rising Shroom (P280) which is something we also ordered at Burger Bar. Steak Cut Blend patty is topped with oyster mushroom tempura, white truffled cream cheese, and sauteed mushrooms. This burger is delicious. I love mushrooms so it's a no-brainer for me but I wanted something new so I had The Franch.
For dessert, we had Blueberry Cheesecake (P135) — it's actually cubed pieces of blueberry cheesecake along with the graham crust in a jar topped with vanilla ice cream, a dollop of whipped cream, and strawberry syrup. Hubby loves this. The way to eat it is to use their extra long spoon to dig in from the top to the very bottom layer and then eat whatever you scoop out. Yummy!
I prefer the Caramel Vanilla Bread Pudding (P135). Cubed pieces of moist and chewy bread pudding are spiked with cinnamon and raisins then topped with a scoop of vanilla ice cream, lots of whipped cream, and caramel syrup. It reminded me of apple pie. It's so good! I love it!
At 8 Cuts Burger UP Town Center, you can even watch them churn out those delicious patties as the different beef blends are made on site.
Yes, 8 Cuts Burger Blends' burgers are on the pricey side but they are really worth it! Burger Bar and 8 Cuts Burger Blends are definitely my favorite burger places here in the metro. Even if the place was packed, service didn't suffer. The staff were very attentive. Our orders took a little longer than usual to materialize (understandable since there were soooo many people) but everything was so good it was worth the wait. I suggest visiting 8 Cuts Burger UP Town Center during an off-peak time if you don't want to line up to get seated.
8 Cuts Burger Blends
Level 2 UP Town Center
Katipunan Ave., Quezon City
955-2264
Like this post? Subscribe to this blog by clicking HERE.
Let's stay connected: