Last Sunday, we visited the newly opened 8 Cuts Burger Serendra. The weather was nice and kind of sunny so it was a good day to stroll outdoors. It was a refreshing change of pace from 8 Cuts Burger UP Town Center because of the bigger space.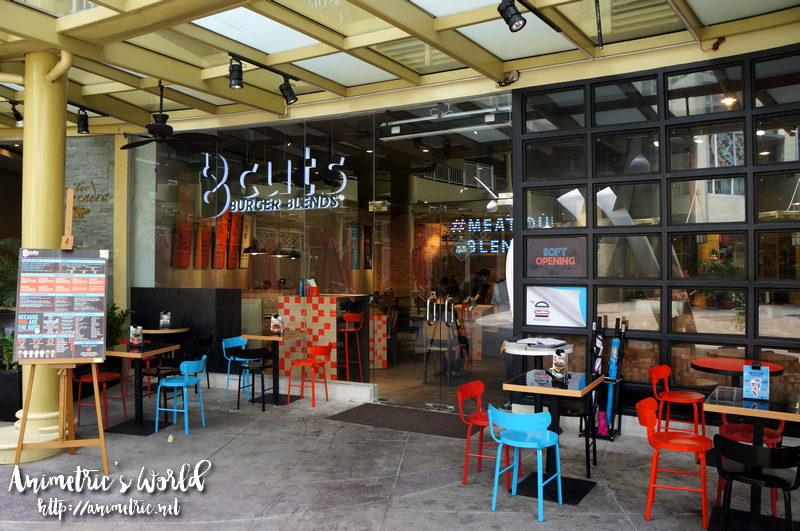 8 Cuts Burger Serendra is actually located beside Phat Pho.
I really love how spacious and bright this branch is.
Everything is so fresh and new!
It was lunch time and the kids were hungry so we ordered some appetizers. We started off with Waffle Cut Fries (P55) "pimped" with Bacon Jam and Egg (add P70). We mixed the fried sunny side up egg with the bacon jam and bits so our waffle fries was coated with egg and bacon. Sooo yummy… sweet, savory, and smoky all at the same time. I've been wanting to try their bacon jam for some time now and it's worth it!
We also had an order of Chinatown Shrimp Poppers (P260). Battered, fried, and glazed shrimp are topped with crushed peanuts and served with creamy dressing on the side.
I saw this on 8 Cuts' Instagram account, it's a new pasta dish called Chinatown Dan Dan Joe Chili Noodles (P245). Wow, it tasted like al dente spaghetti topped with spicy ground meat with black sesame, chopped peanuts, crunchy fried garlic, and green onions. I liked how there's a crunch when you chew. Delicious! For some reason, the meat sauce's taste reminded me of Tuna Tataki.
Then it was time for our burgers. As always, our no-frills daughter had her favorite Cheeseburger (P195). She's a skinny 9-year old who looks like she's about 6 or 7 and she was able to finish this no problem so it's not a super big burger.
Our son's favorite is The Coney (P255). I'd describe it as a burger disguised as a cross between a chili dog and a taco. It's got crushed nacho chips, chili, lots of American cheddar, and minced jalapenos on top of the usual burger patty, lettuce, and tomato. He orders and finishes this every single time, definitely more filling compared to the Cheeseburger.
I opted for a burger I had not yet tried, the Four Cheese (P255). Parmesan-encrusted Beef Bomb Blend patty with chewy gooey melted cheddar, gruyere, and mozzarella on top of it. There's also garlic aioli sauce underneath which is mayo-based. The burger was yummy but I found the mayo a bit overwhelming. When I order this again I will have the dressing changed to something less creamy. 🙂
Hubby had Piggy (P245). I don't know why I didn't see it but wow, this is my kind of burger! Bacon jam, crispy bacon strips, melty mozzarella cheese… yum yum yum. I love bacon, and good bacon on a good burger is just divine!
Our kids decided to have milkshakes but I knew they would have a hard time finishing them so we held off on ordering dessert. I was right. Hubby and I ended up having maybe half their orders. Our son had a Speculoos Cookie Butter Milkshake (P220 for 12 oz). It tastes like vanilla ice cream, milk, Trader Joe's Cookie Butter, and maybe a bit of caramel all blended together for a super rich drink experience. If you like cookie butter, you'll love this.
Our daughter had a Chocolate Truffle Caked Shake (P220). It's drink and dessert in one glass. It's so thick you couldn't drink it with a regular thin straw (our server replaced that straw with a thick black one similar to the ones you use to drink milk tea with pearls). I swear I can chew the cake with every sip. It's like chocolate cake, chocolate ice cream, and milk all in one glass. It's rich but surprisingly not overly sweet. In the end though my daughter consumed most of it with a spoon, lol! It's that thick.
8 Cuts Burger Serendra is highly recommended if you're eating out with kids in tow. Our kids are always happy after a meal at 8 Cuts. If you're super hungry you can add P90-100 to your burger order and make it a double patty. Service is great. The staff don't have a hard time following directions if you want to hold the onions, change the dressing, etc. My hubby doesn't like mayo and his order usually gets messed up when he tells servers to hold or change the dressing. As I've mentioned earlier on, I really like how the place bright, clean, and spacious too.
8 Cuts Burger Blends
G/F Serendra Piazza
McKinley Parkway, Fort Bonifacio Global City
Taguig City
Like this post? Subscribe to this blog by clicking HERE.
Let's stay connected: