San Diego has been a sister city to Yokohama since 1957. Therefore, the Japanese culture, including Japanese cuisine and restaurants, has had time to blossom. San Diego is one of the cities in California (and the greater USA) where you will find the a wide variety of Japanese food. Japanese food is good in both taste and nutritional value. Why not get it from the best places you can find?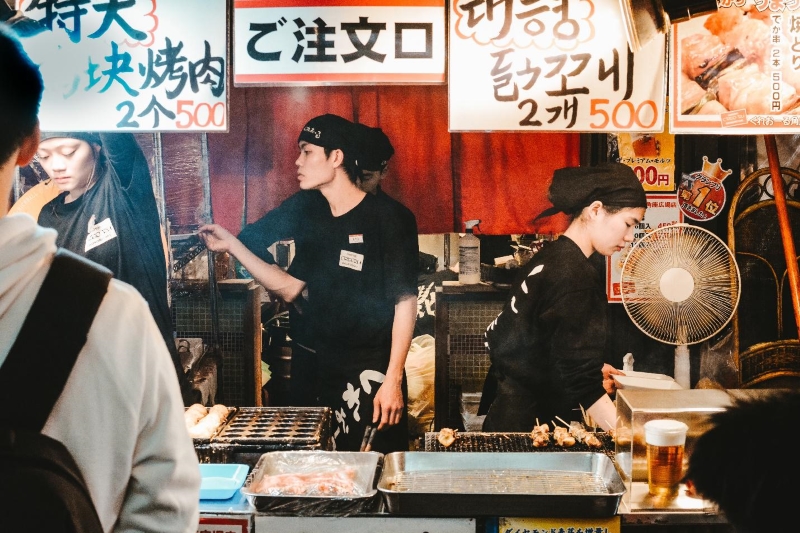 The following are seven of the best Japanese restaurants in San Diego with their specialties:
1. Azuki Sushi
Yelp Rating: 4.5
TripAdvisor Rating: 4.5
Specialty: Sushi
Located in Banker's Hill, Azuki Sushi is within walking distance of Hillcrest, Balboa Park, Little Italy, and the Gaslamp Quarter. It is a modern Japanese restaurant that specializes in sushi. The executive chef, who has more than 30 years of experience, produces high-quality sushi by the using fresh ingredients and modern preparation techniques. The restaurant maintains the authenticity of its Japanese cuisine by sourcing some of the ingredients used directly from the Tsukiji Fish Market in Tokyo. Aside from sushi, this contemporary restaurant serves a wide range of seafood dishes. The current season in Japan inspires the menu. As such, it captures ingredients at the peak of their flavor.
2. Izakaya Masa
Yelp rating: 4.0
TripAdvisor rating: 4.5
Specialty: Authentic Japanese Appetizers
In Japan, an izakaya is a bar-restaurant — a place that serves food which compliments drinks. Izakaya Masa is located in Mission Hills, in the outskirts of Hillcrest. It opens at around 6 p.m. and closes as late as 1 a.m. The atmosphere is very Japanese, with Japanese inspired lanterns and posters. If you love your alcohol with food, this is the perfect place. They serve a wide range of Japanese snacks such as Gyoza, Udon Noodles, Agedashi Tofu, and Spicy Jellyfish.
3. Yakitori Taisho
Yelp rating: 4.0
Google Reviews rating: 4.5
Specialty: Chicken Skewers (Yakitori)
Yakitori Taisho San Diego is located along Clairemont Mesa Boulevard. It is a small cozy restaurant that accommodates 15 diners. The small size means it is mostly full, so you might want to consider calling for a reservation. Yakitori literally means grilled chicken. Taisho refers to the owner-chef. At Yakitori Taisho, you get to enjoy skewered chicken perfected by the owner-chef as you enjoy his hand-picked Japanese sake.
The chef hails from Nagoya, a Japanese city renowned for chicken. So, here you will enjoy chicken meatballs (Tsukune), wings (Teba), and heart (Hatsu). However, the restaurant also serves pork, beef, seafood, quail eggs, a variety of vegetarian dishes, and other chef specials such as fried squid beaks.
4. Sushi Ota

Yelp rating: 4.5
TripAdvisor rating: 4.5
Specialty: Sushi
Located along Mission Bay Drive, this restaurant is owned by an award-winning chef, Yukito Ota. Before opening this eatery in 1990, Chef Ota worked as a Sushi Chef in Japan cities such as Osaka, Kobe, and Tokyo. Aside from sushi, the restaurant serves other Japanese foods such as sashimi, a variety of seafood, Japanese salads, and teriyaki. The dinner menu includes Japanese sake. The place has quite a following of loyal locals. Every other day you will find people patiently lining outside for a seat. Booking a reservation is recommended. If your budget permits, settle at the sushi bar for omakase, which is priced at US$150. This special involves courses of sushi and sashimi, a seasonal Japanese dish, and a cup of chawanmushi (egg custard).
5. Yokohama Yakitori Koubou

Yelp rating: 4.0
TripAdvisor rating 4.0
Specialty: Jidori Chicken
Yakitori Koubou is a popular restaurant in Japan, and its only joint in the USA is in San Diego. The atmosphere is breathtaking as the interior resembles branches back home in Japan. Like most good Asian restaurants, it is located along Convoy street. Thire specialty is jidori chicken, a type of free-range mixed-breed chicken renown for a robust flavor. The restaurant serves this chicken, and other dishes such as beef, pork, and vegetables, kushiyaki style (skewered and grilled). The grilling is done over bincho-tan charcoal, which is smokeless and flameless but produces the right amount of heat. The chef specials (omakase) will get you a variety of 6 skewers at less than $20.
6. Wa Dining OKAN
Yelp rating: 4.5
TripAdvisor rating: 4.5
Specialty: Japanese Homestyle Dishes
Wa Dining OKAN, located on Convoy street (next to Nijiya Market), offers traditional homestyle-cooked dishes. Locals flock the place for the bento lunch box, the most popular one being the salmon sashimi. It has rice, seaweed salad, and miso soup as condiments. Other popular dishes in this intimate eating spot include grilled duck, pork cheeks, and salted mackerel. The menu here is best described as specialized; there's something new every day. However, they do not serve sushi rolls. You need not worry about space as they have takeout options and you can reserve a seat.
7. Rakiraki Ramen & Tsukemen
Yelp rating 4.0
Google Reviews rating: 4.4
Specialty: Ramen (Japanese Noodles)
Located in Convoy (San Diego's Asian food haven), Rakiraki is considered one of the best ramen places in the city. Other foods you can order here include curry, yakitori, and sushi rolls. This place serves a wide range of Japanese noodles including Tsukemen (dipping noodles) and Shoyu Tonkotsu Ramen. The ramen dishes are prepared as you wait. The ramen is complimented with fresh toppings, made aburi-style (flame blistered). Authenticity here is not only through the food but the reclaimed wood furniture and oversized lanterns. As you wait for the chefs to finish preparing your meal, you can order sake (Japanese rice wine) or local beer.
During peak hours, the restaurant is packed. Unfortunately, they do not accept reservations. To increase the chances of getting a seat, go past lunch hour or late at night. If you are not lucky enough to get a seat, you can just prepare some Japanese noodles at home using these easy ramen noodle recipes.