*This establishment is now closed.
My kids and I often drop by Tamayaki to get merienda. They like the cheesy takoyakis and the drinks. But did you know that there's a Japanese restaurant called 5th Taste Modern Japanese Cuisine on the second floor?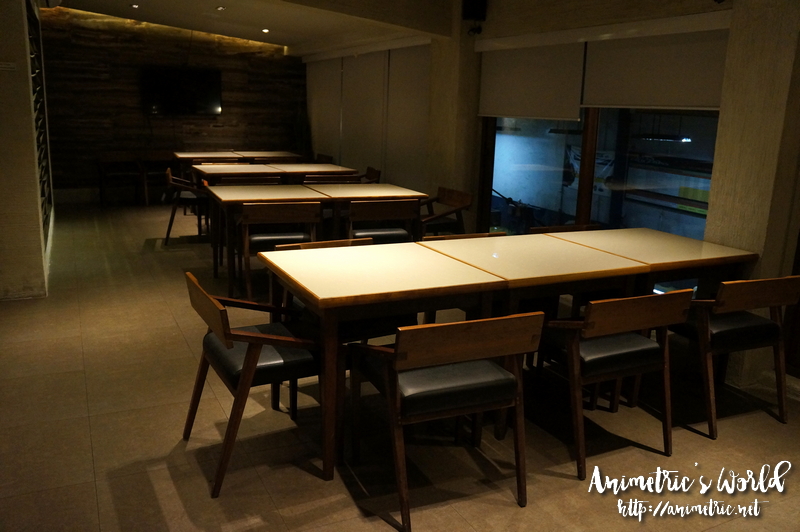 Yes, a full-blown Japanese restaurant which serves just about everything from sushi to rice meals… well, everything except dessert that is!
Anyhow since we always go to Tamayaki for snacks, we've never really tried ordering from 5th Taste's menu. So I said yes when they invited me over for some food-tasting. 5th Taste has all the usual Japanese dishes you've come to expect (miso soup, tempura, tonkatsu, etc.) and serves them with a twist. We started with the Deconstructed Miso Soup (P98). The way you have this is you pour the piping hot miso soup into the giant cup containing a slice of silken tofu, some pork floss, and leeks. It's surprisingly delicious! The miso goes very well with the pork floss.
Then we had some Smoked Mackerel Maki (P150). It had sweet ripe mangoes! I liked it — something different from the usual California Maki.
Here's something you don't see often — Mussels Tempura (P150)! It's drizzled with a duo of wasabi mayo and sweet eel dressing. I don't know why but it kind of reminds me of calamari.
The Kani Salad Pizza (P225) is hands down my favorite dish of the night along with the Deconstructed Miso Soup. A thin crisp crust is topped with shredded kani, cucumber, carrots, mozaralla cheese, and Japanese mayo. It's so light and refreshing I think I had 2-3 slices. I'm definitely going back for this! It's hard to stop munching on it.
The 5th Taste Cheesesteak (P200) is actually beef sukiyaki and mozzarella cheese on ciabatta bread served with fries on the side. It was okay, I didn't think ciabatta was the right bread for it but okay in general.
Crispy Chicken Curry (P220) is a meal in itself. Crispy fried chicken is served with omurice (steamed rice wrapped in egg) in a pool of Japanese curry sauce and mozzarella cheese.
5th Taste's unique take on tonkatsu is the Jalapeno Cream Cheese Onion Tonkatsu (P325). I was super full at this point so I only got one slice which unfortunately didn't have any jalapeno cream cheese waaah! Lol. Next time!
As I've been saying, my favorite dishes that night were the Deconstructed Miso Soup and Kani Salad Pizza. Everything was pretty neat but these two really stood out for me. Overall prices are reasonable and servings are quite big. I wouldn't mind going back to check out their other offerings with my hubby and kids.
5th Taste Modern Japanese Cuisine
453 P. Guevarra St., San Juan City (near Cafe Ysabel)
705-1856
Like this post? Subscribe to this blog by clicking HERE.
Let's stay connected: