I just had the most awesome shopping experience at SM Makati last Wednesday. It was the very first SM Ladies Night and WOW… everything with the SM Woman and GTW (Girls Teens Wear) tag was 50% off from 6-9pm!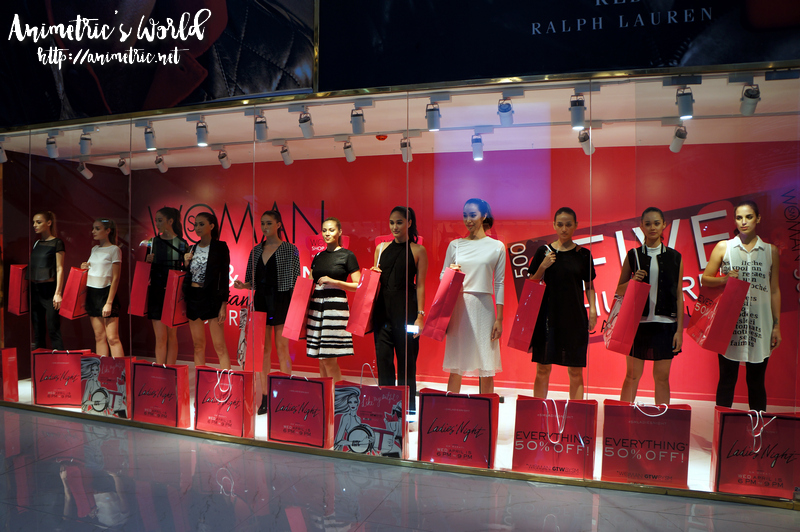 There will be 5 SM Ladies Nights in all, the first was held at SM Makati last Wednesday. There are 4 more Wednesdays to go and my guesses as to which SM Department Stores will hold it are:
SM Megamall
SM North EDSA
SM Mall of Asia
SM Aura
The only way to find out exactly when and where the next SM Ladies Night is via the SM Woman FB Page. I'm stalking the page myself because I want to have a go again!
So anyway, starting 6pm every Wednesday EVERYTHING SM Woman and GTW drops to 50% off. The non-SM brands like Paperdolls, For Me, etc. have racks that are 50% off too — you'll know because these racks will be marked with a pink SM Ladies Night sign even BEFORE 6pm. How cool is that?
You can find ALL your clothing essentials at the women's section of SM Department Store — resort wear, sleepwear, formal wear, corporate wear, casual wear… wow, I was blown away.
Happy shopper here! I was able to buy 5 tops for only P1,700!
I literally grabbed everything I wanted off the racks and put them in my cart. Parked my cart outside the fitting room because there's a 5 garment limit. This SM Woman Asymmetric Blouse is my favorite find. Original price was P699.75 and I got it for 50% off so it was down to P350!
SM Woman Drape Blouse (P350)
Here's another SM Woman find! Same price as the above, same discount.
I scoured the sale racks of other brands too. I got this Willow Clothing long Blouse whose original price was P799 for only P299.95 — that's even more than 50% off! Woot!
Xara Printed Blouse (P500)
Here's another top — original price was P999.95 and it was 50% off too! I have a fifth top which I was unable to photograph because the fitting room line was already super long by then so I just draped it over myself in front of a mirror outside, lol.
But wait, there's more! If you purchase the following amounts, you get FREE SM Woman / GTW GCs:
P1,000 SM Woman / GTW purchase = FREE P100 GC
P2,500 SM Woman / GTW purchase = FREE P300 GC
P5,000 SM Woman / GTW purchase = FREE P700 GC
Shop more, save more! I love it! I can't wait for the next SM Ladies Night! I'm definitely having another go (or maybe even 2, lol!) because it's soooo worth it! For SM Makati, these dashing male models were in charge of dispersing the free GCs… hahaha!
Don't forget to like SM Woman on Facebook to find out when and where the next 4 SM Ladies Nights will be held!
Like this post? Subscribe to this blog by clicking HERE.
Let's stay connected: