If you follow me on Facebook or Instagram, you may have an idea that I recently went on the 5-Day Prolon Meal Program in an effort to lose weight. Also known as the "fasting mimicking diet", it promises the benefits of fasting with food. Some of those benefits include weight loss and multi-system regeneration.
Everything you need for the 5-Day Prolon Meal Plan comes in one big box. What you see here is all I will be eating and drinking for 5 days. Before starting this, I went in for a body scan at Biobalance Wellness Institute in Shangrila Plaza Mall. I weighed in at 153 lbs.
This is what the daily menu looks like.
There are 5 small boxes inside the big box, 1 for each day. I am to eat and drink everything inside the small box each day, no more no less.
I also got a BPA-free bottle to mix the L-Drink in.
So these packets are what's inside the small box for Day 1. The 5-Day Prolon Meal Program is purely plant-based. All of the Day 1 packets total to 1,150 calories.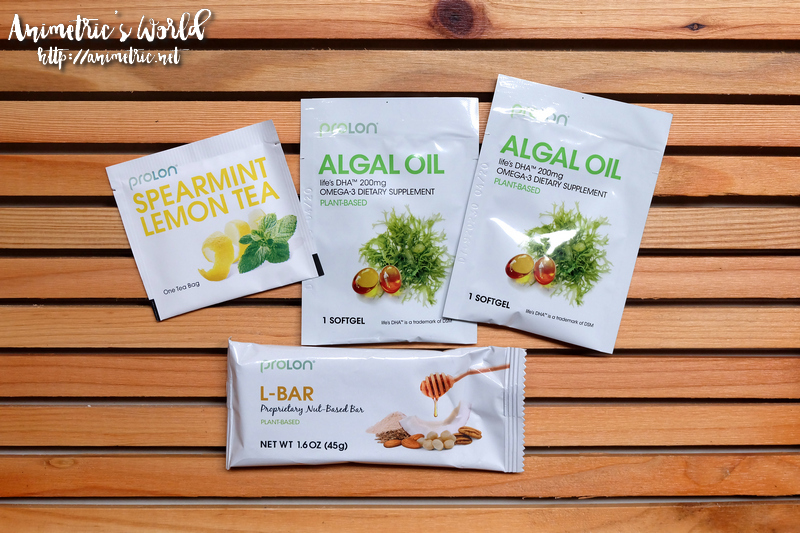 My Day 1 breakfast is Spearmint Lemon Tea, L-Bar, and Algal Oil capsules.
This is what they look like outside the foil packs. The L-Bar is made of several kinds of nuts and coconut. It's really really good. I actually don't mind having this for breakfast with a cup of hot tea everyday, it's satisfying. The Algal Oil capsules are a vegetarian source of Omega 3 and DHA. Algal Oil has been proven to boost eye health, support cardiovascular health, improve memory, and reduce inflammation.
My Day 1 lunch is actually the biggest lunch I had during the 5-Day Prolon Meal Program — Tomato Soup Blend, Kale Crackers, and Olives. Lunch and Dinner are always soup — Tomato Soup, Mushroom Soup, Minestrone Soup, Vegetable Soup, and Quinoa Mix Soup. From Day 2 onwards, you get a side dish of either Kale Crackers or Olives for lunch and at times a Choco Crisp Bar for dessert during dinner.
I got an L-Bar and Spearmint Tea as a mid-afternoon snack for Day 1. The rest of the days it's either Olives or no snack at all.
This is dinner… actually, only the Minestrone Blend and the Choco Crisp Bar are. The NR-1 Vegetable Supplements were actually for lunch, I made a mistake when I was taking pics.
This is Day 2. It's a lot less compared to Day 1. I'm down to 770 calories a day from Days 2 to 5.
I get an L-Drink to keep me going from Day 2 to Day 5. It's actually a glucose-based (I think) energy drink which you make with their Glycerol Mix and water. You also have the option to flavor it with a tea bag. I used the Hibiscus Tea they provided for this. Put everything in the BPA-free bottle and shake. When you feel hunger pangs, you take a few gulps of this throughout the day.
On Day 6, I went back to Biobalance in Shangrila Plaza Mall. I got another body scan and I weighed in at 148 lbs. I lost 5 lbs in 5 days. That's a lot in such a short span of time. I remember when I used to go to a slimming center, I'd lose a maximum of 2 lbs. a week.
So how was the 5-Day Prolon Meal Program for me?
The soups and drinks are all very easy to prepare. For the soups, just add water and boil a bit on the stovetop and you're good to go. Everything is delicious too… the Kale Crackers and Tomato Soup combo is to die for.
Day 1 and Day 2 were okay but wow, Day 3 to Day 5 were TOUGH. I was hungry most of the time, except immediately after a meal. While the L-Drink helps ward off hunger pangs, it only lasts for a few hours… enough to keep you going in-between meals.
I was fully functional despite taking in less than 1,000 calories a day. I'd drive my kids to and from school, go to the office, do house chores (unfortunately our helper took the week off while I was on this diet), and work. However, I'd sleep early to avoid feeling hunger pangs and thinking of food. I was asleep by 9pm or 10pm at the latest. I just wanted the day to end so I could progress faster. My blog suffered a bit because I usually do my blogging at night and I couldn't anymore.
Here's the thing. I live in a house with a husband and 2 teenagers who frickin' eat all the time. On my 4th day, I was already wallowing in self-pity. Everyone around me kept eating yummy food and I was hungry all the time. I felt wretched… my mindset was already along the lines of I don't care anymore if I'm fat I just want to eat.
I believe there are cleansing and detoxifying effects because my toilet habit was still regular — in terms of quantity and quality (sorry TMI!).
It was sheer willpower that pushed me to finish this program. I was tempted to eat so many times during the last 3 days.
I can't eat as much as I used to. On Day 6, I had soup and salad for lunch… a bit of rice and chicken for dinner. On Day 7, my sister treated us to a buffet dinner at Circles in Makati Shangrila Hotel for her birthday. I could only manage a little salad, a little risotto, less than half a slice of roast beef, a slice of sausage with some sauerkraut, and couple of papadams. I had a couple of pastries for dessert but I couldn't finish them. Then I had a cup of hot tea. I went around the buffet several times taking photos but I just didn't feel like getting more food.
Anyhow, the folks over at Biobalance Institute advised me to go on a 1,200 calorie meal plan (totally doable — I've done this with a diet delivery service before) so I'd continue losing weight.
You can avail of the 5-Day Prolon Meal Program at Biobalance Wellness Institute for P15,000. That's P3,000 a day. I did a juice cleanse before and it cost P2,500 a day. If you need to lose weight FAST, this is your go-to. I've done a lot of reading online and 5 lbs in 5 days is pretty standard — some even lose more.
Biobalance Wellness Institute
Unit 1014, Lower Ground Level, East Wing,
Shangri-La Plaza, Ortigas Center, Mandaluyong City
650-4858
Like this post? Subscribe to this blog by clicking HERE.
Let's stay connected: