One Saturday, my daughter and I decided to try eating at the neighborhood cafe, 4th Street Cafe. It's located beside Mt. Carmel Church in New Manila, Quezon City. Parking space is tiny, so I figured it'd be best to visit on a weekend when Broadway Ave. isn't so packed with cars. That way, it's easier to maneuver.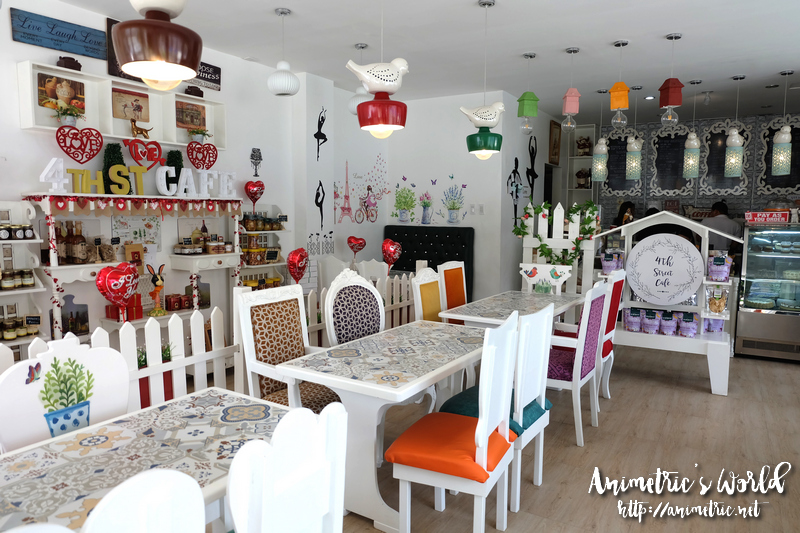 4th Street Cafe is a quaint little instagrammable coffee shop at the corner of 4th St. and Broadway Ave. The interiors are pretty eclectic — there are touches of backyard/garden-themed decors and then ballerina silhouettes on the walls. The overall look is colorful and inviting though.
They sell food items in bottles and jars too. I wasn't able to check out what exactly.
We ordered a Sausage Platter (P169) to start us off. I know this is something I can make at home because all it entails is frying and slicing various sausages and then serving them with kethcup and mustard. We enjoyed it nonetheless. At least they picked good quality tasty sausages.
Then I had Sirloin Tapa (P189). The beef was kind of dry but okay in general. It was served with garlic rice, fried eggs, and atchara. It's decent tapsilog I guess.
My daughter went for Seafood Olio (P219). We were surprised by the generous amoount of seafood — it had clams, mussels, shrimps, and squid. She said it's really good albeit not for sharing. The serving size is just right for one person. It may even be too small for say a hungry teenage boy like my son.
We wanted to have Lava Cake for dessert but it was not available. We settled for a slice of Carrot Cake (P100+) instead. I don't remember the price because it's not in the menu. My daughter picked it out of their cake display. It's not great but it's not bad. The cream cheese frosting is on the thin side in terms of amount and taste. The cake lacked flavor as well. Good thing it wasn't overly sweet and the chunky moist texture sort of made up for its shortcomings.
Our bill amounted to a little under P700. Not bad considering we had appetizer, mains, and dessert. While the food wasn't anything special, it was decent. Prices are reasonable too. We're willing to go back and try their other offerings. The place is clean, cozy, and comfortable. I hope they can retain the aircon's coolness and the place's comfort level during the sweltering hot summer months.
UPDATE: We went back to this place on March 4 to have dinner. They served my daughter moldy bread with her pasta and I only noticed AFTER she had already eaten half. I promptly returned the bread but neglected to take a photo. They apologized and replaced it, of course no one ate the replacement because who knows… it could have come from the same loaf. They also gave us a complimentary dessert. The problem is, my daughter started having tummy troubles a couple of hours after dinner. I'm really upset that it is we who have to suffer for this oversight. Suffice to say this is going to be our last visit.
4th Street Cafe
#90 4th Street cor. Broadway Ave.,
New Manila, Quezon City
Like this post? Subscribe to this blog by clicking HERE.
Let's stay connected: