Last December 11, my hubby, daughter, and I had dinner at TGIFridays Tomas Morato. We had run out of pretty much everything at home so I had nothing to cook, lol. Lucky for us it was also TGIFridays' 25th anniversary and so all customers were getting free Fridays Chili Ballpark Nachos and drinks by 7pm.
TGIFridays Tomas Morato seemed a lot brighter than I remembered. It's got that family restaurant vibe going.
For the free drinks, it was a choice between Seafoam Splash (cucumber-based) and Virgin Dream Punch (watermelon-based). This is the Fridays Chili Ball Park Nachos that came with the drinks.
Hubby ordered Sizzlin' Chicken Fajitas (P595). It's a complete meal consisting of grilled boneless chicken, onions, bell peppers, soft flour tortillas, pico de gallo, cheese, and sour cream. I liked it a lot — I think I'll order this when we go back next time.
Our daughter had the Country Ribs (P875 for Half Rack) which was served with corn and crispy seasoned fries. You can opt to have it basted in BBQ sauce or Fridays Signature Glaze. I found it pricey considering the serving isn't big.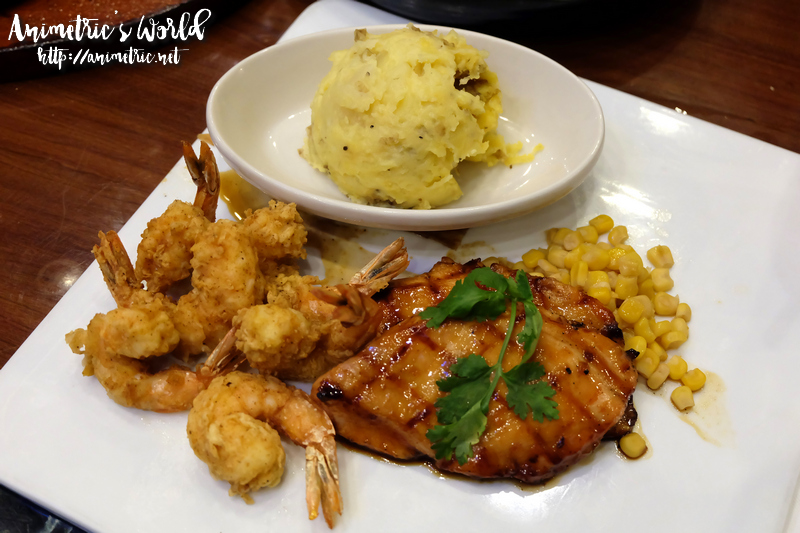 I had Fridays Signature Chicken and Shrimp (P695). Glazed chicken breast is served with crispy Cajun-spiced shrimp, corn, and your choice of either rice or cheddar mashed potatoes. My daughter commented that the shrimp was really good. I liked the chicken but I would've wanted more glaze. The mashed potatoes are yummy too. You can just tell they actually did mash skin-on potatoes.
We noticed that TGIFridays' menu had changed. I tried looking for the Tortilla Crusted Fish Tacos I used to order but it wasn't there. They also don't use the name Jack Daniels to describe their dishes anymore. The server told us that although they don't call it Jack Daniels Chicken, the Fridays Signature Chicken and Shrimp I ordered is more or less the same thing. This is because the Fridays Signature Glaze is made with Jack Daniels whiskey. Anyhow, my new TGIFridays fave is the Chicken Fajitas. 🙂
I'll try to check if they had a similar menu overhaul in the US since we'll be there over the holidays.
TGIFridays Tomas Morato
G/F Hotel Rembrandt,
Tomas Morato Extension, Quezon City
372-8497
Like this post? Subscribe to this blog by clicking HERE.
Let's stay connected: