The most effective way to keep messy fingers at bay while eating is to have a set of good utensils. But finding the perfect cutlery set requires more than considering the aesthetic alone. Have you ever been to a fine dining restaurant or a party only to be puzzled by the display of flatware in front of you? It's that moment when you are unsure which utensil to use so you copy what someone else is using as they take a bite of their food.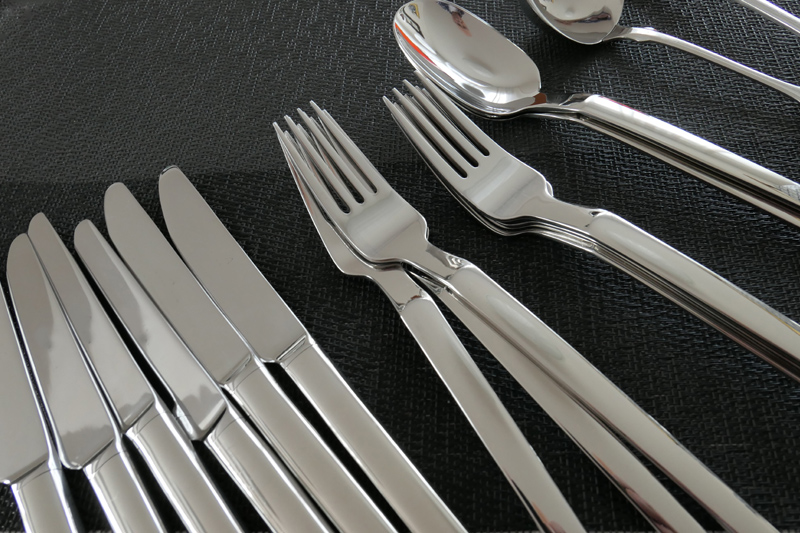 Image by moritz320 from Pixabay
Don't worry! It's understandable as some of these utensils look very similar, while others have a variety of names or functions that can be a bit overwhelming. To avoid that embarrassing moment of not knowing which is which at a dinner party or a fancy resto, here are eighteen types of cutlery you should know about – whether you're buying them or using them.
Dinner fork
A dinner fork is used for regular meals. There are four tines in a dinner fork that are equal in length. It is the primary type of fork used when people eat meat. Also, this fork is usually large enough to be easily used for eating smaller portions of food such as vegetables. In your kitchen, you will want to have plenty of table forks since this is the silverware that will be used most often.
Dinner spoon
A dinner spoon is also known as a tablespoon. It has a round elongated bowl designed for eating everyday meals. It can easily scoop up a perfect amount of rice or stew. It's usually paired with a dinner fork and a dinner knife. Like the dinner fork, this item is essential to have in your kitchen.
Dinner knife
Typically, the dinner knife is the longest knife in a flatware set. It is used at all meals, both formal and informal, to cut food or push food around the plate. This knife is often included in the silverware sets with dinner spoons and forks.
Salad spoon & fork
A salad spoon and salad fork have an elongated shape for mixing salads and vegetables as well as making serving easier.
Serving spoon and fork
Serving forks and serving spoons are used together to serve food that requires two utensils, such as tossed salad, pasta, or a large food platter. Individually, the serving fork picks food from a platter, while the serving spoon lifts food from a bowl.
Soup spoon
A soup spoon is a spoon with a large or rounded bowl used primarily for eating soup. It's commonly found in formal settings and in Chinese, Korean, and other Asian dining.
Teaspoon
A teaspoon is larger than a coffee spoon and it's often oval-shaped. It is designed to stir tea, American-style or European-style coffee, and other beverages in larger coffee cups as well as scoop some sugar. A teaspoon is normally included in silverware sets at any store.
Steak knife
A steak knife is sharp and has a serrated edge to cut slabs of meat easily. A steak knife isn't provided at formal meals if the meat is roasted, which can be easily cut with a regular dinner knife. You should be able to find a set that contains several different sizes of steak knives if you are looking for one that would improve your dining experience.
Fish fork
A fish fork allows you to debone and skin a fish in a served meal using the thinner tines and notch present in the fork. This fork also comes with a fish knife to further help you out.
Fruit fork
A fruit fork is smaller than a dinner fork used to pick up a variety of fruits such as strawberries. Some fruit fork designs only have two times while others have the usual three tines. Whenever you are served fruit on a plate or a cup, you should use this fork.
Fruit spoon
The method of separating the rind from a fruit is made easier with a fruit spoon. A fruit spoon, also called the orange spoon, citrus spoon, or grapefruit spoon, looks almost like a teaspoon except that the spoon's tip has serrated edges or a sharp edge.
Fruit knife
In formal and informal dining, the fruit knife is used to chop and pare fresh fruit like apples. It has a pointed tip as well as a narrow, straight or slightly curved blade.
Carving fork
While any fork can be used to hold meat in place as a knife is used, many people prefer to use a carving fork. For those unaccustomed to fine dining, buying a carving fork might seem strange, but it's actually quite handy when used at home to carve your favorite crispy pata or lechon.
Dessert fork
The best way to enjoy a delicious treat is to have a few dessert forks in your silverware drawer. A dessert fork is also known as a pastry fork or pie fork. Smaller than a salad fork, this fork has two or four tines and its left tine, with a flattened edge, will be larger than the other times, so a person is able to hold a plate with their left hand while slicing through a pastry with the fork's left side. In a formal setting, it is typically placed above your dinner plate, or brought out when dessert is served.
Dessert spoon
A dessert spoon measures between a dinner spoon and a teaspoon. Though people generally use a dessert spoon for cereal or soup, it's actually for desserts because the bowl is slightly longer than your typical oval bowl in a teaspoon. It is used in every formal table setting, where the spoon is placed either with your dessert or on top of it.
Dessert knife
A dessert knife is smaller than a dinner knife, but is larger than a butter knife. It's designed to have a narrow blade with a round or pointed tip to slice through desserts, cakes, or even fruits. Soft desserts like cakes are sliced with the rounded tip, and hard desserts like tarts are chopped with the pointed tip. A dessert knife is frequently used with a dessert spoon and fork which help in eating pastries or can be used to push desserts around.
This concludes the list! I hope that this has shed some light on some of the more commonly used utensils. As mentioned earlier, this list is by no means comprehensive and you may find items not listed here that are also used. With your newly acquired knowledge, you will be able to impress your date or your friends next time you eat at a dinner party or order food at a high-end restaurant. Now, it's time to practice your table etiquette!
To shop for homeware products, visit AllHome for its wide selection of homeware, kitchenware, appliances, and more. You may also visit AllHome's website, https://www.allhome.com.ph, or follow AllHome's official Facebook page https://www.facebook.com/allhomeofficial.
Shop at AllHome today and find amazing discounts at AllHome's Grand Homeware Sale! Get up to 80% discount on homeware products, enjoy the PISO SALE and more deals from July 1 to July 15, 2022.
Visit any AllHome branches to check out great finds. AllHome offers DIY hardware, construction materials, flooring, furniture and appliances, homewares, linens, sanitary ware, and more!
AllHome online store has a shopping site that offers fast delivery, cash on delivery, and easy payment terms. You may also follow AllHome on their official Facebook page and Instagram account for more updates.
Like this post? Subscribe to this blog by clicking HERE.
Let's stay connected: