One rainy Friday night, hubby and I made our way to 12 Monkeys Music Hall and Pub. When we were younger, we would frequent bars with live bands — the Music Hall in Greenhills, News Bar Cafe in Makati… admittedly it's been a while and so when Vivian of The Soshal Network messaged me about dinner at 12 Monkeys, I said game!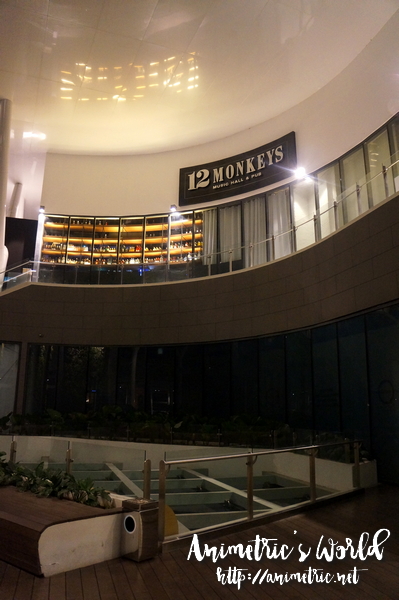 I find 12 Monkey's curved facade visually appealing.
The lights had already been dimmed down when we arrived since it was around 9pm. EDSA traffic on a rainy Friday night is a killer! Anyhow I love how this place is smoke-free. I can never last long in a place full of cigarette smoke.
We forgot about the traffic the moment we laid eyes on these Killer Chicharones (P195) — crispy pork skin and chicken skin served with spiced vinegar and spiced ketchup. Oh my. Crunchy, tasty, and super yummy! It's so hard not to reach for more.
Then we had the much-talked-about Spam Fries (P290). Different variants of spam are sliced into rectangles like fries and then cooked like tempura. They're served with 3 kinds of sauces — honey mustard, cumin ketchup, and kimchi mayo. Yummy, I'm going to ask our cook to replicate this at home, lol.
I really enjoyed the salads. First one I tried was the Fried Chicken Caesar. I'm not sure how much this costs but the prices of salads at 12 Monkeys ranges from P290 to P320. Romaine lettice, shaved parmesan cheese, smoked bacon bits, and country fried chicken fillet are tossed with homemade Caesar dressing. Delicious!
The Thai Beef Salad was even better. Mixed greens, tamarind-infused beef slices, tomatoes, mangoes, and toasted peanuts are tossed with chili lime dressing. Flavorful and refreshing! I love how tender the beef is.
This is Cesca Pop (wasn't able to check the price, sorry!), it's a mix of shrimp popcorn, grilled lemon, and crispy fries. Topped with parmesan cheese too. Nice to munch on over beers and stories.
Okay, I never imagined that pancit palabok can be turned into a pizza but 12 Monkeys did it with Ivan's Palabok Pizza (P350). The chewy pizza crust is topped with shrimp sauce, calamari, boiled egg, chicharon, grilled shrimps, and white goat cheese. It's surreal because it's actually like eating pancit palabok in pizza form.
If I were to order just one dish at 12 Monkeys, Midnight in Pares (P290) would be it. It's a complete meal in itself — garlic rice, braised beef, and tamago all in one hefty plate. It can actually be shared by two people (but if I'm hungry I think it will be all mine). It's soooo good.
This is another surprise. It's 12 Treasures Claypot Rice (P365). Black rice, soy chicken, chinese sausage, pork ribs, shiitake mushrooms, and bok choi are all cooked in a claypot for that heavenly smokey-baked-crunchy-rice underneath sort of pleasure you get from paella. Love the crispy garlic on top too.
For dessert we had the Chunky Monkey Pie (P290). It's banana cream pie with peanut butter and choc-nut… need I say more?
What blew me away was Sticky Pudding (P285). Moist and chewy banana walnut bread pudding is topped with a big scoop of creamy vanilla ice cream and butter toffee sauce. I think I ate like more than half of it. It's divine! I bet I can finish one whole order, haha.
After our hearty dinner, we watched a band called Autotelic perform. Their music reminded me of the Northern Irish indie rock band Two Door Cinema Club. They performed maybe 5-6 songs, I'm not sure if they had more sets later on. During weekdays (Mondays to Thursdays), bands like Side A, True Faith, Parokya ni Edgar, South Border, and The Dawn would perform.
Thanks Vivian and Joei for inviting us! Great food, music, and company all rolled into one make for a fun Friday night!
12 Monkeys Music Hall and Pub offers all the entertainment value of a bar (live music, beer, cocktails, hard drinks, etc.) combined with the extensive menu of a restaurant. They don't just serve bar chow, you can actually have a satisfying full course dinner here! Prices are reasonable too. I don't think any of the above dishes passed the P400 mark. It's definitely a great place to unwind with friends over food, drinks, and music. There is a door charge depending on which band is playing (I think it ranges from P300 to P500) but 100% of that goes to the band.
We're already planning to go back!
12 Monkeys Music Hall and Pub
5/F Century City Mall
Kalayaan Ave., Poblacion, Makati City
0917-5703222
Like this post? Subscribe to this blog by clicking HERE.
Let's stay connected: