The first time I went to Yabu in Robinsons Magnolia was during its grand opening event. Although I enjoyed the food, I didn't think it was appropriate to write a review based on that particular experience because well, it's not the normal scenario. There were a lot of media people and special guests at the time and I believe reviews should be based on what kind of food and service you get as a regular walk-in customer. I can't believe this is my first Yabu post for the year, lol!
So last Sunday, I went to Yabu Robinsons Magnolia with my family. We were there at 10:45am and for the first time we were able to sit inside the restaurant, lol. Even when hubby and I would have lunch here on weekdays, we've always had to sit outside. Fifteen minutes later there was already a line outside. Yabu is just that hot. People would willingly stand and wait to get a turn.
Each table has a complete set of condiments — Himalayan pink salt, tonkatsu sauce, salad dressings, and Japanese seasonings.
After taking your orders, the server will give you a small dish filled with sesame seeds and a pestle to grind them with.
The kids found it to be a unique experience and I think they had fun grinding away at the sesame seeds.
After they are ground to a powder-like form, you pour tonkatsu sauce over them and mix. This will be the dipping sauce for all the katsu you order.
I ordered an Tonkatsu Set with 120g of Rosu, which is porkloin with a thin layer of fat on the edges. You can have either 180g , 120g, or 90g.  They cost P405 , P355 , and P315. The set includes a bowl of miso soup, unlimited rice, unlimited shredded organic cabbage, pickles, and sliced fresh fruits for dessert. It's a complete meal. My daughter and I shared this order because she can't finish one by herself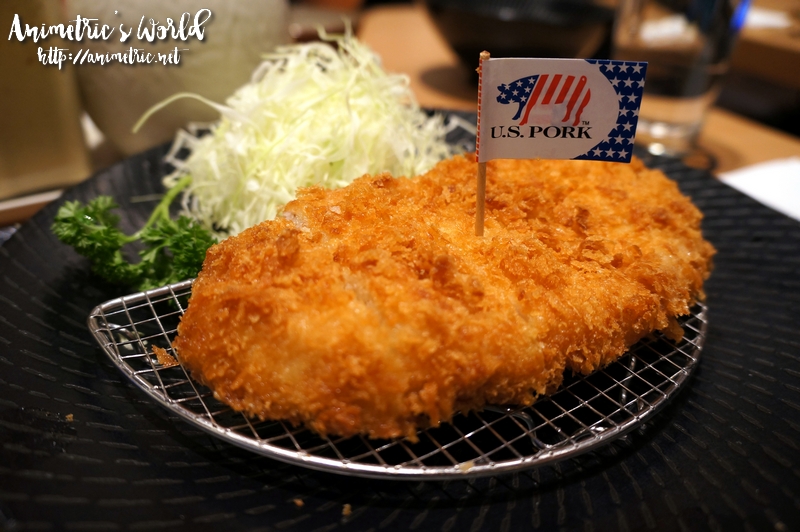 On my first ever visit to Yabu (SM Megamall branch) I ordered their Premium Tonkatsu Set which consists of Kurobuta Pork (the "kobe beef" of pork). It was super delicious, but it's a couple hundred pesos more expensive than this Rosu Tonkatsu Set. Good news, Yabu's regular tonkatsu is just as good! Crispy outside and succulent inside, it's soooo yummy. Both ends had too much tough fat for our tastes but it was still good overall. My daughter loved it so much she said she thinks she can finish an entire order by herself next time, lol.
My son decided to try the Menchi Katsu Set (P350). It comes with everything the Tonkatsu Set is served with, but instead of breaded whole pork cutlets, this one is made of minced meat — a mixture of ground beef and pork with creamy cheese in the middle. I tasted one slice. Pretty good, but I prefer the Tonkatsu Set. My son finished everything though and said he was very happy with what he ordered.
Hubby opted for Ebi & Fish Katsudon Set (P350) which was exactly what he ordered the first time we ate at Yabu SM Megamall, lol. It's presented as a rice topping type of meal — tempura shrimp and fish katsu with egg over rice. Since it's a set it also came with all the trimmings (soup, unlimited rice + cabbage, pickles, fruits).
All in all we had a very satisfying lunch at Yabu Robinsons Magnolia. Service was snappy (we didn't have to wait long for our orders) and despite the crowd that was building both inside and outside the restaurant the staff remained attentive to our needs. I really like the brightly lit and immaculately clean interiors too. It's also a plus point that their air-conditioning is sufficient, providing cooling comfort despite large numbers of people inside the restaurant. I find the meal sets reasonably priced because for an average price of P300+ per person you get a full meal that has everything from appetizer to dessert. With everything Yabu has going, it's no wonder people still line up for it! I highly recommend going early and beating the lunch or dinner crowd so you can get a good seat.
Yabu Robinsons Magnolia
Lower Ground Floor Robinsons Magnolia (across food court)
Aurora Blvd. cor. Hemady Ave.,
New Manila, Quezon City
961-4975
Like this post? Subscribe to this blog by clicking HERE.
Let's stay connected: