Is math one of your problems when it comes to teaching your kids? It definitely was mine. I started having trouble with math in the 3rd grade and it's been downhill since. I've always just gotten passing marks and I always couldn't make it to the honor roll because of low math grades. Come college, I picked a course with the LEAST MATH so I wouldn't have a hard time. Even then I still had to resort to getting my math genius friends to tutor me because my brain just switches off when it comes to numbers.
When I was a kid, math programs like Kumon, Singapore Math, and so forth were not yet in vogue. These days, kids have a lot of options… the latest being ALOHA Mental Arithmetic.
ALOHA Mental Arithmetic was adapted from the abacus computational method which originated from China and Taiwan. It teaches the basic concept of mental calculation using the abacus. Training children this way improves their ability to compute with their minds. They eventually won't need to rely on a physical abacus but be able to visualize the abacus in their minds. This will enable them to do mathematical operations mentally.
With over 4,000 centers in 30 countries, ALOHA Mental Arithmetic is finally in the Philippines.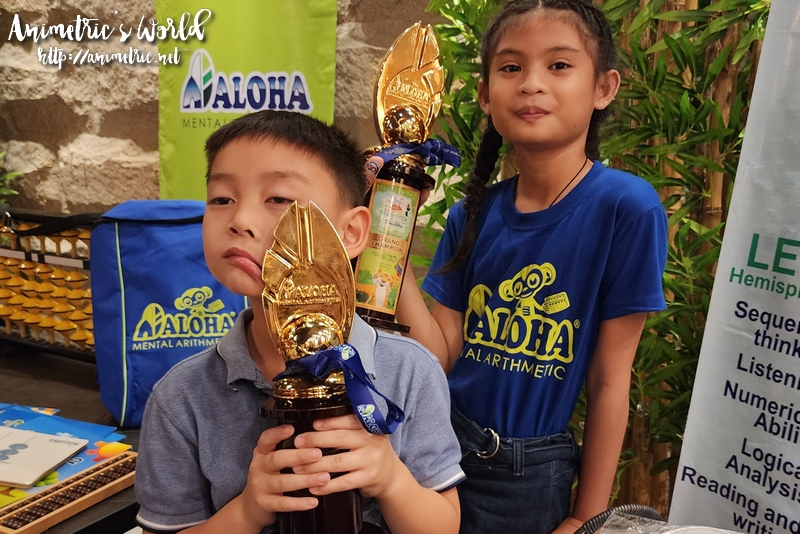 These kids are ALOHA Mental Arithmetic students who have gone on to win math competitions with their acquired mathemetical skills. They did a demo for us wherein a teacher would throw a long string of numbers at them that needed to be added, subtracted, and multiplied. They would come up with the correct answer INSTANTLY. It's pretty amazing.
ALOHA Mental Arithmetic has 3 programs, each catering to a different age group:
Kinder Tiny Tots (4-5 years old) – This consists of 2 levels. It works with the emotional intelligence through a tool named "Wheel of emotions", where the students will identify and learn to self-regulate their own emotions and will communicate better with themselves and their environment. Learning how to use the abacus is incorporated here.
Tiny Tots (5-7 years old) – The Tiny Tots program is divided into 10 levels, with each level having a duration of 3-4 months. It covers everything from learning how to use the abacus to working with fractions and square roots.
Kids (8-13 years old) – The Kids Program is divided

 into 8 levels with each level having a duration of 3-4 months.

It's similar to the Tiny Tots program in terms of coverage except that it's designed for older kids.
Children are typically asked to attend classes 2 hours a week and do 5-10 minutes daily take home exercises. It's not too heavy that it would interfere with academics — it actually complements math subjects in school because the child will be better able to do computations and solve problems.
You can sign up for a free trial and assessment at https://tinyurl.com/ALOHA-Math-Enrolment so you can see for yourself if ALOHA Mental Arithmetic is for your child.
​
ALOHA Mental Arithmetic
2/F Washington Gateway
67 Washington St. Xavier Greenhills
San Juan City
+632-8296-8357 / +63927-0646-996
inquiries@alohaphilippines.com
Like this post? Subscribe to this blog by clicking HERE.
Let's stay connected: