I have way too much makeup. But that doesn't stop me from buying even more lol. I like trying out lipsticks with different formulations. Since I've been buying mostly liquid mattes, I decided to try out something that's not so drying. So I bought these Too Faced Melted Lipsticks from Sephora.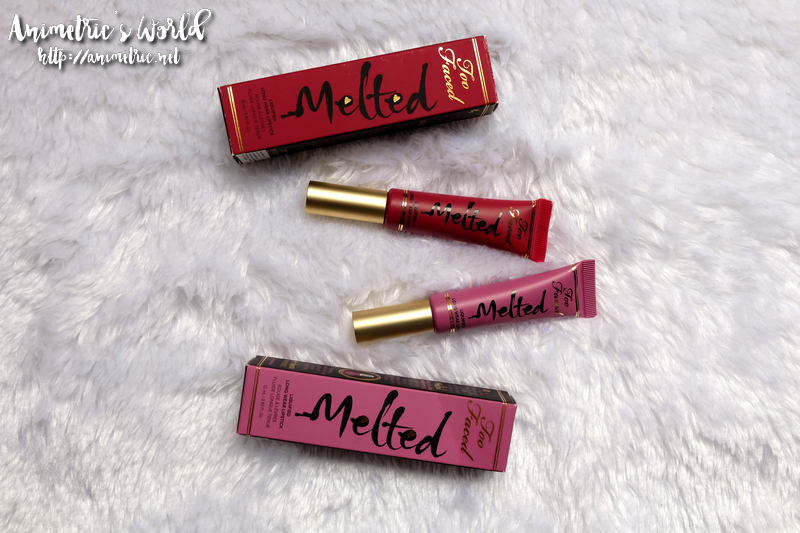 Too Faced Melted Lipstick sells for P1,272 per tube at Sephora Philippines. I got two shades: Melted Berry and Melted Fig.
The tubes are equipped with a sponge-type applicator.
You press the tube to dispense the creamy lip color.
This is what the sponge tips look like when fully immersed in color.
Here are swatches.
This is Melted Fig under natural light. I love the color and the texture! Lips look moist but not wet, with just a subtle shine.
Indoors, Melted Fig takes on a more plum hue.
Melted Berry is a bright reddish pink under natural light.
It looks more berry-ish indoors under artificial light.
What I like about Too Faced Melted Lipsticks:
I love the texture and consistency — creamy yet doesn't feel thick.
The colors glide on easily even on dry lips. There's virtually no tugging.
They're highly pigmented. The colors are solid!
There are a lot of gorgeous shades to choose from. Seriously I wanted to buy around 5 but I had to stop myself due to space constraints.
They're moisturizing, the opposite of most liquid mattes.
The finish is just lovely. It's in between glossy and matte — your lips look moist but not wet. There's just a subtle shine.
Did I mention that these are paraben-free, sulfate-free, phthalate-free, and cruelty free?
Too Faced Melted Lipstick is probably my favorite non liquid matte lip color right now. I want to get more shades! The only downside here is the premium price point. You can already buy maybe 3-4 drugstore level lippies for the price of one tube. Still, for me it's worth it.
You can purchase Too Faced Melted Lipsticks at Sephora online and offline stores worldwide.
Like this post? Subscribe to this blog by clicking HERE.
Let's stay connected: