I got this Tonymoly Cat Chu Wink Tony Tint #2 Red (there are three shades available, the other two being pink and orange) as part of the goodie bag from an event I attended some time ago. I've never used any Tonymoly lip products prior so this is a first for me.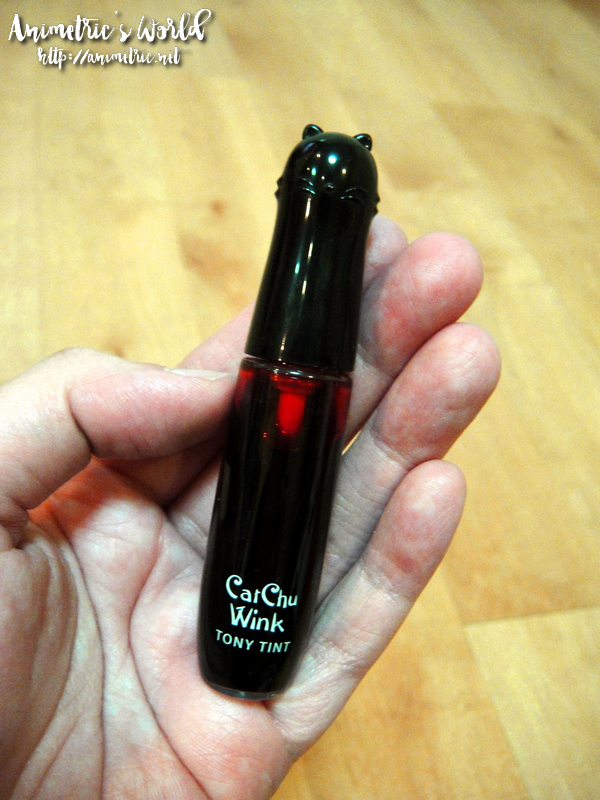 It's sooo cute! The cap is a kitty head. Tonymoly Cat Chu Wink Tony Tint is basically a liquid lip stain.
The applicator is a fuzzy-tipped wand.
It's actually kind of flat so you can manipulate it with ease.
This is how red it looks on bare skin.
This is how it looks on the lips right after you apply it. It's super red at first.
It dries and fades into a stain gradually, so you look like you don't have any lip product on. It seems to be absorbed by your lips. Instead of coating the lips' surface, it seems to blend with your skin so the effect is natural-looking.
Same application an hour later. You have to always check because it can be uneven when it fades.
What I like about Tonymoly Cat Chu Wink Tony Tint:
I love that it has no thick waxy feel that lipsticks usually have.
You can't overdo it because it dries and fades to a natural finish, it's like you have no lip product on.
It's affordable at P248 per bottle.
Although it's liquid, there's no unpleasant taste.
The applicator makes it easy to apply.
Their shade of red makes my teeth look whiter.
Downside? It can be uneven after it dries and fades so you have to check what state it's in ever so often, lol. Also, it may be hard to retouch when you're on the road, like in the car, since you're working with a liquid with the consistency of water.
Tonymoly Cat Chu Wink Tint is available for P248 at all Tonymoly counters and boutiques. Log on to http://www.tonymoly.ph/ for a complete list of stores.
Like this post? Subscribe to this blog by clicking HERE.
Let's stay connected: